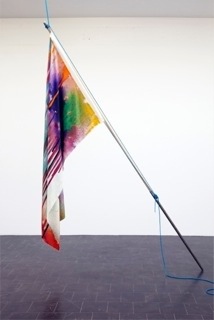 LRRH_ Art Edition By_ the art project focusing on the synthesis of textile and art released its first Flag edition as an outcome of the cooperation with internationally celebrated artist Katharina Grosse. The edition is yet another attempt by Grosse to transcend the traditional canvas as medium of painting and occupy all dimensions of space. It is an artwork flowing in space with every slight movement of the fine silk enhancing the vibrancy of the artists brilliant colour schemes. The edition is limited to ten pieces, price is on request.
ABOUT LRRH_
The LRRH_ ART EDITIONS BY are limited serial works and editions by renowned contemporary and promising artists. Through the ART EDITIONS BY project, the collaborating artists explore their creative process in new and innovative ways in the medium of textile.
When presented as a framed tapestry or worn as sculpture the serial works become unique embodiments of contemporary fine art. The textile editions represent a diverse compilation of artistic expressions. The flexibility in this medium has been facilitated by a wide variety of recent advancements in woven fibre, processing and fabrication technologies.
LRRH_ Art Edition by_ works are prized by collectors and a great possibility for young collectors and art enthusiasts to acquire art from renown artists.
Recent editions are silk tapestries realized in cooperation with Anselm Reyle, Jonathan Meese and Katharina Grosse, as well as the flag edition by Katharina Grosse.
AboutThe Artist
Katharina Grosse was born in 1961 in Freiburg. Since the 90s she investigates paintings traditional presentation with multi-dimensional compositions. Her massive, brilliantly coloured installations explore spatial possibilities beyond the canvas, embracing floors, walls and various objects to create three-dimensional painting landscapes. Bright paint, generously applied with a spray gun, evolves into flashing colour streams that lead the viewer through this fusions of painting, architecture and sculpture.
Her work has been shown worldwide, amongst others in De Appel Amsterdams, Palais de Tokyo Paris, The Chinati Foundation Texas, UCLA Hammer Museum L.A., Queensland Art Gallery of Modern Art Brisbane.
Katharina Grosse was awarded repeatedly, she taught at Kunsthochschule Weißensee from 2000-2010 and got a lectureship at Kunstakademie Düsseldorf in 2010. She currently lives and works in Berlin.
Categories
Tags