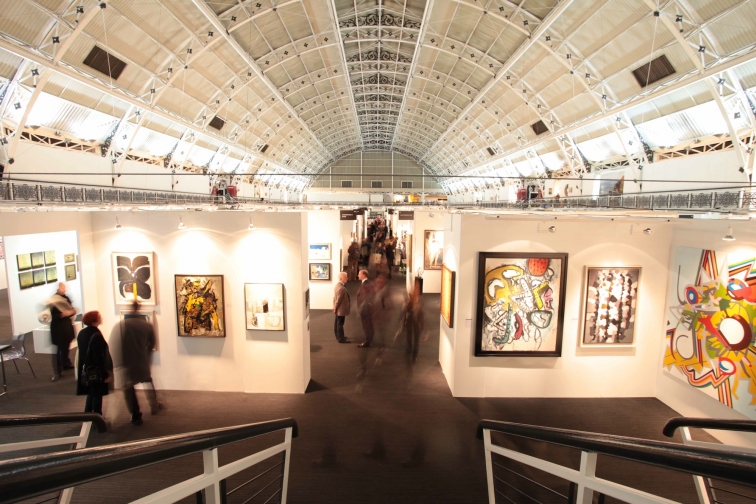 30,694 people passed through the doors of the Business Design Centre in Islington last week to visit the 26th London Art Fair, the UK's largest Fair for Modern British and contemporary art.
The figures far surpass the Fair's previous record of 25,020 visitors in 2012, with higher footfall matched by brisk trade throughout the week.
Sarah Monk, Director of London Art Fair commented:
"We've enjoyed a rise in visitor figures over the past ten years, which reflects the growing interest in art, the importance of international visitors and recognition of the quality of work on offer. Galleries have reported strong sales at all price points, demonstrating an engaged and curious audience wanting to buy art, whether serious collectors or someone perhaps making their first acquisition."
As well as visitor numbers being high sales where also reported to have been good with many galleries experiencing good volumes.
"We've made sales every day," said Mayfair dealer Stephen Paisnel, "and anticipate more follow up thanks to the extent of the appreciation we've received". "It's been a fantastic week," agreed Lucinda Bell of LAMB arts, who represents young contemporary artists from around the world. "In terms of sales and interest, it's been our best Fair yet." Nicholas Sharp of The Multiple Store who exhibited work by David Shrigley and Cornelia Parker commented that he was "impressed with the quality of people attending – a better percentage of quality buyers".
Specialist in contemporary African art, Jack Bell Gallery was exhibiting for the second time. "This year's Fair saw 70% new collectors and an upbeat atmosphere," he reported, "our sales were constant across all artists'. Ivory Coast artist Aboudia was a star performer, with work priced up to £5,000. Jill George Gallery were celebrating their 20th year at the Fair. "It's been very good all week," said William Jackson from the gallery, "90% of our sales have been to new clients, that's why we keep coming back." They reportedly "sold something by most artists" including a large piece by Bruce McClean for around £10,000.
About Mark Westall