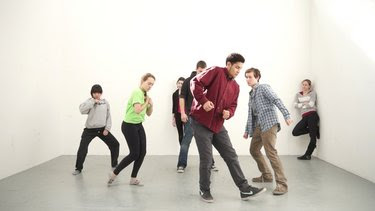 Lina Lapelyte, Candy Shop – the Dance Class, video still, 2013. Courtesy the artist
9-10-11 January 2014 David Roberts Art Foundation Symes Mews London NW1 7JE www.davidrobertsartfoundation.com
Everything I Do, I Do It Big is a three-day exhibition conceived as an exploration of the DRAF gallery space as a stage, as a place for action, tension, repetition and chance. London-based Lithuanian artist Lina Lapelyte features new and recent works.
Two durational performances unfold in the gallery throughout the exhibition: Turn Around, 2014 and Casting, 2013 are performative installations using open calls, people, loudspeakers, microphones, words and sounds.
Also in the gallery space two installations are presented for the first time, around the ongoing project Candy Shop, 2013-ongoing. Candy Shop is a song, a chamber music piece, intervention, provocation, audition, a dance class and sometimes an Opera. Through its structure, it reworks the games of power that are embedded in the rap songs into lullabies, narrating the story about beauty, gender and the mundane. At DRAF, the installation Candy Shop, 2013 includes videos and documentation of a performance played on a vinyl record. More Candies!, 2014 displays vinyl record covers produced with different artists responding to the work.
For the occasion of the opening on Thursday 9th January, a new performance is presented: FM, 2014 is constructed using early music originally composed for castrati singers and performed by female singers singing tenor and bass vocals.
Performers and contributing artists include Nouria Bah, Ornella Biagetti, Lieve Carchon, Anat Ben David, Angharad Davies, Sharon Gal, Phil Goss, Rebecca La Horrox, Heidi Heidelberg, Kate Lowry, Federico Strate Pezdirc, Sebastian Schmidt, Florence Shaw, Maria Sideri, PA Skantze and Miguel Valdivia.
www.davidrobertsartfoundation.com
About Mark Westall