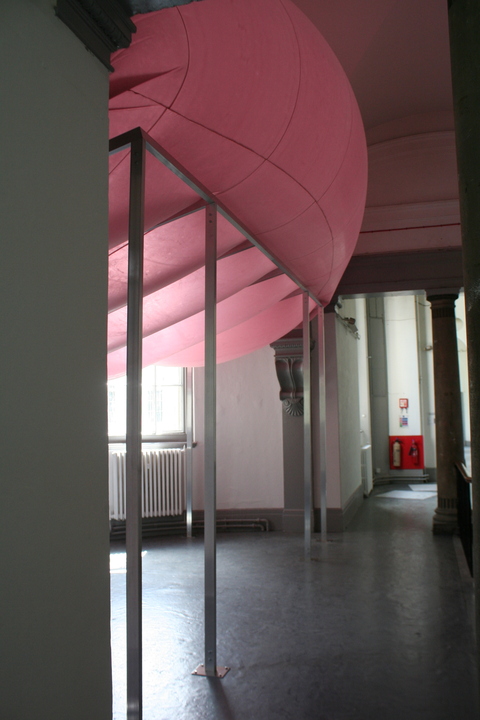 R255 G145 B175 (installation view),Media – Latex, air, aluminium, European oak, aluminium ducting, fan, bolts. Dimensions – h650cm x w500cm x d350cm, 2013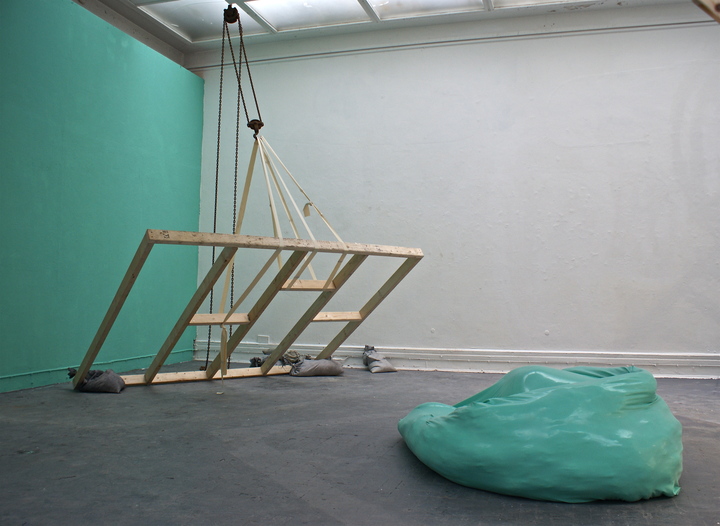 Colour Title – Complement to Haemoglobin, Media – Timber, builder?s block and tackle, rubber strips, painted sandbags, green emulsion paint, latex, plaster, wadding, steel.Dimensions – variable, 2013
Ahead of the Catlin Guide 2014 Launch at London Art fair next week FAD will be featuring some of the artists from the guide here we have : Holly Hendry
What made you want to be an artist?
I've always made things and being an artist means I can do that all the time. As corny as it sounds, I can never really remember making conscious plans to be an artist, it was always something that I did.
How has your practice changed over the course?
Mainly in ambition, confidence and scale. Understanding that I needed to push my own thoughts and abilities in order to make the works that I want, instead of adapting the work itself. The development of my own confidence (and strength!) in making and thinking has led my work from sitting in a safe zone, to what is hopefully is a bit more of a challenge, for me and for the viewer.
How does it feel to be in the Catlin Guide?
It feels fantastic to be part of the Catlin Guide as there was lots of strong work emerging from the graduate shows this year. The fact that the Catlin Guide has an excellent reputation, annually showing exciting emerging artists, means that it's a great context for people to see your work within.
What is your studio routine?
My studio routine usually depends on the sculptures and ideas I'm working on at the time. At the moment I'm splitting my time between a proposal that I'm working on for a big project next year and also lots of physical making. Recently I've been using a lot of plaster and cement so sometimes it's just a case of using the studio as a place to test, and to get all the ideas out of my head and see what they look like in the flesh.
Where do you see yourself in five years time?
These things are hard to plan but I'd love to get a chance to travel more through my projects, hopefully showing more work in other parts of the world.
What artists inspire you?
Richard Wilson for the way he deals with space and Louise Bourgeois' techniques and material intellect. I think that Phylida Barlow works in such an energetic way, which I also find very inspiring. Recently, I have been looking at a lot of De Chirico paintings and the use of architecture and architectural forms within his works
How does it feel to be leaving University?
The community and support that you get studying in art school is great but I feel ready to be away from that for a while now. So far it's been a really busy and exciting time but I know it can be so daunting and difficult financially, emotionally time-wise…in every way really, especially just after you graduate. I'm so glad that my university experience was such a constructive one but I am excited for what opportunities lie ahead now.
What are the best shows you've seen in the past year?
I recently saw the Chapman brothers' show at the Serpentine so that comes to mind. I was also really impressed by some of the works at the Venice Biennale this year such as Jeremy Deller's pavilion for Great Britain and Berlinde Bruyckere's installation in the Belgian pavilion. Saying that, the most exciting works that I've seen this year have definitely been in the degree shows.
What makes a great artist?
Commitment and lots of hard work, an interesting way of thinking… and probably a bit of fearlessness too.
How do you negotiate the pressure to be a commercially viable artist?
I would say that, in general, my work is very far from commercially viable from a sales point of view, and I would hate to make work purely for the purpose of making it fit into that category, as a lot of its tension lies in its temporality. I think that if I tried to do so, it would loose a large part of its purpose. So far, I have managed to keep on making and showing the work that I want to make, and still get by. I guess the pressure for me lies in finding ways to carry on making things possible.
If you were given a big commission what work would you want to realize?
I have always wanted to use a crane within my artwork but it's hard to say exactly what I'd want to do without knowing the place where it would be shown, as that is usually an important factor that I consider.
Who do you think should have won the Turner Prize?
Tino Sehgal in my opinion!
What are the best galleries in the UK?
Having recently spent a lot of time around the Baltic in Gateshead, Newcastle upon Tyne, I think that it is such a brilliant space and the shows that are on there are always so exciting and diverse. For a big institution, it seems as though it's not afraid to take risks with its artists and shows, and as a visitor that's really exciting. In my opinion, Matt's Gallery is also really great; the works on show there never seem to disappoint.
The Catlin Guide will be available at the ArtCatlin stand P25 at the London Art Fair, 15th -19th January, for more information www.artcatlin.com
Categories
Tags