© Artists Anonymous
Private view: 14 October, 2013 Dates: 14 October – December 14, 2013 www.berlonigallery.com/ 63 Margaret Street London W1W 8SW
BERLONI, formerly EB&Flow gallery, will launch in their new central London space this October with a solo exhibition by Artists Anonymous.
The artists' collective, which is based between London and Berlin, will take over the entirety of the new three-story, Margaret Street space with a surreal distortion of its interiors.
On entering the building, visitors will find themselves in an arboretum, with real trees and turf in a room whose walls are nevertheless lined with Victorian wallpaper. An unnatural ecosystem is at work here: we are in Artists Anonymous' world of inversion and opposites, contradiction and play.
Downstairs in the basement, as though we've fallen down Alice in Wonderland's rabbit hole, the sound of dripping water reminds us of the garden above, but now we are somewhere completely other. Here, between the floorboards and the foliage, we come across a visual assault course of mixed-media that questions every aspect of how we see. A key motif of Artists Anonymous' work, the after-image is the optical illusion that continues to appear in one's vision after one has closed one's eyes. Images and after-images will appear throughout the installation, but will only come into focus from certain viewpoints.
Robin Mann, Director of Berloni, says:
"The installation is an example of Artists Anonymous' ongoing game of inversions and illusion with the viewer, where commonplace expectations implode from the inside out and back again".
The juxtaposition of painted and actual surfaces, the effortless flickering between genres and periods of art history and the endless questioning of positives and negatives all contribute to the labyrinthine effect of entering Artists Anonymous' world.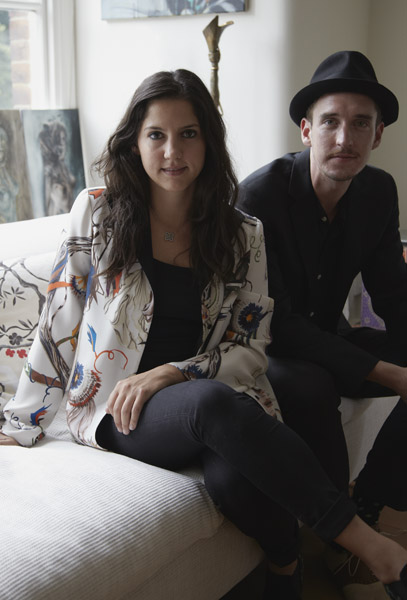 © Berloni gallery and Ben Westoby
About Berloni
Berloni exhibits emerging to mid-market artists across painting and sculpture, through installation and photography. Formerly based in a converted print works in Shoreditch (under the name EB&Flow), founder and owner Margherita Berloni, with Robin Mann as director are now establishing an international roster of artists in the central London space. Collaborative projects this year are to include both solo and group exhibitions with galleries in London, the US and across Europe, as well as individual residencies and public commissions.
Artists include Neil Ayling, a protégé of Anthony Caro and formerly assistant to Antony Gormley and Anish Kapoor and now a sculptor in his own right. Ayling is unveiling a new public artwork at King's Cross later this year. Also in the Berloni stable is painter Steven Allan, who is currently in the Saatchi Gallery's "NEW ORDER: BRITISH ART TODAY" exhibition and has been nominated for the 2013 Catlin Art Prize and Palestinian artist, Steve Sabella, who uses photography and photographic installation as his principle medium. Sabella will contribute to a dual show at the Ayyam Gallery in Dubai in February 2014. His works are currently in collections at the British Museum in London, Mathaf: Arab Museum of Modern Art in Doha and Ars Aevi museum in Sarajevo.
Categories
Tags