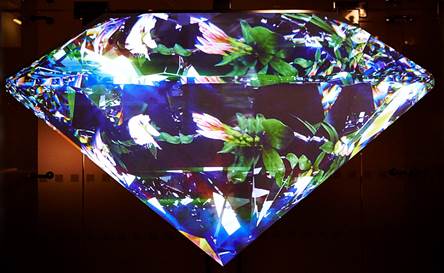 The London EDITION, 10 BERNERS STREET, LONDON, W1T 3NP, UNITED KINGDOM
EDITION HOTELS REVEAL COLLABORATION WITH DIGITAL ART PLATFORM s[edition] 8pm, Monday 9th September 2013
Ian Schrager has unveiled a creative partnership with online art boutique s[edition] to celebrate the launch of The London EDITION. British artist Mat Collishaw has created an exclusive piece which can be viewed on Berners Street; in the lead up to the launch from Sep 5th-Sep 11th before the hotel opens on September 12th. A gleaming 3D diamond is placed in the lobby's glass vestibule; Collishaw's work Prosopopoeia combines some of the artist's most iconic imagery while taking on a new perspective, speaking with a new voice.
'Generally I make artworks for myself and the people who see them. (For Prosopopoeia) I've given a voice to the Hotel.' – Mat Collishaw.
EDITION has also mailed out the art work as an exclusive gift to friends of the international brand, celebrating Schrager's imminent return to London after 15 years. The London EDITION is the latest offering from EDITION Hotels, the brand he conceived in a partnership with Marriott International.
The London EDITION 10 BERNERS STREET LONDON W1T 3NP, UNITED KINGDOM edition-hotels.marriott.com
Ian Schrager returns to London for the first time in 15 years since he introduced Sanderson and St. Martins Lane. His new project, The London EDITION, is the latest from EDITION Hotels, the brand he conceived in a partnership with Marriott International. EDITION Hotels combines the personal, intimate, individualised and unique hotel experience that Schrager is known for, with the global reach, operational expertise and scale of Marriott. This delicate balancing act encompasses not only great design and true innovation, but also personal, friendly, modern service as well as outstanding, one-of-a-kind food, beverage and entertainment offerings 'all under one roof'. The heightened experience, authenticity and originality that Ian Schrager brings to this new brand coupled with the global reach of Marriott results in a truly distinct product that sets itself apart from anything else currently in the marketplace.
s[edition]
s[edition] , offers contemporary art enthusiasts the opportunity to buy original art, at affordable prices, directly from this innovative online platform. The art is sold as digital limited editions to be viewed on connected TVs, iPads, iPhones and digital screens at home or on the move.
Mat Collishaw
Mat Collishaw's (b. 1966) art envelops us in a twilight world poised between the alluring and the revolting, the familiar and the shocking, the poetic and the morbid. With a visual language embracing diverse media, the beauty of Collishaw's work draws us in – seductive, captivating, hypnotic – only to more forcefully repel us as we perceive the darker fantasies within. A repulsion triggered not by what we see, but by our innate response to it. www.matcollishaw.com
Categories
Tags