We caught up with Richie Culver ahead of his solo exhibition 'The Four Letter Word' and asked him a few questions
1 Do you feel like you are an artist now?
I guess so , I don't think I'll ever get used to it or rest on my laurels because the things you work for can get taken away from you so quickly. I've seen it happen so many times to other people and it has happened to me. The best thing to do, I think, is just keep it in the present, make lots of work, go to sleep and do the same again the next day. Nothing guaranteed, but I believe if you work hard , good things will come. I'm making stuff I'm really happy with now, and am enjoying the process more than ever before. I truly think the best is yet to come …
2 Why are you doing this show now and why Norway?
I seem to have this link with Norway, it's hard to explain, Stavanger is exactly across the sea from my home town Withernsea (near Hull). I love the Norwegian people and the country itself. Getting offered such a big spacious gallery in Skur 2 also was a massive reason to do the show. I've also found out I got the front cover of Nat & Dag. Norways answer to Vice, Dazed, and Artnet all rolled into one. As a foreigner here I'm really suprised to get it, but I'm really happy .
3 What kind of work will you be showing in Norway?
It's all new works going in totally new directions. I'm excited , really excited …
4 Can you tell us more about your work and what are the main ideas you like to express?
Love is always there but I've tried to move towards the darker emotions, where the devil lurks … The show is called " The four letter word " that's pretty wide open for interpretation, it's in the viewer's hands really. I really don't want to alienate anyone from the show, art fans or people that are new to art can hopefully enjoy the show. The last thing I ever want is to alienate anyone .
5 Final question: How do you know if you have really loved someone?
Usually when it's too late ….

Forget About Information In A Land That Is Just Too Confusing, 2013
5TH – 29TH SEPTEMBER 2013 AT SKUR 2 GALLERY STAVANGER, NORWAY
London-­based artist Richie Culver is gonna present a major solo exhibition in the picturesque city of Stavanger, Norway this week . Culver has a strong personal and artistic relationship with the city, having exhibited there in 2011 + completing a residency with the Faro Symposium last year. Culver was working in Norway most recently this Spring, and was inspired by many aspects of the land, saying:
"There's for sure a sadness hidden away, a kind of emptiness, I was really taken back with simply being in a country where there was a language barrier.
Like being on an island. It's great to really live inside a different culture, the people, the land, the light, everything. I've made many relationships there that are special to me."

To Believe In Constructing And Reserving A Tangled Culture, 2013
Prominent motifs and characters that examine existential themes such as life and death take center stage in this show, and Culver explains:
"It seems the devil is willing to travel – the devil and the deep blue sea is a comment on the space in life that feels infinite, whether it refer to love, life or death. When a fisherman is out on his own, with only the sea for company, it is his life support and could also send him over the edge into the water and into the depths below. The devil is always in disguise, he has no real shape, he's always around us all the time, sometimes there's a price to pay."
Culver's passionate and energetic work is often the result of very immediate and emotional responses to his life experiences. His work is first and foremost very emotional and explores recurring themes that are fundamental to our existence, such as life, death, humor, love, loss, addiction, sex and pain.
The photographic works featured in this show see a development in the medium that is very new to Culver. Exploring and developing this technique, experimenting with exposure and movement, Culver has created images for this exhibition that are almost animated. The mediums of drawing and photography in this sense have many similarities, be it capturing moments and compositions on camera, or as drawings on paper, all his images possess a sense of immediacy and intimacy that is captivating. The photographs in this series stem from a decidedly kinetic way of working, without a defined beginning or end, almost painting with light until he finds the composition and story that he has been searching for.
The title of the exhibition "The Four Letter Word" – as with much of Culver's work that involves text, is open to interpretation. The viewer is invited to make their own interpretation and draw their own conclusions. Culver explains:
"There are many four letter words, some foul some beautiful. I've tried to look at some of the many different meanings in the pieces in the show. Love has always played a strong role in many of my works, as well as the darker aspects of life found around us."
A rich source of debate within today's society, repercussions in the role they play. Altogether, the work represents a very human attachment to emotion, which is undoubtedly the quintessence of Richie Culvers story.
Richie Culver's origins are firmly rooted in the Northern English port city of Hull. Leaving a caravan factory job in his teens, he would go on to live and work in New York before eventually settling in London. With no formal art training, Culver was unexpectedly thrust into the limelight in 2011 when a curator at the Tate Modern included his work in a group show. Now, after much time spent travelling and producing work directly from his East London studio, Culver will present what will be his third solo show in as many years.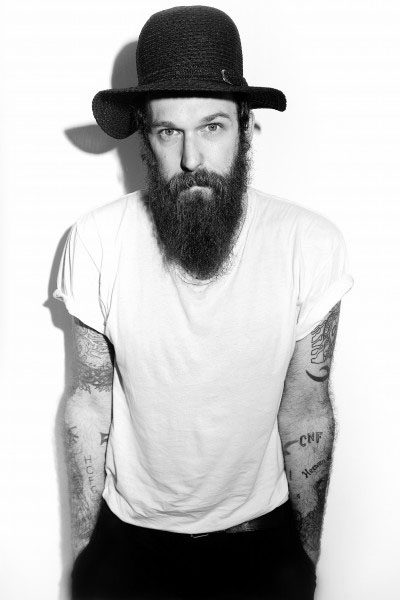 About The Artist
Hull born and London based, the exploratory and improvisational approach to making art we find in Richie Culver's growing oeuvre can be seen as an outcome of the tensions between binary cultural and social opposites – provincial vs. cosmopolitan; cash-strapped vs. affluent; art museum high vs. street-cultural lows. In what seems an examination of ones experience and inner self, the material outcome of this attitude to creativity can take any one of a range of forms, from gritty documentary photography (much of it made during a period working on a trailer park) to urban bricolage, from primitively executed drawings and paintings through to video. Highly style conscious and yet pragmatic, there is a kind of punk aesthetic at work in Culver's approach both to art-­making and to exhibiting.
With the most recent high profile outings to date including shows at the LN-CC concept store in Dalston and the antiquarian bookshop Maggs Bros in Mayfair, he would demonstrate that with the right attitude an artist can communicate in one of any mediums, be that found magazines, satellite dishes, milk crates, a Ventolin inhaler… and even his own heartache.
SKUR 2
In exotic surroundings and only 8 meters from the edge of the Molo, Skur 2 occupies one of several reclaimed warehouses on Stavanger harbour. It was renovated 8 years ago for the sole purpose of housing an art gallery and to become the home of contemporary art works from the Stavanger International Collection: www.sicart.net. An additional role developed over the years, with the gallery also becoming a key venue in Stavanger's buregeoning art scene, and a popular venue for international art exhibitions, concerts, receptions, seminars and lectures on contemporary art.
Every other year, the exhibition of the appointed Norwegian ONS Artist of the Year takes place at the gallery, with Håkon Gullvåg (www.hakon-­gullvag.no), Roald Kyllingstad (www.roaldkyllingstad.com) and Per Dybvig (www.we-find-wildness.com) all having exhibited their work there.
No longer a traditional art gallery, Skur 2's primary role is to present visual art, and the curators are dedicated to looking for young and interesting artists to show their work in the gallery rooms, in between the galleries more or less permanent presentation of works from the SIC collection. Skur 2`s manifesto is simple: By investing in interesting art and artists, more people, young and old, they are able to build relationships with galleries and museums, and hopefully along the way, start building their own art collections.
Skur 2 in Skavanger is directed by Tone and Tor Dagfinn Veen. More details on the gallery can be found here: www.skur2.no.
Categories
Tags