artrules.ica.org.uk

Pablo Bronstein, Jeremy Deller, Tracey Emin, Ryan Gander, Lucky PDF and Bob & Roberta Smith are just some of the artists who alongside a range of curators and critics have contributed their words of art wisdom to the ICA's Art Rules, a new social campaign devised to encourage debate around contemporary art. Launched to the public today, this is the first digital forum of its kind and extends the ICA's reputation for stimulating and provocative debate to the web.
Created by digital pioneers SapientNitro, Art Rules will enable people to debate what defines contemporary art directly with artists, curators and critics from all over the world, engaging with key figures from art, film, architecture, performance and other art forms. It brings together the contemporary art community with audiences to debate the question "what is art?" and share their definitions of contemporary art "rules".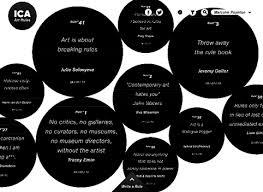 Every rule is open for discussion as users can respond with a comment, share socially or simply "agree" or "disagree" with each other's rules. The conversation bubbles up, literally, as each rule appears in a bubble on the homepage, pushing others to the sides and thereby creating a visual experience of the conversation. The more people agree with a rule, the larger the bubble will appear on the page, creating a visual hierarchy from which users can instantly identify the most popular discourse. Rules are shareable through Twitter, Facebook and Pinterest, encouraging users to extend the discussion to their own social networks and create a far reaching lively debate.
Since its formation, the ICA has been at the forefront of cultural experimentation and radical thinking, exercised best through its vibrant Talks programme. The Culture Now and Trouble With series bring together some of the most thought provoking and challenging views on contemporary art today, while further debates and artist-led tours provide a unique platform from which anyone can engage in contemporary art discourse. Art Rules can be seen as an online extension of this programme intended to provoke debate, participation and exchange among art enthusiasts. Gregor Muir, Executive Director, ICA, said: "The ICA has always strived to cultivate thought and discussion around contemporary art and it is exciting for us to take this debate online. It is fantastic that everyone can engage in the art debate through this far reaching digital forum. We look forward to seeing the results."
Visit and interact with Art Rules here: artrules.ica.org.uk
Follow the ICA's Art Rules project on twitter using the #whatisart hashtag and the @icalondon twitter feed.
Categories
Tags