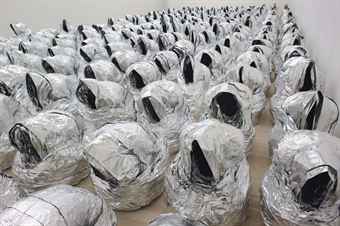 KADER ATTIA (B. 1970) SALE 1188 —THINKING BIG 17th October 2013 London, King Street

CONRAD SHAWCROSS (B. 1977) THE NERVOUS SYSTEM

TRACEY EMIN (B. 1963) TO MEET MY PAST

JAKE AND DINOS CHAPMAN (B. 1966 & B. 1962)
TRAGIC ANATOMIES (I) SATYR (II) FUCK FACE (III) UNTITLED #2 (IV) CATHERINE MILNER (V) BOG STANDARD TWO FACED CUNT (VI) DEF CUNT (VII) MIRROR, MIRROR ON THE FLOOR YOUR DAD'S A PRICK YOUR MOM'S A WHORE (VIII) SAD DOGGY (IX) DOGGY (X) CHOCOLATE CHA CHA (XI) CUNT CHOPS (XII) FOREHEAD
The Saatchi Gallery and Christie's art to run Thinking Big, an auction of major contemporary sculpture and installation offered to support the Saatchi Gallery's continuing policy for free entry to all exhibitions, and free education programme for schools.
To accommodate the monumental scale and scope of the work, Thinking Big will be exhibited not at Christie's, but at The Sorting Office, a vast former postal depot in central London, to coincide with the Frieze Art Fair in October 2013.
Francis Outred, Christie's Head of Post-War & Contemporary Art, Europe, says,
"We have been working with the Saatchi Gallery on this project for about a year now. This exhibition and auction will be pioneering in that all the works will be offered without estimate or reserve. In addition, a state of the art exhibition at the Sorting Office, a huge ex postal building in the heart of London, will house major sculpture and installation from across the last twenty years beginning with the Tracey Emin and the Chapman brothers to Berlinde de Bruyckere, who is one of the stand out artists at this year's Venice Biennale. The artists come from five different continents and the exhibition and auction will be a fundamental celebration of the sculpture in the 21st century.

Thinking Big refers to the huge ambition and imagination of the artists here, as much as it does to the scale of their work, and to the power of educating young people about art."
Thinking Big features the work of 50 artists who have been shown at the Saatchi Gallery, including YBAs, such as Tracey Emin and the Chapman brothers, as well as newer talents such as Toby Ziegler, Kader Attia, Conrad Shawcross, Kris Martin and Sterling Ruby.
Among the many leading contemporary artists included are Berlinde de Bruyckere, whose work at the Belgian Pavilion was a highlight of the 2013 Venice Biennale; Gert and Uwe Tobias, who had a solo show at London's Whitechapel Gallery earlier this year; and David Altmejd, Karla Black and Liu Wei, all of whom were selected for Art Basel's Art Unlimited show of large-scale sculpture this year.
Philippa Adams, Senior Director, Saatchi Gallery, comments:
"Thinking Big aims to provide the broadest possible access and opportunity to museums, institutions and collectors alike by offering these works with no estimates and no reserves. This will be the first time in history that works of this scale will be so readily accessible. To this end, our endeavor is to reflect the Gallery's commitment to constantly support and showcase emerging talent. We hope this new platform will bridge new dialogues and the works from this sale will be seen by new audiences across the world."
Thinking Big is a unique auction concept with no reserves and no estimates on the works, with payment terms of at least three months available to public institutions. Designed to support art education and free admission, it enables young people from all backgrounds to gain access to contemporary art, high quality teaching and educational events.
Charles Saatchi set to auction off 50 of his largest sculptures and installations: The Guardian
Charles Saatchi Auctions Important Artworks To Fund Chelsea Gallery : ArtLyst
Categories
Tags