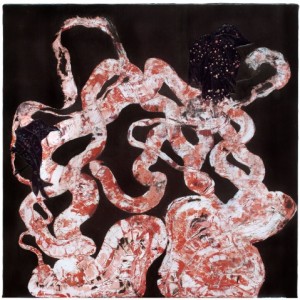 Ellen Gallagher, Untitled, 2012.
Spanning the past twenty years, "Don't Axe Me" will provide one of the first opportunities to thoroughly examine the complex formal and thematic concerns of one of the most significant artists to emerge since the mid-1990s. The title of the exhibition, "Don't Axe Me," evokes American born artist, Ellen Gallagher's radical approach to image, text, and surface—drawing equally from modernism, mass culture, and social history. This focused survey at the New Museum will run concurrently with Gallagher's exhibition at the Tate Modern, London.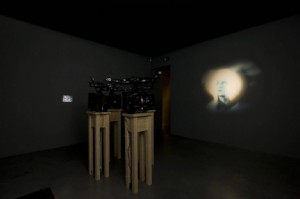 Ellen Gallagher and Edgar Cleijne, Murmur 2003–4 (Monster)
The exhibition traces the transformations, excavations, and accumulations of Gallagher's practice through a number of her iconic paintings, drawings, prints, and film installations. A major new series of paintings will be presented alongside some of the artist's most celebrated works. These include several of her early paintings, comprised of intricate drawings rendered on penmanship paper and collaged onto the surface of the canvas, as well as a selection of works on paper using watercolor, ink, cut paper, and other diverse materials. "Don't Axe Me" will also feature the first New York presentation of Osedax (2010; made in collaboration with Edgar Cleijne)—an immersive environment consisting of 16mm film and painted slide projections inspired by a species of undersea worm that buries into the bones of whale carcasses.The exhibition highlights the humor, historical depth, psychological complexity, and formal inventiveness inherent in Gallagher's rich oeuvre.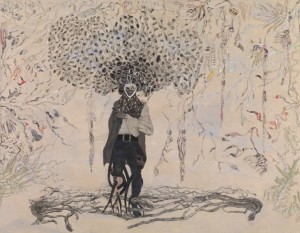 Ellen Gallagher, Bird in Hand 2006
About Ellen Gallagher: Ellen Gallagher was born in 1965 in Providence, Rhode Island. She attended Oberlin College; SEA (Sea Education Association), Woods Hole, MA; Studio 70, Fort Thomas, KY; School of the Museum of Fine Arts, Boston; and Skowhegan School of Art, ME. Gallagher has had solo exhibitions and projects at a number of international institutions including the Institute of Contemporary Art, Boston (2001), Des Moines Art Center (2001), the Drawing Center, New York (2002), the Whitney Museum of American Art (2005), the Freud Museum, London (2005), Tate Liverpool (2007), and South London Gallery (2009). She has participated in a number of major group exhibitions including the 1995 and 2010 Whitney Biennials, SITE Santa Fe's Fifth International Biennial (2004), and "La Triennale" at the Palais de Tokyo (2012). Gallagher lives and works in Rotterdam, the Netherlands, and New York.
"Don't Axe Me" is organized by 29 year old curator, Gary Carrion-Murayari.
About the New Museum: The New Museum building is intended as a home for contemporary art and an incubator for new ideas, as well as an architectural contribution to New York's urban landscape. Tokyo based architects, Sejima and Nishizawa, who received the commission in 2002, have described the building as their response to the history and powerful personalities of both the New Museum and its storied site. "The Bowery was very gritty when we first visited it," they have said. "We were a bit shocked, but we were also impressed that a fine art museum wanted to be there. In the end, the Bowery and the New Museum have a lot in common. Both have a history of being very accepting, open, embracing of every idiosyncrasy in an unprejudiced manner. When we learned about the history of the New Museum we were flabbergasted by its attitude, which is very political, very focused on new ideas, fearless. The New Museum is a combination of elegant and urban. We were determined to make a building that felt like that." Amidst a cluster of relatively small and mid-sized buildings of varying types and uses, the New Museum rises 175 feet above street level. As visitors approach on the Bowery or from the west along Prince Street, they encounter the building as a dramatic stack of seven rectangular boxes.
For more information visit: www.newmuseum.org
or
visit: www.tate.org.uk
To read this fantastic article on Gary Carrion-Murayari go here: tmagazine.blogs.nytimes.com
Categories
Tags