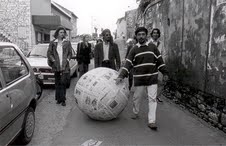 ** This Friday digital arts service The Space will host a live stream from the 'do it 20 13' exhibition from 10:30-18:00 BST (09:30-17:00 GMT) with a day of live interviews and performances. The Space will celebrate twenty years of 'do it' plus show the best responses from the public. thespace.org
Digital arts service, The Space is inviting the public to take part in a succession of artistic calls to action and contribute to do it 20 13, a participative project which celebrates its 20th anniversary at this year's Manchester International Festival. do it 20 13 consists of a growing series of written artists' instructions, each of which is interpreted anew every time it is enacted.
As part of the do it 20 13 project, The Space will publish an exclusive short film featuring curator Hans Ulrich Obrist explaining what the project is and how it came about. There is also an interview with Peter Saville, who has designed the exhibition where the public creates art in response to instructions from artists ranging from Andreas Slominski to Louise Bourgeois, and with artist Richard Wentworth who has made a specially designed viewing platform at Manchester Art Gallery. The Space will feature eight films by major artists who have already contributed sets of instructions to do it, including Yoko Ono on 'Wish Piece' and the subversively dogmatic 'Ten Commandments for Gilbert and George' by graphic art duo Gilbert & George, which includes instructions like 'Thou shalt fight conformism' and 'Thou shalt make use of sex'. To find out more visit: www.thespace.org
Throughout July, the public are encouraged to follow The Space on Facebook and Twitter @thespacearts where 20 easy to follow, step-by-step artistic instructions will be unveiled daily. From Trisha Donnelly's instruction to 'Find a Russian', Tacita Dean's call to find a four leaf clover on a sunny day and Amalia Pica's invitation to throw a confetti-filled party, Manchester Art Gallery is encouraging everyone to upload their response to the instructions. A selection of the best contributions will feature as works of art on The Space throughout July.
During Friday 12th July, The Space will stream live from Manchester Arts Gallery. Across the day, artists will respond to instructions from deceased artists who have influenced their practice. Artist Suzanne Lacy will turn what is perceived to be a menial task into a performance which raises awareness around low paid workers; and a vulture will sweep across Manchester Art Gallery's exhibition space as part of an interpretation by Colombian artist Maria José Arjona.
do it was conceived in 1993 when Hans Ulrich Obrist teamed up with artists Christian Boltanski and Bertrand Lavier to create a series of instructions with contributions by well-known figures in contemporary art, including Yoko Ono and Gilbert and George – as a means of stretching conceptions of what art is, who should enact it, and how. Over the twenty years that followed, manifestations of the project presented in exhibitions around the world, from underground galleries to the most prestigious museums, designed for anyone to follow as a type of DIY toolkit for creating boundary-expanding art. do it is an exhibition conceived and curated by Hans Ulrich Obrist, and organised by Independent Curators International (ICI), New York.
do it 20 13 comes to Manchester Art Gallery as part of this year's Manchester International Festival and will run until 22nd September.
www.doit2013.org
www.thespace.org
About Mark Westall