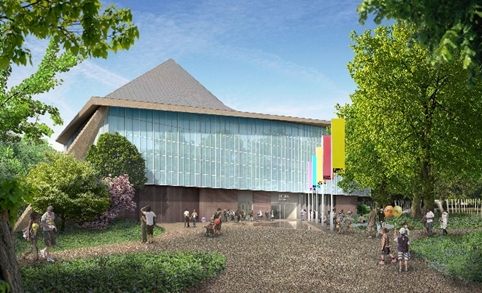 A visualisation of the Design Museum's new Commonwealth Institute home
Zaha Hadid has bought THe Design Museums current home.
It is understood that the building will be used to store Hadid's archive, as well as hosting architectural exhibitions.
The Design Museum will move from Shad Thames to its new home at the former Commonwealth Institute building in Kensington High Street, west London, in late 2015.
The Conran Foundation, which paid for the museum's original design and construction, owns the Shad Thames Lease, and the proceeds of the site's sale will be used towards the new museum's construction.
Deyan Sudjic, director of the Design Museum, says, 'Whilst we are sad to be leaving Shad Thames we are leaving the building in the best possible hands, the sale is a significant moment in the museum's relocation plans and a substantial contribution towards our new home.'
Zaha Hadid says, 'This important acquisition of the Shad Thames site will preserve its significance and we look forward to the future use and occupation of the building.'
Categories
Tags