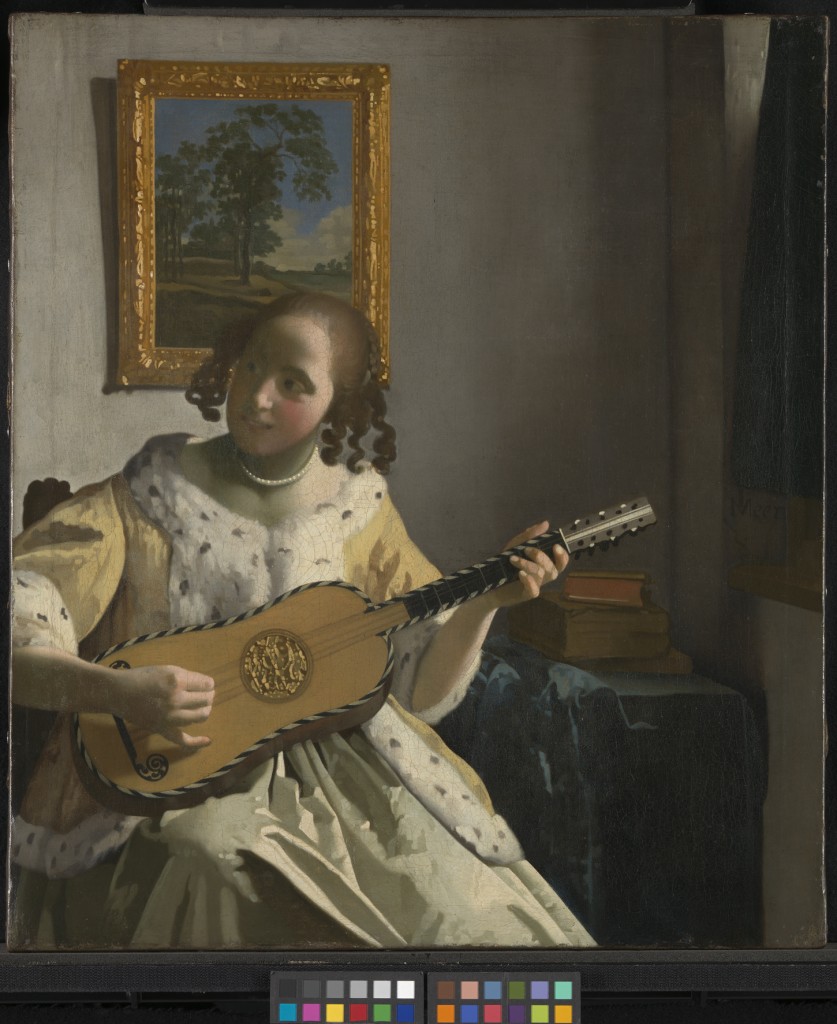 L1126
Johannes Vermeer (1632 – 1675) The Guitar Player, about 1672 Oil on canvas 53 x 46.3 cm On loan from English Heritage, The Iveagh Bequest (Kenwood) © English Heritage
The Dutch Golden Age of painting in the 17th century was marked by an explosion of different genres of painting from tempestuous seascapes to intimate still lifes, as they moved away from the religious works that had preceded them in the Baroque era.
Of all the painters operating at the time, arguably the one with the most famous legacy is Johannes Vermeer. This is primarily for his use of colour and his masterly treatment of light and shade, but also because only 34 of his paintings remain in existence and scattered across many different collections.
There are five of his works on display here but his name is only in the title of this exhibition to draw people in. What this show is really about is the role of music in Dutch life during the 17th century and how paintings are a record of how important a part of everyday it was. Whether it be a violin as part of a vanitas still life or domestic scenes where instruments occupy a prominent position in the room.
There are remarkably well preserved ancient instruments on display such as … and live performances of the music from the time will be played to immerse visitors in the experience.
Most of the paintings seem chaste and reserved but there is a hidden tension buried within them. In the deeply religious Netherlands of the time, music was one of the few activities that single men and women were allowed to participate in unsupervised, providing a latent sexual tension to the seemingly innocent Vermeers of lone women playing instruments.
The last section of this exhibition looks at what made Vermeer stand out from his contemporaries, taking a scientific approach to expose his use of expensive pigments and his different layering techniques to his painting. By showing us that many of his unique qualities were down to method rather than artistic flair does diminish some of the mystique around his work.
By essentially combining three exhibitions into one it doesn't always hang together well and as purely an art exhibition it struggles, as most of the paintings are from the National Gallery's own collection.
But the mixture of art and music does give it a slant that you won't find elsewhere, and fans of both classical art and music are likely to enjoy this show.
Vermeer and Music: The Art of Love and Leisure is on at The National Gallery until 8 September. Tickets are £8.
wiki/Johannes_Vermeer
www.nationalgallery.org.uk
Categories
Tags