Colombian-born, Hackney-based Director, Santiago Posada is premiering his poignant reality documentary 'Railway Redemption' at this year's East End Film Festival. While his previous work has screened at various festivals including BFI London (As part of African Odysseys), EBS South Korea, Wassermusik Berlin, and Copylove Spain, he is founder of the independent production company Third Channel, whose clients include Nick Knight and Soho House. Posada is currently in development with a second documentary, a music promo for the band Bomba Estereo, and a short film, to be shot later this year.
UNDERCRANKED: Director, Santiago Posada 'Railway Redemption' – Trailer from Undercranked on Vimeo.
How did you find filming in Sri Lanka?
There were similarities between my home, Colombia, and Sri Lanka. Both countries have endured war and the Sri Lankan Civil War had just finished, when we were filming. There was still tension lingering in the air but people were open and willing to help. It was an amazing experience.
So how did the idea come about?
I was looking for a film idea and Dorothea Gibbs, my producer, suggested Sri Lanka. I wanted to do something with buskers on trains. I could play it in my head – the landscapes, tea plantations, hills, the rusty carriages.
How did you discover your main character?
We did a casting and there was this guy, Vijay. He was a very quirky and evasive. When I asked him questions and he would tell me one thing and then contradict himself. I wanted the film to reflect his character– this sense of mystery and uncertainty. I wanted to activate the imagination of the viewer. That's the idea but you know, because of Vijay's history it didn't pan out that way.
How did you find out what was going on with him?
I asked him if there would be a reason for him travel from Colombo, the capital, to Kandy, about 70 miles away in the hills. He said no, but he'd come anyway. I was filming him all the time. As the journey progressed, he said, "I've been lying to you. My family is from Kandy and I haven't been back for 25 years because they accused my wife of killing my mother."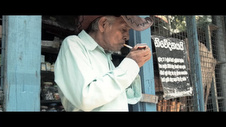 Better story than buskers, yes?
It was like a bomb and from that point the challenge was to try to translate that story into the film. It was such a sensitive subject; what started as a doc about a music tradition turned into this story of murder and death.
The film is filmed as reality fiction, which is fairly uncommon.
We're used to seeing documentaries formatted with talking heads and voiceovers. I was interested in that blurred line between documentary and fiction.
I wanted to do something a bit different, a creative documentary with authorship.
What kind of stuff were you into at the time?
I'm a fan of Kiarostami, especially 'Close-Up'. It's a perfect example of mixing fiction and reality. There's also Carlos Reygadas' 'Japón'. It's shot on 16mm so it's grainy, dark and atmospheric. It really helped the story, about a man who plans to commit suicide and the cinematography reflects the haunting themes in the film.
How artistic is 'Railway Redemption'?
I filmed on a Canon 5D, which had just come out. It was a tiny camera and I only had two lenses. Then, in post we desaturated the colours and added grain to make it look more vintage, matching the old images of Sri Lankan life, as if it the place was frozen in time.
Are you happy with the final film?
I'm always very critical of my work and I would have loved to have more time with Vijay. I was hoping that you as the viewer could take the journey with him. But, I do think the film is what it is. It's a very interesting story that we dug out and that's the merit of 'Railway Redemption'.
Santiago Posada is a Colombian-born, London-based filmmaker represented by Undercranked. His film "Railway Redemption' will be premiering at the East End Film Festival on June 30, 3pm, Rio Cinema, Dalston.
For more information go to: www.eastendfilmfestival.com
Categories
Tags