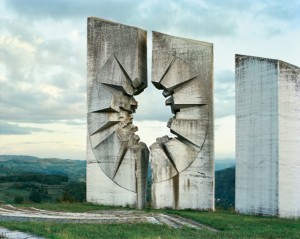 Spomenik #18 (Kadinija?a), 2009. Archival inkjet on paper.
Yvette Greslé talks to Jan Kempenaers at the opening of an exhibition of photographs at Breese Little (www.breeselittle.com). The show runs through to 13 July, and includes Kempenaers' Spomenik series which documents World War II monuments: mostly built in former Yugoslavia, between the 1960s and early 1980s. Monuments are never benign, and are themselves battlegrounds and sites of conflict. How the past is narrated and pictured is a point of contest and dissension, and memory is unstable, slippery ground. Monuments are as much about commemoration as erasure (depending on where you situate yourself politically and historically). The monuments in Kempenaers' photographs are beautiful as material objects that speak to the possibilities of concrete as material; and a twentieth century aesthetic of abstraction and geometry. But they also represent war, violence and political ideology (and their meaning in the present is not always clear). Their surfaces are marked by graffiti and patchy repairs, and some of them no longer exist.  Kempenaers' photographs speak in interesting ways to difficulties attached to the picturing of political subjects: abstract, otherworldly forms speak to a history, and a symbolic order, not necessarily legible. In Kempenaers' photographs the monuments are omnipresent against pale skies and innocuous ground. His photographs bring these structures close but this proximity is unsettling. The monuments, and the photographs that picture them, are beautiful while they embody a past that is violent and not fully grasped.
Jan Kempenaers (b.1968) lives in Antwerp and works in Ghent. He studied photography at the Royal Academy of Fine Arts in Ghent and the Jan Van Eyck Academy in Maastricht. He has been affiliated with the School of Arts Ghent since 2006, and in 2012 completed a PhD in the visual arts. He has been photographing urban and natural landscapes since the beginning of the 1990s, and is currently working on a project exploring abstract photography.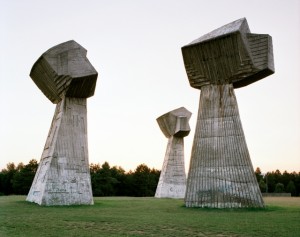 Spomenik #11 (Niš), 2007. Archival inkjet on paper.
How did your interest in the monuments begin?
I started taking some photographs in Sarajevo during the last war. During the rainy days I would go to the library. I started looking through an Art Encyclopaedia and I saw some photographs of monuments (some early, historical photographs). I made some photocopies of these, and took them back home. Later on, six years ago, I began a PhD in the School of Arts in Ghent about picturesque landscapes. I started looking at my archive and re-discovered the photocopies of the monuments. I asked a friend living in Zagreb to help me with this project, and together we went to the library in Zagreb and did some research. We found an amazing map from the '70s with all the monuments on it.  We started to find these monuments and photograph them.  The places where these monuments are have an amazing aura, and I tried to capture this aura in the images.
The monuments were built during Tito's regime – the ones from former Yugoslavia?
Tito asked the artists to design them, and build them. Most of the time the monuments were built at places where there were battles between Tito's army, the partisan army; and the German army.  The monuments are somewhere in the woods, hidden in the woods or somewhere in the mountains.
That is extraordinary because they're monumental and large, but at the same time hidden?
They're not really hidden. But they're always at places where there were these battles, not in cities, but in mountains and woods.
When were these monuments built?
The latest one was built in 1983.
What brought you to Sarajevo in the '90s? What were you thinking about as an artist, at that time?
A friend of mine is a film-maker. He wanted to do a movie there and he invited me to help him. I was always interested in photographing landscapes. I was interested in panoramic views over landscapes. While in Sarajevo I made photographs that were panoramic, wide-angled views over the city.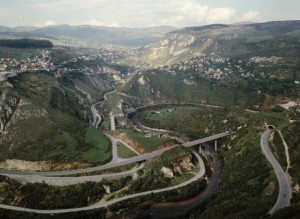 From a series on Sarajevo (1999-2000).
What interests you about landscape? Do you think of your work in terms of a politics?
I am interested in ideas about non-places: in photographs without subjects. The wide-angle view gives an overview of a landscape: a sense of non-subjects and non-places. There are so many details in the images that there is not really a subject in the image. These photographs don't have a clear subject: just an overview, a panoramic view. Everything appears really small.
What interests you about a panorama in particular?
It's an interest that started early-on, during my studies. I studied in the mid-80s and all my teachers were interested in photographing people in a way influenced by Henri Cartier-Bresson, for example. For some reason that didn't interest me and I went to the library and started looking for something else. It was some kind of protest – a reaction against what my teachers wanted me to do. I got really into American photography – the New Topographics (photographers like Lewis Baltz and Robert Adams). This became a starting point for me.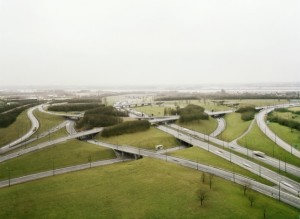 Antwerpen, 1996.
As a photographer interested in place/non-place is there something about Belgium (its landscape) that brought you to these ideas?
In Belgium you find in the landscape different functions that meet each other: industry, living, leisure.  You have a mixture in the function of the landscape. There are weird forms where highways and buildings meet.
Is banality something that interests you?
It still does in a certain way. I'm interested in the 'non-photograph' – where you can't immediately tell why the photograph was taken.  When you look at the photographs on show here you can see immediately why they're photographed – they're of monuments. And they are visually appealing. But the things I did before were the opposite – there was no certain subject. I used banality and you had to ask the question:  'why is this photograph made?' This still interests me.
It's interesting that you say the monuments are hidden in a sense and that you had to find a map and go out searching for them. How do people in former Yugoslavia relate to your photographs? Is there a politics to you photographing these monuments? Was it quite a loaded thing to do?
Yes. It still is I think. One of the local magazines wrote something like 'it must be a really weird guy who's coming from Europe especially to photograph these monuments'. For them, it's still a problem. Someone said to me 'if you guys in Europe think about the partisan army you think in a positive way about it. We don't think in a positive way about it because they killed someone in each family'. That was something to think about.
The monuments have a life of their own. They take on all these different meanings, through all these different wars and politic struggles.
During the last war some of the monuments were dynamited because they referred to the previous regime.
Spomenik #15 (Makljen), 2007. Archival inkjet on paper.
Some of the monuments you photographed were dynamited?
They were dynamited. At least 5 or 6 of them. There is one that has completely disappeared – only the concrete is there.
How do think about your photographs during the process of making them? The colours are interesting – they seem washed out.
I never liked extreme sunlight. Blue skies immediately refer to tourist photography – like the photographs in magazines that make things exotic. I also avoid bright sunlight because I don't want heavy shadows, where you can't see what's in the photograph. I always try to have the opposite of heavy sunlight.
Do you change anything in your photographs, digitally change them?
No never. I wait for the right moment. It's also a nice thing to do, being there for a long time, waiting for the right light. It's part of making these images.
What sort of camera do you use?
Several different kinds of cameras: the photographs of monuments were made on film.
Spomenik #9 (Jasenovac), 2007. Archival inkjet on paper.
Is there one photograph that you'd like to refer to in particular?
The Monument taken at Jasenovac, built on the site of a concentration camp. It was a concentration camp built by the local fascists, during the Second World War. You can see that the monument has been restored because it is on the site of a concentration camp. The histories that are connected to these monuments are not nice histories. The monument is a memorial to the partisans who were killed in the concentration camp.
The aesthetic of these monuments is interesting – the concrete.
They are abstract because they had to represent so many different groups: Sebians, Croatians, Bosnians. Tito wanted to bring the country together. In the Soviet Union you don't see these abstract  monuments: they are connected to a person or an individual.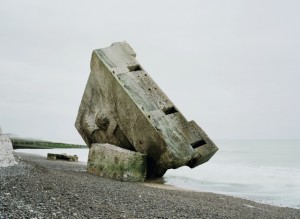 The Bunker 1, 2010. Archival inkjet on paper.
Where is the image of the bunker from?
That was taken in the North of France. It was a World War II bunker that was on the cliffs, and it fell down because the cliffs are becoming shorter and shorter. I had some idea that it was also a kind of monument and I liked it.
What motivated the images of islands?
These are part of my research on the picturesque landscape. It's not only about ruins but also about natural landscapes. I see them as monuments, as sculptures in a way.
Rock No.2, 2009. Archival inkjet on paper.
Are you interested in the politics of images?
As an artist my main concern is to make an interesting image. I did do some research about these monuments which I found quite interesting. But I don't want to go too far with the research. I photographed the monuments, and made a book. People say there's no information in the book, that I only show the images. But by making the images, by making the book, and showing the images, circulating them, people got to be interested in this subject, in the monuments and in doing historical research. That is interesting.
What are you reaching for now as an artist?
I'm working on abstract photographs now but I don't know where it's going to go. It's a new starting point. I want to do some imaginary landscapes.
What do you think is interesting for you about the monuments, reflecting back on them?
When we arrived at these places I wanted to make an image that would capture the aura of these places. It's quite an experience when you arrive there and see these monuments. It's hard to explain.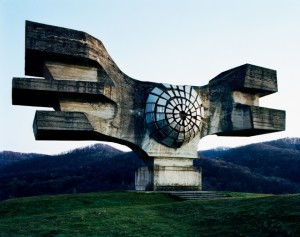 Spomenik #1 (Podgari?), 2006. Archival inkjet on paper.
Jan Kempenaers: Breese Little, 30d Great Sutton Street, London EC1V 0DU (Tuesday – Saturday 12 noon – 6pm). Until 13 July 2013 www.breeselittle.com.
Categories
Tags