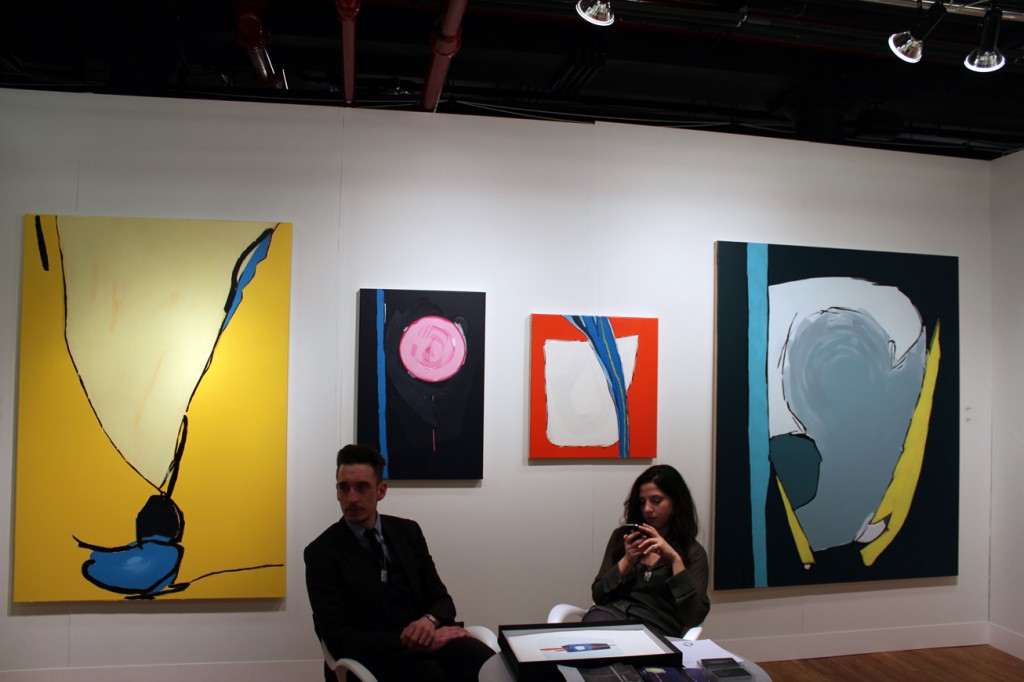 Works by William Bradley at the Eb & Flow of London booth.
A hot-pink carpet and invigorating Averna spritzes greeted morning visitors to Dreispitzhalle and VOLTA's ninth Basel edition. The bright colour overshadowed the earlier inclement weather that has been soaking Central Europe for weeks, and the peeks of blue sky echoed in satisfactory sales throughout a steadily flowing opening day.
Colour cropped up in numerous instances. EB&Flow (London) sold all three of young artist William Bradley's vivid abstract paintings (range 4,000 – 10,000 EUR) to a Zurich-based collector, plus noted keen interest in Chris Aerfeldt's photorealist portraits. Next door, The Hole (New York) sold one of Kadar Brock's abraded and textured abstract monoliths ($12,000) to a New York collector and by mid-afternoon had two others on hold ($10,000 each), plus dealer Kathy Grayson recorded strong interest in and good questions regarding paint chemist Holton Rower's conceptual Focus series.
On reactions to Ed Young's red-and-white mural MY OTHER RIDE IS YOUR MOM (emulating an outsized bumper-sticker) outside the fair, SMAC Art Gallery (Stellenbosch/Cape Town) dealer Marelize Van Zyl commented, "there have been lots of compliments and discussions on the role and the value of public art", plus in Young's identity as a South African artist. She fielded interest in Young's murals from a Berlin-based collector, adding that the bumper-sticker-sized versions at the booth "could go viral! Now Ed is facilitating the 'performance'."
Deliberation and good questions were a theme of the day. Adnan Manjal of Athr Gallery (Jeddah) found much local attention to Sami Al-Turki's large-scale Barzakh prints, particularly from collectors who had other Middle Eastern artists. Meanwhile, Kristian Jarmuschek of Jarmuschek + Partner (Berlin) was pleased by interest in Carina Linge's new still-life photography series and in Nika Neelova's massive parquet floor wave Fragments Shared against the Ruins, Variation 2. According to Leigh Conner of CONNERSMITH. (Washington DC), "We knew we were taking a risk with a solo booth of works unlike others at the fair," commenting on the gallery's triad of light alchemist Leo Villareal's engaging LED works, "but the interest and conversations have been worth it."
A pedigree of art buyers shined throughout. CHAPLINI (Cologne) sold one of Philip Siebel's beguiling woodgrain planes to a London museum, while HilgerBROTKunsthalle (Vienna) cleared an entire hanging of Venice Biennale El Salvador representative Simón Vega's mixed-media works to a prominent Swiss foundation. Dealer Michael Kaufmann recorded interest from a German collector in fellow South African Pavilion artist Cameron Platter's enormous carved Jacaranda wood sculpture Advertising Tombstone Wall, No. 3, situated outside Dreispitzhalle, plus further attention on Leila Pazooki's spheres series Empty space in your mind, which the young Iranian artist conceived at a workshop in Indonesia. SLAG Gallery (Brooklyn) sold one Dumitru Gorzo painted print and one concrete-slathered photograph by Naomi Safron-Hon (approx. 9,000 EUR each) to the same collector, amid a very bustling booth. And while Jesper Elg of V1 Gallery (Copenhagen) enthused about selling two of John Copeland's visceral abstract paintings (approx. 11,000 EUR each) and a modified Playboy, he was particularly pleased for focused interest in Jacob Holdt's American Pictures series, including from a Chinese museum curator and other collectors. Intense attention followed VOLTA9's unique booth concepts.
CHARLIE SMITH london (London) sold a monumental (and sehr unheimlich) Eric Manigaud print for just under 10,000 EUR to a well-respected billionaire collector from Virginia, plus recorded keen interest from international collectors in creepy works by John Stark, Wendy Mayer, and Tom Butler (that's photorealistic paintings, doll-like sculpture, and modified albumen prints, respectively). "There's been a very positive response to the curatorial emphasis of my booth, and particularly the subject of the uncanny," remarked dealer Zavier Ellis. Meanwhile Gallery Skape (Seoul) sold two of Myeongbeom Kim's hyper-surrealistic sculptures, including a large deer-head taxidermy ($30,000) to a Basel collector, plus counted much attention to Yujung Chang's ethereal translucent prints of disused industrial spaces.
A stellar list of international collectors and professionals attended VOLTA9's preview, including Susan and Michael Hort (New York); Ole Faarup (Copenhagen); Alain Servais (Brussels); Carole Server and Oliver Frankel (New York); Cornelia Dietschi (Switzerland); Thomas P. Jochheim (Germany); Dr. Heinz Stahlhut (Curator, Kunstmusem Luzern); Anne-Marie Melster (Artport Co-Founder and Director, Spain); Wolfgang Schoppmann and Karin Pernegger (Director/Curator of Kunstraum Innsbruck, Austria); curators from Stedelijk Museum (Amsterdam); plus many other art-minded patrons.\
Read ArtInfo's Report: HERE
Categories
Tags