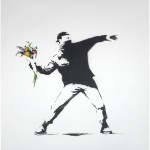 Love is in the Air Banksy Photo: Bonhams.
An iconic spray paint work by the graffiti artist Banksy will be offered at Bonhams 27th June Sale in New Bond Street where it is expected to fetch as much as £100,000. Love is in the Air is one of the Bristolian artist's most famous motifs, and features on the cover of his celebrated 2005 book Wall and Piece. Executed in 2006, the subject matter of Love is in the Air pre-empts images we have seen in recent years; the London riots, protests over austerity measures in Greece, the Arab Spring and the continuing conflict in Syria.
Alan Montgomery, Contemporary Art Specialist at Bonhams said,
"Prices for spray paint canvases by Banksy in our recent auctions demonstrate that his works are more popular than ever with high-profile art collectors, reflecting the continuing fascination with his art amongst the public as a whole. This Love is in the Air is one of his best-known images, and we expect significant interest in this lot. We are delighted to be including in this auction many other works by some of the biggest names in contemporary art, both from Britain and beyond."
The sale features work from a number of significant British artists, including a spin painting by Damien Hirst decorated with brightly coloured butterflies that combines two of his most recognisable techniques, two 'Postcard Sculptures' by Gilbert and George, and a sculpture and a drawing by Tracey Emin which both feature portraits of her beloved cat Docket.
About Mark Westall