Belgian based artist Berlinde De Bruyckere challenges viewers at this year's 2013 Venice Biennale by making them second guess whether they are looking at a tree trunk or human flesh. The piece is exhibited in a setting that does not actually use any electric light but has been made by covering the Belgium pavilion's large skylight in hessian sacking. While accurately replicating an enormous, gnarled and knotted, uprooted elm tree, which merges into a mass of trunks and limbs, her immaculate installation functions as a disturbing resemblance to the  muscles, tendons and bones of the human form.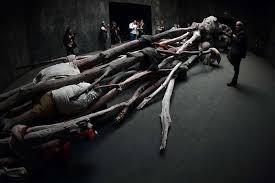 Curator of the Belgian pavilion, J.M. Coetzee (winner of the 2003 nobel prize for literature) describes De Bruyckere's sculpture as a monstrous, melancholic, poetic work that speaks of death, decay, and dashed dreams.
'Her sculptures explore life and death – death in life, life in death, life before life, death before death – in the most intimate and most disturbing way. they bring illumination, but the illumination is as dark as it is profound.' J.M. Coetzee
To integrate this contemporary sculpture in Venice, a city that has been an epicentre of art and culture for centuries, De Bruyckere has incorporated the iconography of Saint Sebastian into her work.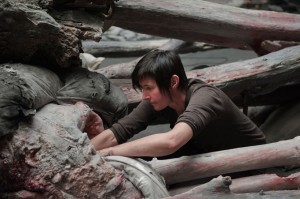 In Venice, no other saint has been portrayed more than Saint Sebastian, who is often shown tied to a tree and shot with arrows. In a city that was repeatedly struck by the plague, saint Sebastian – who resisted the divine arrows that, according to tradition, spread the plague – became the most important protector saint.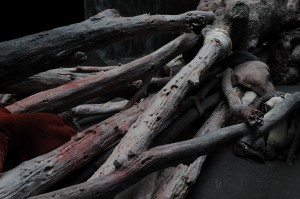 De Bruyckere has found Saint Sebastian in the shape of her twisted and tied-down tree. There are places where the bark has been removed, where the delicate skin that lies beneath is uncovered. The tree's branches – its arms and legs – have been removed, leaving behind a bare trunk. The removed branches have left their marks; the injured tree reveals its scars. for the artist, Saint Sebastian is no longer tied to the tree; he has become the tree.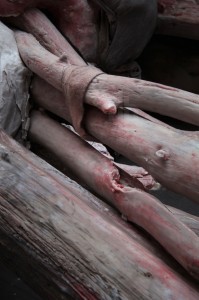 The deep red cloths that support the tree appear as if they are soaked in the blood of Saint Sebastian, but are also reminiscent of the typical reds in the paintings of old venetian masters, such as Bellini, Titian and Veronese. The immense force that radiates from this enormous trunk personifies Saint Sebastian's vigor and strength.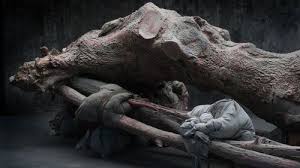 Available Via: http://www.designboom.com
About VC Maurer