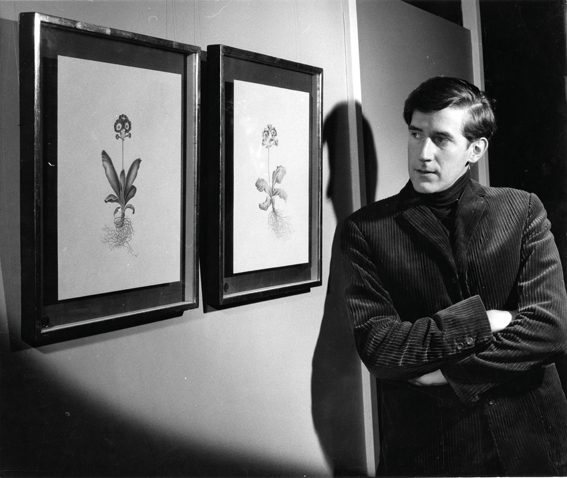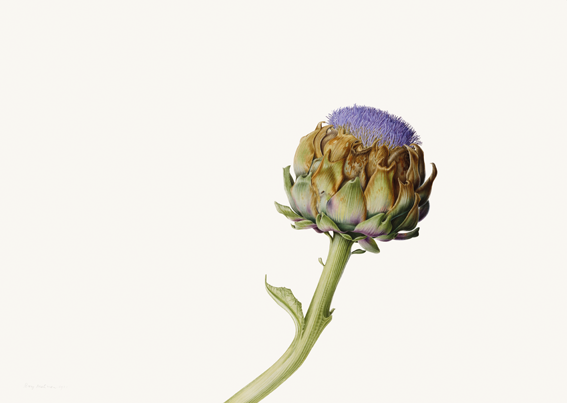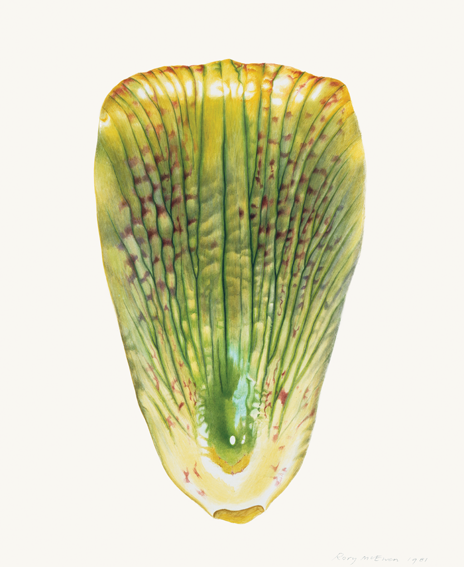 Through to 22nd September 2013 The Shirley Sherwood Gallery of Botanical Art, Royal Botanic Gardens, Kew www.kew.org
'His botanical work predated and outlasted all others, and in it, paradoxically, he was most truly an artist of his time. For a while a good many artists could work in these idioms of modernism, none could paint an auricula or an onion as he could, while possessing the consciousness of a modern artist'.
Douglas Hall, Keeper of the Scottish National Gallery of Modern Art 1960 -1984
Rory McEwen The Colours of Reality will present the vibrant and varied career of the renowned Scottish artist and musician, Rory McEwen (1932 – 1982). Focussing on his remarkable paintings of plants, the exhibition will reveal McEwen's lifelong enquiry into light and colour. This is the first time these works will have been presented to the public since a 1988 Serpentine Gallery exhibition.
Renowned for both his artistic and musical work, this exhibition will highlight the many sides of McEwen's creative career. Ranging from the 1950s to early 1980s,it will include his hyper realist, botanical paintings, as well as etchings and sketch books. In addition to lesser known pieces such as collages, there will be the opportunity to view an example of his sculpture, itself a study in light. It will also be possible to view McEwen's rarely seen film documentation of Joseph Beuys performing an action, 'Joseph Beuys in Scotland', 1970.
McEwen is perhaps best known for his botanical studies and his techniques have had a lasting impact on the botanical art world. His posthumous 1988 Serpentine Gallery exhibition is considered one of the major turning points in the development of contemporary botanical art having a marked affect on its followers today. Painted in watercolour on vellum, four of the gallery spaces will be devoted to these studies.
Alongside his art, McEwen was a leading light in the post-war folksong revival. In 1956 he toured the USA with his brother, Alex, and their acoustic guitars, becoming one of the first British acts to appear on the Ed Sullivan TV show. On his return to the UK, McEwen earned national fame as a resident singer on the Tonight programme followed, in the 1960s, by hosting the late-night folk and blues programme, Hullabaloo, a precursor to Later…with Jools Holland, who coincidentally McEwen's youngest daughter Christabel is married to. Inspired by the iconic American folk and blues musician, Lead Belly, McEwen was arguably the first person to play 12-string acoustic guitar on television in Britain. His guitar will be on show at the exhibition.
To highlight McEwen's substantial influence, a supporting exhibition, Rory McEwen's Legacy: Artists Influenced by him in the Shirley Sherwood Collection, will run until 4 January 2014 in the Shirley Sherwood Gallery. It will show how McEwen inspired many of today's artists such as Bridgid Edwards, Coral Guest, and Pandora Sellars. Dr Shirley Sherwood is a contemporary botanical art collector who is world renowned for her extensive collection, books, and exhibitions.
To accompany the exhibition, Kew has published a book Rory McEwen The Colours of Reality (Hardback/paperback: £32/£25). Edited by botanist, plant collector, author and gardener Martyn Rix, the publication presents 150 stunning illustrations of Rory McEwen's botanical works. His floral subjects are featured alongside essays from figures in the botanical art world and those who knew him, such as Rix, James Fox, Richard Demarco and Dr Shirley Sherwood. The essays cover McEwen's botanical work, his aptitudes for music, poetry and sculpture, and his influence on, and friendships with, fellow artists and musicians.
Rory McEwen The Colours of Reality features works loaned from his family and from private collectors. McEwen's work can be found in private and public collections across the globe, including the British Museum; V&A; Tate; National Gallery of Modern Art, Scotland; Fitzwilliam Museum, Cambridge; Hunt Institute, Pittsburgh; and MOMA, New York. An exhibition of McEwen's work, The Tweed Road, will also be on show at Inverleith House, Royal Botanic Garden Edinburgh until 23 June 2013. a href="http://www.rgbe.org.uk">www.rgbe.org.uk

http://www.kew.org/collections/art-images/shirley-sherwood-gallery/
About The Artist
Painting flowers from the age of eight, McEwen had a talent to represent his subject matter with scientific precision and artistic flair, despite having no formal art school training. From 1964 he devoted himself exclusively to visual art. In his paintings he forged his own interpretation of 20th century modernism, with individual flowers and vegetables as the subject, while simultaneously experimenting with glass, metal and perspex sculptures and abstracts in oil. Over the course of his career, McEwen developed a distinctive style, using large backgrounds to float his 'plant portraits' on vellum. Without shadows and executed in exact, minutely accurate detail, he recorded the imperfect and the unique, as well as the flawless.
Rory McEwen's interest in contemporary thinking was reflected in his artistic and musical friendships, which both influenced and were influencing. Among his closest artist friends were the Americans Jim Dine, Robert Graham, Brice Marden, Cy Twombley and David Novros. Among close poet friends were the Portuguese Alberto de Lacerda, the Americans Kenneth Koch and Ron Padget, and Scotsman Alastair Reid. In his musical circle he became particular friends of Ramblin' Jack Eliot (Bob Dylan's musical father), and the Rev. Gary Davis. Van Morrison and the folk singer Martin Carthy cite McEwen as an influence, with Carthy recalling that "you saw the world when you went to Tregunter Road [the McEwen home]. Bob Dylan, George Melly, Princess Margaret, The Beatles…"
Categories
Tags