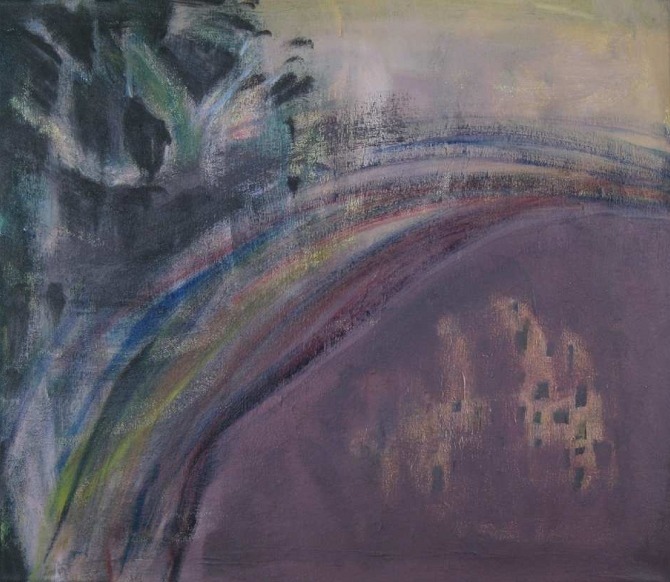 31 May – 22 June Enclave 8, 50 Resoluton Way Deptford London SE8 4AL www.lubomirov-easton.com
Pareidolia (pron.: parr-i-DOH-lee-a) is a psychological phenomenon involving a vague and random stimulus (often an image or sound) being perceived as significant. Common examples include seeing images of animals or faces in clouds, the man in the moon or the Moon rabbit, and hearing hidden messages on records when played in reverse.
Rachel Busby
Postcards from Pareidolia is an installation of raw sensorial paintings presenting a 'storyboard' of the artist's rural living. Selective memories, true stories and ancient histories bind together the passage of time.
Each piece worked to an exacting sense, whether it be touch, smell or sound. Seeing nothing, but sensing everything. Within the setting of a raw, unforgiving yet beautiful landscape, the work looks towards its inhabitants and ponders over their curious 'frontier mentality'. Big spaces breeding secrets, cultivating strange habits and lawlessness – the art of getting away with 'stuff' that you can't do elsewhere. The best kept secret of living frontier style.
Ufo spotting, moonshine, night skies, and space rock are just a few of the random fleeting selections that build a bigger picture.
From the artist's notes:
Miles from no-where, pitch black outside, looking from an entrance, straight ahead, the painting Setting the Staging invokes the excited anticipation of the night ahead. Bright, twinkly lights, on and off, a sound check, a warm fuzzy glow of a fun-filled night. The mismatch of space rock in a disused chapel, the jarring flittering acrid lights in a stoned out room. Transparent and roughly addressed, a fuzzy memory of an impending urgency…
The painting Virgin ponders a mystery, a curiosity. I never understood why each home had a dead house plant in pride of place. On a sideboard, mantlepiece, coffee table, the poor thing became a surrogate ashtray, nicotine dead. A gooey pot, a couple of dead plant strands in blue – memories of a Virgin Mary porcelain. Hope from the ashes.
Penbanc – I grew up on that street. Neat, concrete, grey. Even the sea as the streets' background is grey. Concrete gardens, manicured shrubbery, never stood a chance. Except for my parents' conifer. It's making a break out.
In Bluestone Magic Path – the Preseli Hills, a location of stone age significance, an errie, barren place, steeped with mysticsm, hangs its heavy past in a deafened silence. I don't like going there.
But intrigued with its importance – a major trading route from the coast inland, a motorway for stone-age travellers. The unique blue stone, only found in this part of the world, yet dragged hundreds of miles to be part of the Stonehenge monuments. I paint a path through an obstacle course of marsh, shrubbery and rock.
These are my postcards.
Rachel Busby grew up in West Wales, and after an extended time living in London has returned there. Rachel studied at Winchester School of Art and at the Akademie Der Bildenden Kunst in Vienna. She is the founding co-director of re-title.com. This will be her first solo exhibition since returning to live in Wales.
Curated by Iavor Lubomirov and Bella Easton. Text by Rachel Busby.
About Mark Westall