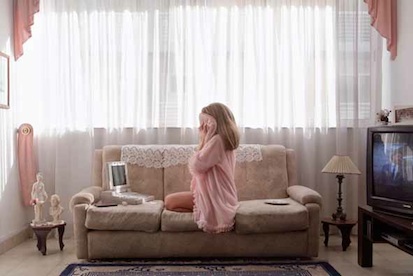 Juno Calypso, Disenchanted Simulation, 2013 60 x 40 inch, C Type
The winner of the Catlin Art Prize 2013 has been announced as Terry Ryu Kim. Terry was awarded the £5,000 prize for her installation, Screening Solution I, II & III. The panel of judges –Turner Prize nominated Dexter Dalwood, gallerist and curator Ceri Hand, and collector Valeria Napoleone – also commended the other artists for producing a strong and committed selection of new works.
Screening Solution I, II and III explores how the body is manipulated by architecture and technology. A series of screens, projections and cameras dictate a path through the exhibition and convert the installation into a stage-like zone, forcing the visitor to perform. By intensifying everyday surveillance and filtering systems encountered in public spaces (such as hospitals, airports and other transport networks), this work explores the way in which physical and technological structures exert power.
Judge Ceri Hand commented:
'We selected Terry Ryu Kim because the work – ideas, materials, execution and installation – felt mature, concise, pertinent and unique. It draws on public spaces and speaks of intimacy, control, collective identity and the fragmentation of the self. It is a haunting, beautiful work.'
Visitors to the Catlin Art Prize exhibition selected their favourite artist as part of the Visitor Vote. Votes were cast via the Art Catlin website www.ArtCatlin.com and a ballot box at the venue. The winner of the Visitor Vote, Juno Calypso, was awarded £2,000.
Calypso creates photographs of staged scenes in which she performs under the guise of a character called Joyce. In this recent series the subject's face is obscured introducing an unsettling narrative. Joyce remains entangled in rituals of seduction: objects once perceived as radical, innovative, fun and nutritious – an electronic anti-wrinkle mask, computer equipment from the 1980s, baby oil, a tin of cold meat – have become joyless and oppressive.
Read FAD's Interview with Terry Ryu Kim HERE
Catlin Art Prize 2013 Londonewcastle Project Space 28 Redchurch Street London E2 7DP artcatlin.com
Open until Sunday 26th May 11 – 6pm daily Sundays noon – 4
About Mark Westall