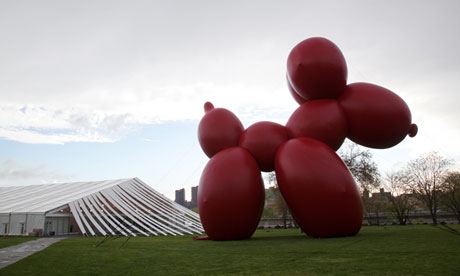 Finger in the eye of Jeff Koons? … Paul McCarthy's Balloon Dog (2013), Hauser & Wirth. Photograph: John Berens/Frieze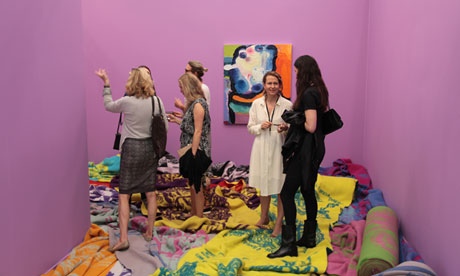 Bjarne Melgaard's chaotic carpet ride at the Gavin Brown booth, 2013. Photograph: John Berens/Frieze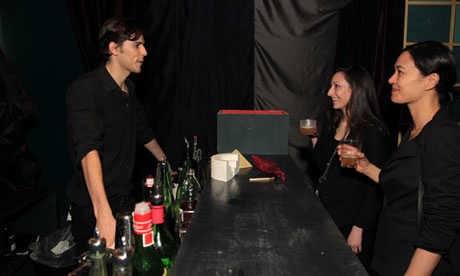 The hardest door to unlock … Liz Glynn's speakeasy, VAULT (2013). Photograph: John Berens/Frieze
This article titled "Frieze New York turns two with a giant balloon dog and a VIP-free speakeasy" was written by Jason Farago, for theguardian.com on Friday 10th May 2013 10.36 UTC
"The terrible twos", the parenting blogs call them: an age of growing pains and temper tantrums. But at two years old, Frieze New York is looking mighty mature. The fair's light-filled tent, designed by the Brooklyn firm SO-IL and pitched on Randall's Island in the East river, still looks fabulous – even if it has lost a bit of its novelty. During the rainy preview on 9 May, collectors were wilting in the humid air, their Louboutins sticking to the freshly painted floor. The art is strong, the food is excellent. The soaking grass is filled with contemporary sculpture, and even the less ambitious works look impressive in the shadow of the twisting white pavilion.
So take the ferry to Friezeland, an island off the coast of New York with its own newspaper (produced every morning), its own fashion code (wear black, even in May), restaurant scene (have you tried the Chongqing chicken wings at Mission Chinese?!), and gossip network (you just missed Andrew Garfield over there at the Jonathan Horowitz installation!). This year's edition confirms that Amanda Sharp and Matthew Slotover, who founded the London edition of Frieze art fair a decade ago, made the right call by bringing their enterprise to New York – a city with a glut of galleries and money to spare, but with a local art fair, the Armory Show, that has seen better days. Opening day was packed solid, and it's now clear that Frieze is no longer a British invasion but a local institution.
Last year's inaugural edition of Frieze New York felt glitzier and safer than Frieze London, closer to the big-money fairs such as Art Basel than to its British cousin. There's no shortage of blue-chip art this year: a Kapoor here, a Rauschenberg there. Yet compared with the first fair, at this second edition dealers seem to have taken a few more risks with presentations.
After mounting a surprisingly cautious booth last year, the Anglo-American dealer Gavin Brown has gone for broke this time with a fantastic display by Bjarne Melgaard. The Norwegian artist has produced a line of carpets strewn chaotically around the booth, which at least one spectator tripped over (that would be me), and willfully ugly paintings inspired by the suicide, a few years back, of a young New York artist. They call the art world's opaque social rules into question, taking the life of a troubled woman and offering it back to an art market that had no interest in her while she was alive.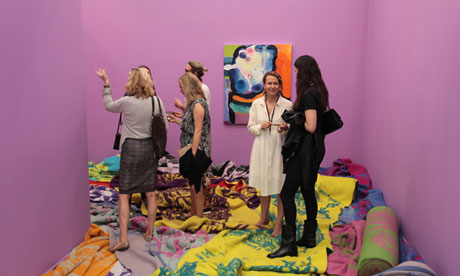 This year's edition also includes a gratifyingly high percentage of female artists – who don't just have fewer exhibitions, but whose average prices still lag well behind their male counterparts. Cheim & Reid, who have done more than any other major New York gallery to bring women's art to the fore, are exhibiting the last painting ever made by Joan Mitchell – a ravishing mess of blue and yellow squiggles indebted to Monet – alongside first-rate sculptures by Jenny Holzer and Lynda Benglis and a new abstract painting by Pat Steir dripping in silver and gold.
Frith Street, from London, has a work of crushed forks, knives and spoons by Cornelia Parker: 30 pieces of silver, if you stop to count. At Tanya Leighton Gallery, the estimable Sharon Hayes has collected old records of speeches and lectures by some of the worst politicians in American history ("Freedom's Finest Hour" by Ronald Reagan, or "The Barry Goldwater Story") – a reminder that in the US, even reactionary politics eventually ends up in the market's clutches. The late Nancy Spero is on view here too, at Lelong Gallery, with collages from the 80s that condemn apartheid South Africa and the Argentinian dictatorship. And Ann Cathrin November Høibo, exhibiting at Standard, stopped me in my tracks with a delicate abstract painting, all faint marks and craquelure, made in a decidedly indelicate fashion: she painted the work in acrylics, then soaked the canvas in acid.
For jaded New Yorkers, one of the great benefits of a fair such as Frieze is the chance to see art from outside the Chelsea and Lower East Side bubble. I was especially impressed with Regina Gallery, based in Moscow but with an outpost in London, who are showing the work of the excellent Russian video artist and choreographer Victor Alimpiev. In his video To Trample Down an Arable Land, ballet dancers advance over an inclined ramp packed close together. The individual and the collective merge into one, with the imagery at times recalling socialist realist painting and sculpture of the 20s and 30s.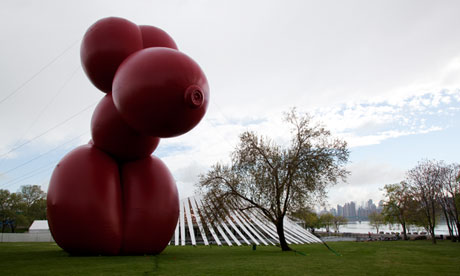 Outside, the LA mischief-maker Paul McCarthy has installed a red inflatable balloon dog that towers over the tent. It's ridiculously massive, 80 feet tall, and if it's meant to reduce Frieze's elegant bivouac to a doghouse, it is also a finger in the eye for Jeff Koons – the gleeful American artist who opened duelling retrospectives at the two largest galleries in New York this week. (At David Zwirner on Wednesday night, punters were queuing for the Koons show as though it was a rock concert.) Koons's balloon dog sculptures, made of coloured stainless steel, go for m or more and decorate the homes, or tax-free storage facilities, of the world's oligarchical mega-collectors. But McCarthy's balloon dog is an actual balloon – as if to say that Koons's work, perhaps even all art, is just hot air.
In a way I'm grateful to McCarthy for his big red imposture, because while Frieze New York is a great art fair – the best in New York, we can now say – it's an art fair all the same. Consultants race about, spending more time on iPads than looking at art. Collectors are plotting their next rendezvous in Venice or Basel. Inside the tent there's not one but two VIP lounges, serving varying gradations of the well-off and well-connected. (They're both nice, though only one has free coffee.)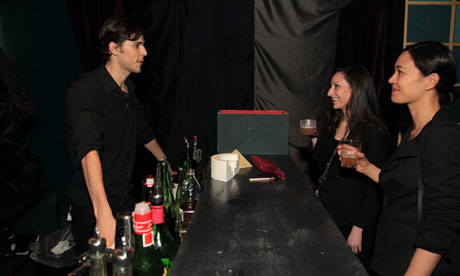 But the hardest door at Frieze New York isn't found at a private lounge or a collectors' retreat; it's part of an artwork. For one of the fair's non-commercial commissioned projects, LA artist Liz Glynn has set up a working speakeasy inside the tent, where bartenders – they're actually actors, and their cocktail-making is somewhat lacking – will pour you a drink and tell you stories based on the works of Franz Kafka and Jorge Luis Borges. Your VIP card won't help you past the door, however. Admission is secured only with a special token handed out to visitors at random, and no amount of pleading will help. Even at Frieze, even in New York, money can't buy you everything.
guardian.co.uk © Guardian News & Media Limited 2010
Published via the Guardian News Feed plugin for WordPress.
Categories
Tags