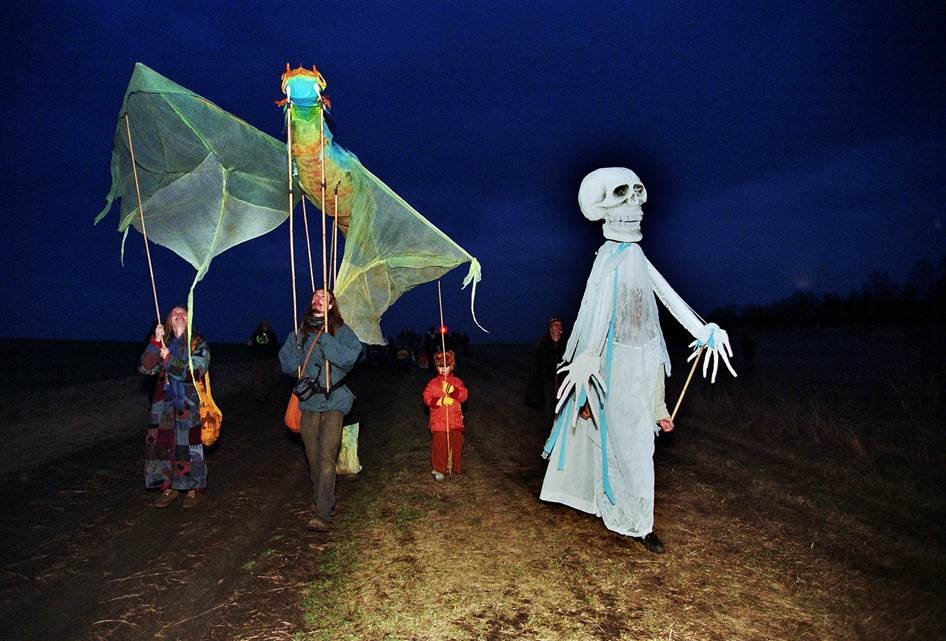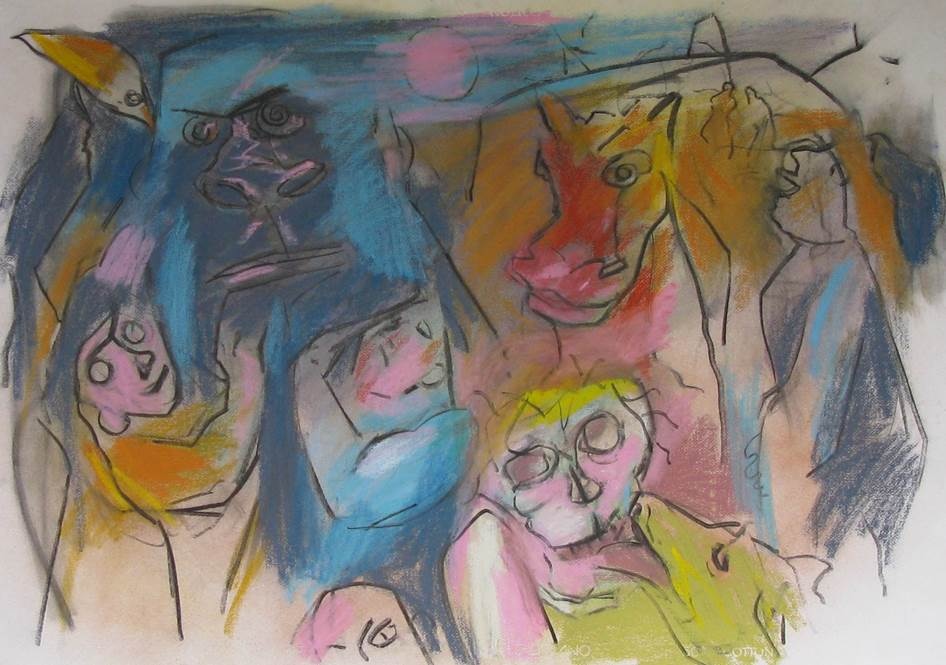 Friday 3rd May – Friday 7th June 2013 The Piper Gallery 18 Newman Street, London W1T 1PE www.thepipergallery.com
Come Carnival engages Markéta Luska?ová's project of immersive photography of Czech Carnival – the ritual, the costumes, its unruly spirit of magic and metamorphosis – with a selection of Francis West's recent charcoal, pencil and pastel drawings which unleash a Pandora's Box of shape-shifting beings and vivid imaginary scenes.
Both artists frequently explore the dynamic creative energy of the carnivalesque, a subversive spirit which generates an unbounded place of transformation and exchange. Yet, this exhibition presents a conversation which resonates between two very different practices; photography and drawing are set free to twist and revolve around each other in suggestive synergy. Every boundary is blurred while uncanny links are formed as masks and costumes, humans, gods and beasts – both demonic and divine, mystical and everyday – come together in a covert choreography.
Despite very different cultural and artistic starting points, there is an intriguing weave of creative perspectives between West and Luska?ová. Drawing has always underpinned West's work not just in terms of sketching for painting but as a creative activity in its own right as a site of daring deconstruction. West's recent drawings are free-spirited; myth, dream and memory are all released in an ecstatic carnival dance. Luska?ová has always kept alive the sense of chance and potentiality within the image, creating a new celebratory aesthetic spirit. For her, photography, like sketching, is a dynamic and generative process and it is this untamed and performative approach that brings her work close to West's drawings.
Come Carnival presents work of the past decade which shows both artists returning to some of their most profound concerns with a new sense of playful vitality. When it comes to exploring ideas of performativity, West is performative in his process while Luska?ová is an insider to the performance of the carnivalesque. Both independently and together, West and Luska?ová express an ageless and subversive spirit.
About The Artists
Francis West
Francis West was born in 1936 in a remote fishing community in Scotland, where he spent his formative years. After National Service, he moved to London to study at the Chelsea School of Art (1957-1959). West mounted his first solo show in 1973, at the Hamet Gallery on Cork Street and, in 1981, his work was included in the Arts Council's Hayward Annual. West based himself in Paris during the 1990s and made two working trips to America, which marked the beginning of the 'bandit series'.
Basic to all of West's work, whether in drawing, pastel or painting, are figurative forms which have been plunged into states of metamorphosis. Beings, once originating in myth, literature or life experience, flow into and out of marks on canvas and paper. They refuse to settle or fix themselves into received representations or familiar dramatic scenarios. After the success of West's exhibition, Voyages in 2012, the gallery is proud to now exhibit a selection of his drawings.
His work is held by public collections, including the British Museum, Pallant House Gallery, Arts Council of Great Britain, Victoria & Albert Museum and numerous private collections. West lives and works in London and Paris.
Markéta Luska?ová
Markéta Luska?ová is considered one of the most respected and talented photographers to come out of Central Europe, in the last forty years.
Luska?ová was born in Prague in 1944 and graduated from Charles University in 1967 specialising in Sociology of Culture. She evolved a practice of 'documentary' photography.
This documentary position was shaped by her earlier education in sociology and what became a life-long commitment to researching the human condition. Although she employed the signifiers of a documentary approach, her photographs were never documentary in spirit. They were always imbued with a sense of empathy, poetic transformation and the surreal. Her dream-like images of London's street markets or the dour, marginalised communities she enshrined, resisted any tendency to classify or stereotype their subjects.
In the 1970s and 80s, communist censorship attempted to conceal her international reputation. Her works were banned in Czechoslovakia, and the catalogues for the exhibition Pilgrims in the Victoria & Albert Museum were 'lost' on their way to Czechoslovakia.
Luska?ová's work is held at the Arts Council of Great Britain, the Eastman House Collection, the Bibliothèque Nationale in Paris, the Museum of Modern Art in New York, the V&A, the Wilson Centre for Photography, Tate Britain, Slovakian National Gallery, the National Gallery of Australia, San Francisco Museum of Art and the Stedelijk Museum.
About Mark Westall