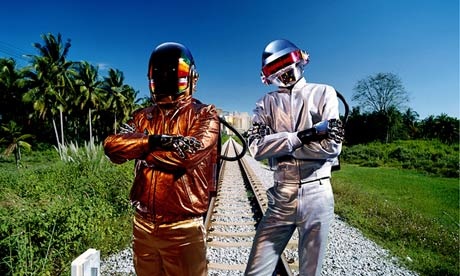 Punk pastoral … the band are reportedly attracted by Wee Waa's community spirit
This article titled "Daft Punk to launch new album … from Wee Waa agricultural show, Australia" was written by Sean Michaels, for theguardian.com on Wednesday 10th April 2013 11.41 UTC
Daft Punk will launch their new album at a rural Australia agricultural fair. Random Access Memories will debut before the 4,000 attendees of the 79th annual Wee Waa Show, in "Australia's cotton capital", Wee Waa, New South Wales.
Pitchfork have confirmed the bizarre initial report, published at WeeWaa.com. On Friday 17 May, amid the Wee Waa Show's dog high-jump, horse events, "ute muster", fireworks and "lolly drop", Daft Punk's fourth album will have its playback premiere "from a purpose-built stage".
The band were allegedly drawn to Wee Waa by the array of towering radio telescopes at nearby Narrabri Observatory. It's not clear whether the six 22-metre-high satellite dishes are visible from the festival site. According to the Melbourne Herald Sun, Wee Waa was also deemed a suitable location because it embodies the "community spirit" that led to Random Access Memories' creation.
Eight years in the making, Daft Punk's new album features contributions by Nile Rodgers, Giorgio Moroder, house producer Todd Edwards, and many others. The French DJs have begun introducing the cast through a series of collaborator videos. "Two androids are bringing soul back to music," Edwards said in a clip posted this week. Random Access Memories apparently captures an American "west coast vibe", influenced by Fleetwood Mac, the Eagles and the Doobie Brothers. "They reversed gears and went back to a time that no one's really focusing on," Edwards said. "Younger producers are going to be blown away."
Random Access Memories will be released by Columbia Records on 12 May.
guardian.co.uk © Guardian News & Media Limited 2010
Published via the Guardian News Feed plugin for WordPress.
Categories
Tags