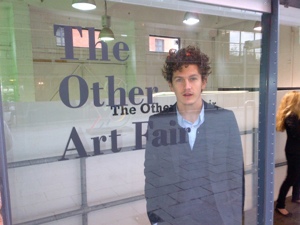 Ryan Stanier Fair Director The Other Art Fair
We have a special 50% discount on The Other Art Fair Spring Edition tickets just follow the link bellow and type in the secret code FAD (all upper case)
then enjoy The Fair we will be presenting a really weird performance (more details to come) on Thursday evening. We have also teamed up with Jester Jaques to show you some great art (in the bar area at the back). AWESOME !!!
CLICK HERE SECRET CODE: FAD
THE OTHER ART FAIR SPRING EDITION
Ambika P3 University of Westminster, 35 Marylebone Road, London, Greater London, NW1 5LS
OPENING HOURS
Private View – Thursday 25th April 2013 – 5pm – 9pm
Friday 26th April 2013 – 11am – 7pm
Saturday 27th April 2012 – 11am – 7pm
Sunday 28th April 2013 – 11am – 6pm
Categories
Tags