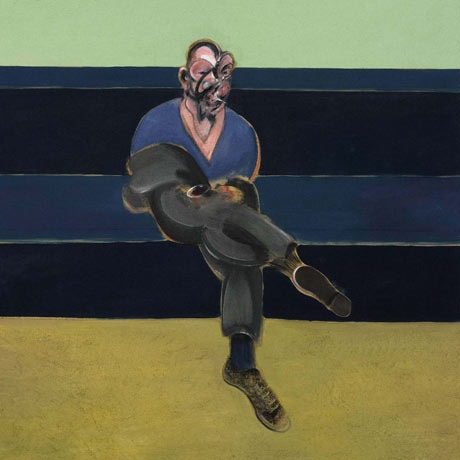 A detail of Study for a Portrait of PL by Francis Bacon, 1962. Photograph: Simon Warren
This article titled "Portrait of Francis Bacon's violent lover to be auctioned at Sotheby's" was written by Mark Brown, arts correspondent, for The Guardian on Monday 8th April 2013 03.00 UTC
He could be astonishingly violent, had a sadistic streak and was a raging alcoholic, but Peter Lacy was the great love of Francis Bacon's life and the artist is clearly expressing his feelings in a powerful and tender portrait not publicly exhibited for 40 years.
"This picture was very much painted as a eulogy for his friend and lover," said Sotheby's expert Oliver Barker. Study for a Portrait of P.L. is to be auctioned in New York with an estimate of between -m (£20-£26m) and can be seen at Sotheby's in London next weekend.
It is the most important painting of Lacy by Bacon and is all the more poignant because it was painted in 1962 just months after Lacy's alcohol-related death in his adopted home of Tangier."We are incredibly excited about this sale," said Barker, the auction house's senior international specialist in contemporary art. "Not only because Francis Bacon is, commercially speaking, arguably the most enticing artist of the current time. But to have a painting of this importance and of an iconic figure in Bacon's own personal life is a wonderfully poetic combination."
Bacon, whose eight-year relationship with merchant banker Eric Hall had ended, was drawn to violent men and that certainly applies to the dashing Battle of Britain pilot he met in Soho's Colony Room in 1952. Art critic John Richardson wrote in the New York Review of Books that after one attack in which Lacy threw the artist through a plate-glass window, "his face was so damaged that his right eye had to be sewn back into place. Bacon loved Lacy even more. For weeks he would not forgive Lucian Freud for remonstrating with his torturer."
After this, Lacy moved to Tangier, where Bacon would often join him, part of a set that sometimes included Allen Ginsberg, William Burroughs and Joe Orton. It was here that Lacy was drinking himself to death and the glass of red wine he holds in the portrait is an allusion to that."
Bacon heard about his death on the opening day of the 1962 Tate retrospective dedicated to him at the same time he was receiving telegrams of praise and adulation. That was something eerily replicated in 1971 when he learned of the suicide of his next great love and muse, George Dyer, at the opening of his big show at the Grand Palais in Paris.
Barker said it was a powerful work. "When you stand in front of the painting, the scale of the figure is clearly designed to be somewhat overawed by the environment in which he is seated and I think that is totally deliberate. This is very much a picture about the vulnerability of Peter Lacy, and nowhere is that more poignant than in the glass of wine. It is packed with meaning and different layers of interpretation."
The painting is also important, said Barker, because "compositionally and aesthetically" it represents "a radical departure for the artist.
The mid- to late-1950s was Bacon at his most creatively uncertain "but you suddenly feel in this picture a renewed energy and a kind of real direction in his work which would last the course of his entire career. You see Bacon here at a very strong period of his life."
It was painted in 1962 and bought almost straight away, but then was out on loan to various exhibitions in Eindhoven, London, New York, Chicago, London again and Dusseldorf. . The lastknown public exhibition was in 1972 at London's Lefevre gallery.
It has always been privately owned and has belonged to the current seller since the mid-2000s, said Sotheby's.
Study for a Portrait of P.L. will be sold on 14 May and goes on display at Sotheby's in London from 12-16 April
guardian.co.uk © Guardian News & Media Limited 2010
Published via the Guardian News Feed plugin for WordPress.
Categories
Tags