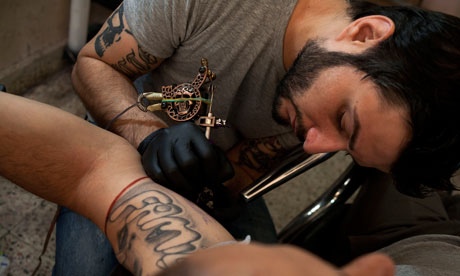 Up to a dozen customers a day get tattoos at al-Mansour parlour in Baghdad. Photograph: Peter Beaumont for the Guardian
This article titled "Mum, imam and Saddam: what daring young Iraqis are saying with tattoos" was written by Peter Beaumont in Baghdad, for theguardian.com on Friday 22nd March 2013 15.36 UTC
Baghdad's history in the decade since the US-led invasion can be defined through its relationship with tattoos.
Ten years ago, in the aftermath of Saddam's fall, the tattoos you would see were crude affairs made with pin and ash, and often done in prison. They were usually no more than a name.
At the height of the sectarian war, men would have more sophisticated tattoos to make it easier for their families to identify their bodies if they were murdered.
These days, skin art and body piercing are increasingly a lifestyle choice of young and fashionable Baghdadis.
In al-Mansour tattoo parlour, run by Salmed al-Zubaidi, 29, and three friends, he sees sometimes a dozen customers a day. The day before the Guardian's visit, that included a number of young women, among whom body art is becoming ever more popular.
Zubaidi speaks English with a slight lisp – a consequence of being shot through the face and losing five of his teeth, near the city's Green Zone, where he worked as an interpreter.
"Things changed after the US forces came and people saw the tattoos they had," he says. Not everyone is happy with Iraqis getting inked, admits Zubaidi. "Some people say that it's forbidden. It's not part of our civilisation. I've had people say it's Jewish or Christian. I learned from a US army friend who showed me how to ink. He said that it wasn't hard, so I bought the stuff to do it."
It's all a far cry from the Saddam era, when tattoos existed in a legal grey area and tattoo shops were banned. Some people with tattoos were harassed and beaten.
Zubaidi's shop, he says, has the approval of the ministry of health and the mayor of Baghdad. If it attracts unwelcome attention, it is of a different kind, indicative of its success. When the Guardian arrives there are two shabby middle-aged men seated in reception. They're not customers, it transpires, but men claiming to be officials, who have come to shake the parlour down for a "tax" of 0 (£66) a month.
Many of his customers, Zubaidi says, are vague about what they want. "They'll come to my door and knock, say hello and ask for a tattoo. I ask them what they want and they say 'as you like'. I try to explain that it's an individual choice."
Having a tattoo in Baghdad remains a complex social negotiation. Because young men with body art are discriminated against when seeking employment as public servants, police officers or soldiers, many tattoos are hidden under the T-shirt line. Some young men even come to Zubaidi and his colleagues to have them removed, after discovering it is prohibited in their employment. "I've come across cases of guys who have been so desperate they've told me they plan to try to burn it off with battery acid," he says.
Zubaidi himself has "full sleeve" tattoos. Most of the time he says it's fine, but on occasions he has been abused. "People in the street will say 'shame!' My answer is that if you don't like it, don't blame, because I do like it."
He shows pictures of his work, including a girl in a hijab with a pierced eyebrow. Some tattoos are conventional: the Arabic equivalent of "I love Mum" in different fonts is a popular choice. One man is pictured with the image of Imam Abbas, a figure revered by Shias, inked into his skin, another has religious verses, a third a picture of an M16 rifle on his forearm. Most surprising is the tattoo depicting Saddam in a beret and sunglasses inked on a man's back.
"He came to me and said he wanted a tattoo of Saddam," Zubaidi explains. "It wasn't sectarian. He said he just liked him. My response was, if you are going to get that done you better leave the country afterwards, otherwise someone's going to take your head off." The man now lives in Jordan.
Zubaidi and his colleagues have received threats too. On their Facebook page someone claiming to be from a Shia militia left a death threat.
Not all those who have been tattooed in recent years are still comfortable with their decision. Jafar al-Dalef is 25. A trained teacher, he now works part time as a driver. He had a map of Iraq tattooed on his biceps when he was 18, although it is above the line of his T-shirt and therefore not visible. It cost him .
"Before the invasion, tattoo shops weren't common," he said. "People used to do it discreetly with a pin and ink. In the three to four years after the invasion it started becoming popular. It felt modern and I wanted to express how I loved Iraq. But my father is a tribal sheikh. He doesn't understand it. He thinks it is part of the 'invasion culture'.
"I also kept it out of sight because I'm being careful. Terrorists have killed people for having tattoos."
These days Dalef is more in agreement with his father than his 18-year-old self. "I think when I had it done my identity was confused between the western culture I was seeing on TV and on the internet, and my eastern roots.
"Now I feel more eastern and very comfortable in my own community and I would find a different way to express myself about Iraq through writing poetry. I wouldn't get another tattoo. In fact, I would probably discourage any friends from getting one."
guardian.co.uk © Guardian News & Media Limited 2010
Published via the Guardian News Feed plugin for WordPress.
Categories
Tags