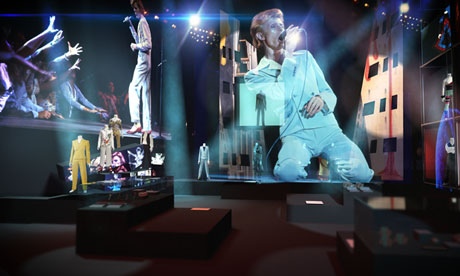 David Bowie Is: floor-to-ceiling screens showing live footage are awe-inspiring. Photograph: V&A
This article titled "David Bowie Is becomes the Victoria and Albert's fastest-selling event ever" was written by Alexis Petridis, for The Guardian on Sunday 17th March 2013 21.01 UTC
On the one hand, a vast, career-spanning exhibition about David Bowie, with unprecedented access to the artist's own archive, is a no-brainer. It's hard to think of a more visually arresting artist whose work touches on as many areas of the arts: no wonder it's the fastest-selling event in the Victoria and Albert Museum's history.
On the other, David Bowie Is sets itself a tough task. It's hard to imagine anyone doesn't already know Bowie's story: as you read this, there are hitherto uncontacted tribesmen in the Mato Grosso greeting explorers with a rough precis of what happened to him in the 1970s ("we hear he flew on a big silver bird to Berlin, the better to escape the cocaine addiction that plagued him during the making of Station To Station").
Unless it's content to retell a very hackneyed story indeed, David Bowie Is has to find a way of casting new light on some of the most over-analysed and discussed music in rock history.
Perhaps understandably, it's more interested in setting Bowie in a wider artistic context than it is in delivering a definitive career summary. Virtually the first thing you see is film not of Bowie, but of Gilbert and George, who worked out that you could cover yourself in makeup and become a piece of art while Bowie was still gamely pretending to be a hippy: which, as a subsequent room dedicated to his 1960s work demonstrates, was not something he was terribly good at. Destined to find fame playing the role of a musical demagogue and to spend the 70s as the figurehead of a cult, he was not a man cut out for flower-power egalitarianism, no matter how hard he tried. His photostated proposal for an Arts Lab in Beckenham attempts to embrace the spirit of the times, but ends up sounding a bit creepy: "A secondary objective of this proposal is that through communication with local children we should be able to communicate ideas to the parents".
Occasionally, the contextualisation feels a little speculative – you could argue long into the night about whether Bowie's career-making 1972 performance of Starman on Top Of The Pops has much to do with JG Ballard's concept of Inner Space – but it's never less than thought-provoking, And besides, Bowie's archive is so extensive – he appears to have kept everything – that even when the exhibition is covering well-trodden ground, it manages to dig up stuff that's fresh and illuminating.
A scrawled early synopsis of the "Ziggy thing" reveals that, at that stage, the prospective song titles for Bowie's most famous album included Out-Hipping Them At Zipps', Death In Mad Sound, and the thought-provoking Bum. A Thierry Mugler outfit from 1997 suggests that he was dabbling in androgyny decades after he was presumed to have recanted his earlier professions of bisexuality, albeit so subtly you'd barely notice: Mugler's suit is straightforward and beautifully cut, the shirt comes with a collar pin, but the shoes that accompany them have kitten heels.
A page of what appears to be Bowie's own journal, from January 1975, offers a tantalising glimpse of the day-to-day life that Bowie has spent four decades successfully shielding from public view, or would if it made any sense: as it is, it's hard to work out if the fractured prose bears testament to Bowie's use of the cut-up technique he borrowed from William Burroughs or just the vast amounts of drugs he was taking at the time.
Sometimes it's the prosaic details that are striking: the plaintive note Bowie attached to a sketch of a 1979 costume so elaborate he had to be carried on stage in it, asking the designer to try to make "access in and out of it easy"; the tour itinerary showing that, mere days before he was triumphantly killed off on stage in front of DA Pennebaker's cameras and a star-studded audience, Ziggy Stardust and the Spiders From Mars were touching down in the decidedly uncosmic environs of Bridlington Spa Rooms and Torquay Town Hall.
Sometimes, for all the explication and context, you just gawp at the sheer ferocity with which his talent burnt at its height. The painstakingly meticulous handwritten directions for the lighting of his 1976 Station To Station tour speak very loudly about the iron grip Bowie maintained over every aspect of his work. There are more ideas crammed on to the A4 sheet that contains an early draft of the lyrics to 1980's Because You're Young than most artists have in their entire careers.
Those looking for gaps in the story will note that it treads very gingerly around the 80s, a decade in which Bowie appeared to lose interest in music, but, alas, failed to see that as a reason to stop making records. That said, you get the occasional hint of the rot setting in. Placed next to the iconic black waistcoat and dress shirt from the Station To Station tour, a beige military suit from 1983's Serious Moonlight tour looks like something you'd wear if you were appearing as Buttons at the Bradford Alhambra. Money-spinning showbiz has overtaken cutting-edge artistry.
You could argue that Bowie has spent the rest of his career struggling to redress the balance, with varied results: the quality of his comeback album The Next Day suggests he might be capable of scripting a pretty triumphant final act. The curators found out about The Next Day's existence at the same time as the rest of us, which actually works much in the exhibition's favour: it's mentioned only in passing, which means you never get the sense of an event that exists to puff a new album.
But David Bowie Is ends in triumph anyway. The floor-to-ceiling screens showing live footage are genuinely awe-inspiring, a final room collects together umpteen examples of how his influence has leaked not just into music but everyday life: fashion, packaging, video game design, advertising. As it turned out, the plan about communicating ideas that Bowie outlined in the Beckenham Arts Lab proposal seems to have worked out perfectly.
David Bowie is is at the V&A in London until 11 August.
guardian.co.uk © Guardian News & Media Limited 2010
Published via the Guardian News Feed plugin for WordPress.
Categories
Tags