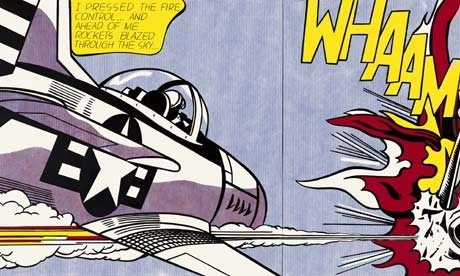 This article titled "A comics artist's view on Lichtenstein: A Retrospective" was written by Interview by Laura Barnett, for The Guardian on Monday 4th March 2013 19.59 UTC
For most comics artists today, Roy Lichtenstein is not a popular figure. There's no doubting his technical ability: he was a wonderful designer, and his 1963 diptych Whaam!, which takes up a whole wall of Tate Modern's show, has real impact. By using comics as source material, he did also help erode the old distinctions between "high" and "low" art – though I think that would have happened anyway.
But the fact remains that Lichtenstein was simply reproducing the work of the original comic artists, without adding much. These artists – people like Jack Kirby and John Romita Senior – were often war veterans, working for hire. They were badly paid, at least at the beginning of their careers, and their talents largely went unacknowledged. The artist who drew Whaam! wasn't even credited by the comic that ran the original strip, DC's All-American Men of War. The strip is reproduced here, but I still think the curators could have made more of an effort to acknowledge Lichtenstein's sources.
In the 1960s, comics were an exciting new medium: you had everything from Marvel superheroes to romances and war comics. Lichtenstein's work does reflect this variety. I especially like his 1964 painting We Rose Up Slowly, which shows two all-American archetypes – a handsome man, a luscious blonde – in a steamy embrace. It's well executed, but it's just one frame. That can't come close to reflecting the artistry and storytelling of a 270-page comic.
Those early comic artists paved the way for us. And most of us are still very badly paid: we do it for love. But, having learned from what they went through, we now recognise the importance of owning our own copyright. Just look at the ongoing legal battle between the creators of Superman and Warner Bros. Lichtenstein's work is now worth millions. How depressing that it's the result of plunder.
• Marc Ellerby wrote the autobiographical web comic Ellerbisms (marcellerby.com). Lichtenstein is at Tate Modern, London SE1, until 27 May. Details: tate.org.uk
guardian.co.uk © Guardian News & Media Limited 2010
Published via the Guardian News Feed plugin for WordPress.
Categories
Tags