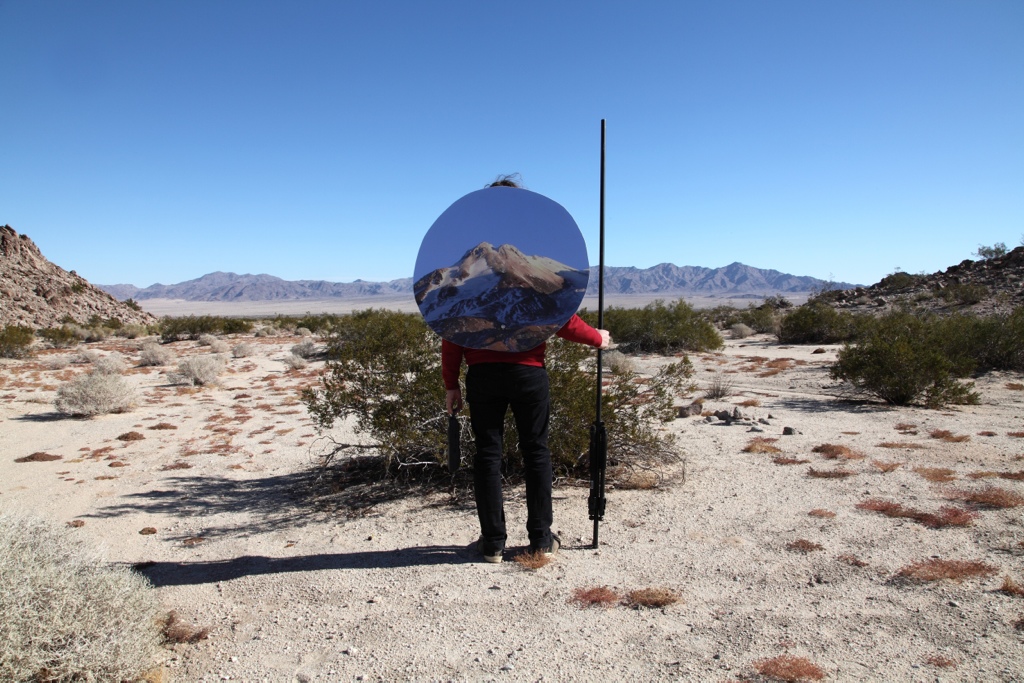 outside of all things, 2013 2 channel HD installation, 7:51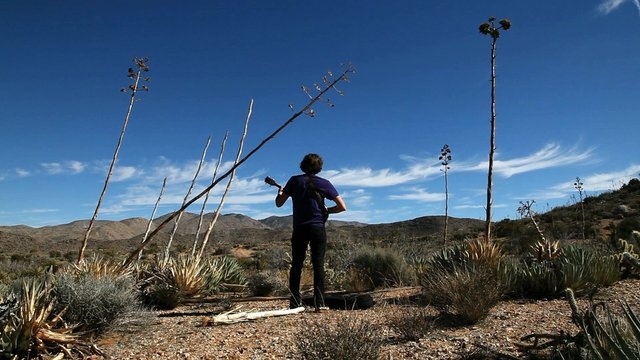 the speed and eagerness of meaning, 2011 3 channel HD installation, 9:52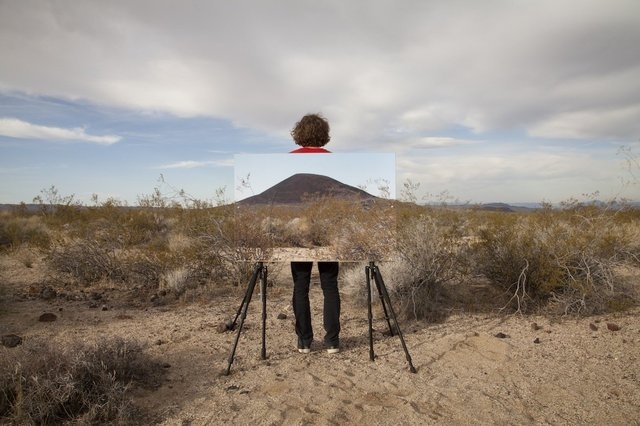 let this be us, 2012 single channel HD installation, 7:44
1st March – 13th April 2012
in defiance of being here, is Richard T. Walker's first solo exhibition in the UK, bringing together new and recent work by the British-born, San Francisco-based artist.
The show combines video, photography, performance and large-scale installations that offer expansive and compelling views of landscapes, primarily the American West, where Walker has lived for the past six years. Problematising these images of a familiar and seductive beauty with his own presence as protagonist, Walker talks, sings and plays music directly to the land, his back to the camera, confronting the spectacle with the complexities of his very human concerns.
The three-screen video installation, the speed and eagerness of meaning (2011), draws in the viewer with layers of speech, song and music, images of canyons, mountains, dust plains and rocky outcrops; a growing polyphony of sensory information. Using metaphor and pathetic fallacy, Walker strives to develop an emotional relationship with his subject – and his audience – baring his anxieties, neuroses, fears, and hopes, to an ever-impassive terrain. The visual grandeur and artistic conceit of 'Romantic man alone in the landscape' is further offset by the prosaic, modest quality of the artist's words and music: singing, clapping, playing acoustic guitar or second-hand keyboards, hitting a drum parade-style. Music and spoken language are a significant part of Walker's practice. As he says, "It seems to me, that music, text and dialogue are three of the main instruments we have to determine our existence in the world . . . they are tools, along with the visual, that we use to come to understand things and, arguably, they are the tools that enable things to exist, including ourselves." Walker is conscious of the limits of this process, uncertain whether language can convey the particulars of his mental and emotional experience; whether cognition, articulation and expression can keep pace with stimulation and perception.
A new installation occupies the entire front space of the gallery: three glowing neon tubes tracing the outline of mountains, beneath which are electronic keyboards, each with a rock depressing a key, while a cassette tape plays a loop of the artist's voice. These single notes form a chord, a group expression, sparse and abstract; the absent musician replaced by elements of the land, the artist present in disembodied form. A large wall-text completes this assembly. The installation includes elements familiar in Walker's practice, functioning through a juxtaposition of sensory encounters and fluctuating visual content: language and raw light, shapes rather than images of places. This is the fleeting, half-seen landscape of the road, of vast space and monumental billboards, of transitory iconography and geological endurance, a zoomscape of ambient, unspecified desired.
Since Walker's earliest works, he has worried about, debated with, cajoled, and declared unending devotion to a distant, unresponsive landscape. Affecting encounters between the brutal fact of nature and a deeply human form of intimacy, the artist uproots and questions notions of the Sublime, interrogating and critiquing our idea of, and relationship with the natural world. Rigorously tested through varied permutations of text and image, a layering and stripping of meaning, these ideas are approached from a characteristically humble standpoint, and with a gentle wit that lingers.
Richard T. Walker presents a new performance work following the private view at Carroll / Fletcher at 8:30pm, Thursday 28 February, 2013. No booking necessary.
About The Artist
Richard T. Walker was born in the UK in 1977. He lives and works in San Francisco, USA. Richard T. Walker has had solo exhibitions in Europe and the US, including Spike Island, Bristol; Franklin Art Works, Minneapolis and David Cunningham Projects, San Francisco. Group shows include SFMOMA, San Francisco; K21, Dusseldorf; Museum für Angewandte Kunst, Cologne; Atlanta Contemporary Art Centre and the National Museum, Warsaw. Awards include the Irvine Fellowship, Montalvo Arts Center, California; finalist for the SECA Art Award, SFMOMA, and Artadia Awardee.
About Mark Westall