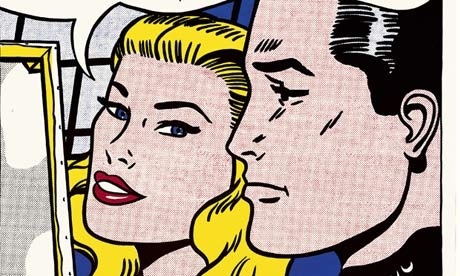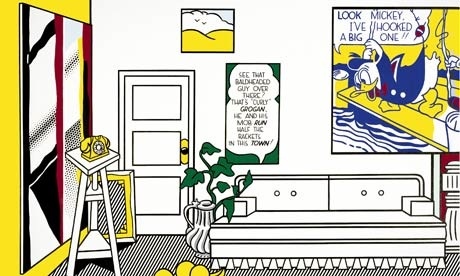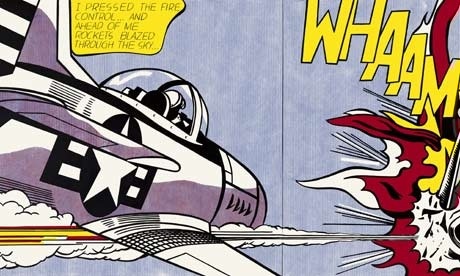 This article titled "Lichtenstein: A Retrospective – review" was written by Laura Cumming, for The Observer on Sunday 24th February 2013 00.05 UTC
Tate Modern's homage to Roy Lichtenstein opens with a huge splash of blue paint landing euphorically on a canvas. There it meets a vast yellow brushstroke. This stroke glides across the surface like a slow-moving river beneath a frisson of tiny blue stars caused by that accidental spatter. It's a picture of a picture being made, or perhaps botched, each mark frozen and magnified in Lichtenstein's trademark style. But it is also a picture – a landscape – of pure elation.
This is what is so surprising about the Tate retrospective: its sheer uplift and pleasure. Many painters hope to woo the viewer, but one senses the courtship. Lichtenstein's paintings are just inherently likable. Even when the ostensible subject is banal – a textbook, a ball of wool, a car tyre – there is joy in their graphic zip and register, their constant delight in the making of pictures. They have charm almost as part of their content.
Everyone knows what a Lichtenstein looks like: the stylish black outline, the uninflected printer's-ink palette, the Ben-Day dots and super-precise images, so condensed and diagrammatic, with their unwavering sense of elegant design. Explosions blossoming in mid-air, jilted girls crying a river, the fighter pilot forever locked on his target – all preserved in Lichtenstein's cryogenic style. Which, bent on deducing the basic grammar of other people's images, and reprising it in one of his own, has long since become as familiar as the commercial art from which it derived.
We all know how they look – square-jawed Brad, the girl up to her hairdo in Hokusai waves who would rather drown than call him for help – but how do these paintings feel to us these days, 50 years after the advent of pop art? Their vitality is evergreen, always exuberant, even in the long phases of cool art about art, but the mood runs all the way from pathos to comedy.
Three Matisse goldfish look glum to find themselves in a Lichtenstein bowl. A hand holding a sponge wipes a bright passage through the Ben-Day dots. A transistor meticulously painted in trompe-l'oeil becomes a portable radio when hung on the wall.
"Maybe he became ill and couldn't leave the studio!" the girl kids herself, as Lichtenstein (it is implied) inches laboriously across her outsize portrait instead of showing up for their date. Yet his exacting judgments of scale, composition, tone, hue and mark, adjusted painting by painting, never look remotely hard-won.
Lichtenstein calculates precisely how many black triangles are required to make an engagement ring twinkle. He represents the dimples on a golf ball as a calendar of dark moons, waxing and waning in infinitesimal degrees to describe the ball's curve. The transparency of a magnifying glass is brilliantly evoked in just the right permutations of dots.
These images are so striking as to exceed, by far, their nominal subject; which is not so much the objects themselves as their commercial depiction. But it comes to the same thing in Lichtenstein's work. He is always pondering the great conundrum of painting: how to represent in two dimensions on a flat canvas what can be seen and experienced in the three-dimensional world.
And the result is sometimes so succinct it amounts to a form of prose poetry. The sight and sound of an Alka-Seltzer swooping down through a glass of water is perfectly expressed in the trail of blank bubbles fizzing behind the disc and the spume of white dots scintillating among the black ones upon the surface.
Tate Modern has all the different phases of his art – the 60s cartoons, which were more or less over in five years; the great black-and-white paintings; the lyrical landscapes and the mirror pictures; the riffs on other painters' idioms which produced some bizarre hybrids: Picasso, Matisse, Mondrian, and sometimes all three, out of Lichtenstein himself.
I could wish there weren't so many sculptures strenuously re-enacting the pictures in three dimensions, but they don't take up much wall space. And perhaps the Perfect-Imperfect paintings (balanced/unbalanced) could have been omitted. But from the lucid wall texts to the exemplary unfolding of Lichtenstein's entire career, the show is superbly curated by James Rondeau and Sheena Wagstaff.
What it brings into focus is Lichtenstein's fascination with the DNA of painting: the stroke, mark and dot of the brush. How to render polished surfaces using liquid swipes, and Bakelite hardness with stipples; how to create light and air with screens of dots that openly declare their own artificiality.
This is an art of special effects and it takes up special challenges. How to depict a subject as slippery as a mirror, a thing only fully visible when something is reflected in it, with nothing but variations of dots and dashes. There are five mirrors in this show, each deeper (as it were) than the next, one being his own modest self-portrait: a mirror above a T-shirt.
But Lichtenstein didn't just reflect the world. The delight in a pedal bin that opens and shuts with the touch of a toe – the diptych is hinged in homage – becomes the rainbow he cannot help adding to his pastiche late Cézanne. The lovelorn girls sinking in tears are poignant, for all their energy, and they turn into the strange late nudes.
Here the Ben-Day dots are beginning to float free like interference patterns, and the perfect girls seem reluctant to stay. In one scene, straight out of Picasso, two nudes are running along a beach but one looks comically cross to be left behind while the other is nearly out of the picture.
If it is hard to read the tone of these late works, the mood of the final gallery at Tate Modern is beautifully elegiac. Lichtenstein died unexpectedly in 1997, at the age of 73, so one cannot say that these semi-abstract landscapes were made as last works. But the faithful old dots are given a new life here, finely graded from misty grey to glowing white to evoke sea, sky and snow like a Chinese watercolour. A tiny Lichtenstein boat edges into one of these visions, voyaging into the light.
guardian.co.uk © Guardian News & Media Limited 2010
Published via the Guardian News Feed plugin for WordPress.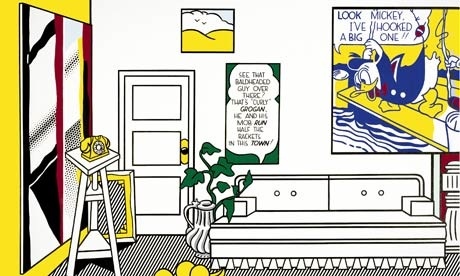 Categories
Tags