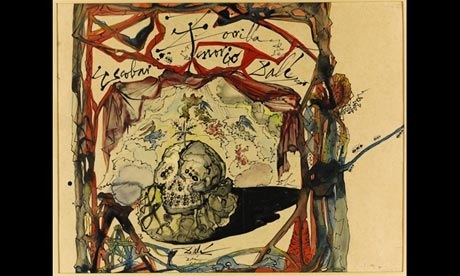 Priceless or just worthless? … Salvador Dalí's 1949 painting Cartel des Don Juan Tenorio. Photograph: Venus Over Manhattan Gallery
This article titled "Who'd steal an empty, pretentious Dalí?" was written by Jonathan Jones, for theguardian.com on Thursday 21st February 2013 15.54 UTC
Is stealing a work by Salvador Dalí a crime, or a cry for help that demands our pity?
A fashion PR has been arrested in New York, accused of stealing a Dalí from an Upper East Side gallery. The picture in question is a splashy black sketch of a jewelled skull on a yellow background surrounded by orange squiggles and smears and scribbled words. It has the empty, pretentious look of Dalí at his most throwaway. Apparently it is worth 0,000. If it did not have such a famous name attached, it would not be worth a cent.
Dalí was the first artist who understood the fatal power of celebrity in modern life. As early as the 1930s, he realised he could be famous and glamorous and rich by playing the media game like the outrageous character he was. He crashed, literally, into the limelight in New York in 1939 when he fell through the window of department store Bonwit Teller as he was creating a surrealist display there. Dalí may or may not have deliberately smashed the window; either way, it confirmed his destiny to be famous. Even his way of speaking English with a thick Catalan accent: telling the BBC interviewer Russell Harty, in a 1973 programme, about the meaning of his "symbolique feesh" added to his unavoidable interestingness.
For Dalí really was interesting, unlike some of today's celebrity artists who act more like brilliant businessmen than bohemian rebels. When all those avid film crews toted their cameras to Dalí's seaside home to record his latest provocations and absurdities, they were really visiting the scenes of his childhood traumas and fantasies – his obsession with the town of Cadaqués went back to childhood summers there, and along the shore you can spot the scene of his painting The Persistence of Memory.
Here too some of L'Age d'Or, one of his two great cinema collaborations with his university friend Luis Buñuel, was photographed. As a Spanish artist in Paris, Dalí fascinated the surrealist movement. His macabre humour and uninhibited exploration of his darkest fantasies and most embarrassing pleasures made him, for a while, the star of surrealism.
It wasn't enough to be feted by the avant garde. He saw a larger prize – world fame and the wealth it could bring. Dalí's art, always shiny and over the top, became less and less intense until it turned into kitsch.
One thing you can say for Dalí: he did create powerful images of dream life before he turned himself into a living pantomime. Does his talent ultimately make his decadence forgivable? Should we remember the young dynamo or the old fraud? Some day we may ask the same of Damien Hirst, whose recent work displays a bizarre resemblance to Dalí at his most hollow.
guardian.co.uk © Guardian News & Media Limited 2010
Published via the Guardian News Feed plugin for WordPress.
Categories
Tags