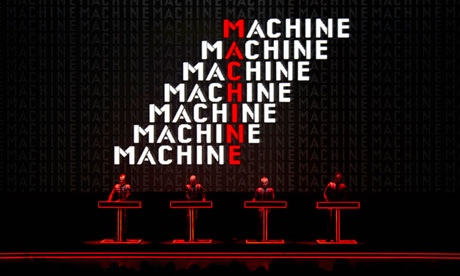 Age against the Machine … Synth veterans Kraftwerk performing at Tate Modern. Photograph: Peter Boettcher/Sprüth Magers
---
This article titled "Kraftwerk at Tate Modern, night four: The Man Machine" was written by Tim Jonze, for theguardian.com on Monday 11th February 2013 12.26 UTC
The first remarkable moment happens before Kraftwerk have even taken to the stage. Entering Tate Modern's Turbine Hall minutes before showtime, you expect to be faced with a packed crowd pressed up against the barriers. Instead, you witness a gentle smattering of people sitting on cushions, spread out ever so politely across this vast space. Is this really one of the gigs of the year? A gig that, when announced, caused such a feverish reaction it made the Tate's phone system combust and incited angry mobs to descend on the former power station demanding that heads must roll? I ask because it's perfectly easy – at any point during tonight's show – to saunter down to the front row and stand mere feet away from one of the most iconic bands of all time.
The second remarkable moment comes from such proximity. Now I can accept that it's not the kind of thought you expect from a professional music critic – not when other reviewers in this series have commented on nuclear paranoia and the nature of fame itself. But standing so close to this most mysterious of bands, the first thought that goes through my head is: "Oh my God … I can see Ralf Hütter's cock!" Sorry to lower the tone when I should probably be discussing the influence of Russian constructivism or whatever, but it's just … there, a 66-year-old bulge protruding from a black-and-white spandex bodysuit. Maybe it's the shock that Kraftwerk even have cocks. You imagine they'd be more likely to possess ­­… I don't know ­… antennae or something. Yet here they are, human after all. As much man as they are machine.
It would be pointless to carry on counting the remarkable moments from hereon in, because from the minute Kraftwerk plug themselves in this gig is nothing but a series of remarkable moments. The fourth of their eight nights at Tate Modern sees them celebrating their most celebrated album, 1978's The Man Machine, which set the blueprint for synth-pop, even if it did take synth-pop a fair few years to get with the programme. Unlike the many Don't Look Back-style album recreations we've grown used to in recent years, Kraftwerk tinker with the playlist. They open with the album's closing track, before journeying through the pulsating, trancey Spacelab (a song so ahead of its time it still sounded cutting edge when electroclash bands were stealing it wholesale through the noughties) and The Model (a song so ahead of its time it took four years for the British public to make it a No 1 single). This latter song – played in front of black-and-white footage of posing girls predating the rock'n'roll era Kraftwerk went on to make look ancient – stands out on an album of Robots and Spacelabs. A reminder that Kraftwerk's obsessions – trains, electric lighting, bicycle rides ­– were frequently less futurist than many recall.
What does seem genuinely space-age tonight, however, are the 3D visuals. Lift the specs off your head and you journey back to the frustrating proggy projections of the 70s, flip them down and you are transported back to the future, where the band are just a minor part of the dazzling scenery, twiddling away behind roving satellites and hurtling VW camper vans.
Reading on mobile? Click here to listen on Spotify

The glasses also allow you to zone out and detach yourself from the "community" around you in a manner that (once again) seems eerily prescient of the decades to come. The combination of note-perfect musical replications and gripping visuals demands so much of your attention that it inevitably has an effect on the atmosphere. Aside from one lone group of partiers trying to fight it by yelling "Fuckin' tune!", "Superstar DJs!" and "This sounds like deep house!" in between every song, virtually nobody's going wild here – there are few whoops of delight and the end of each song is met with nothing more than a polite dribble of applause. The fact you can head to the toilets or bar, then return swiftly to your place in the front row, should feel corporate and sanitised. And yet somehow this all just fits the aesthetic. There's a general acceptance that Kraftwerk expect venues to deliver an experience that serves the audience's needs with the same clinical efficiency as their music.
Besides, Kraftwerk were never really a band to set dancefloors alight. They left that side of their work to properly percolate through the hip-hop crews, synth-pop acts and techno pioneers they inspired. Kraftwerk's sonic innovations were light years ahead of their time, but it was their simple ability to capture the full range of human emotions – from fear and awe to an almost unbearable sense of melancholy – that has ensured their music will never date. Neon Lights – complete with very literal graphics of neon lights: the signage of strip bars, coffee shops and so on – is perhaps the most perfect realisation of their vision, a composition that located both the beauty and the gnawing sadness in the twinkling urban development that was rising up around them. As we said, as much as man as machine.
After a lengthy greatest hits set, each member of Kraftwerk gets the opportunity to bow goodnight before the show ends at precisely 12.30am. It's a Saturday, and there's still time for crowd members to head out across the glittering neon lights of London and lose themselves to the many strands of this magical band's influence. And yet, wherever they choose to go, whatever they choose to dance to, they'll know one thing after tonight: nobody does it quite like Kraftwerk.
guardian.co.uk © Guardian News & Media Limited 2010
Published via the Guardian News Feed plugin for WordPress.
Categories
Tags