1 Who are You ?
I'm Famous New Media Artist Jeremy Bailey! I was born in Toronto Canada and live and work there now with my wife Kristen.
2 If you weren't an artist, what else would you be?
I'm actually a creative director at a software company too! I manage and inspire a team of designers most days from 10-6. I like wearing two hats, they both inform each other.
3. Can you tell us more about your work and what are the main ideas you would like to express?Absolutely. I actually went to school for video art, for as long as I can remember I've been obsessed by two things: computers and video. From very early on I've been interested in the ways in which technology affects creativity. Video art exists literally because of a consumer electronics product called the Sony portapak that came out in 1969. It spawned a decade of art that typically starred artists talking at the camera (performance for the camera). It was the first time that you could get your face on tv! Artists were really reflective about this, they treated the camera like mirror, and sometimes even watched themselves as they recorded their videos.
I started making "narcissistic" videos a bit like these in the early 2000s, but I was interested in the computer as a camera and how it changed ideas established in the 1970s.
First of all I should mention that around this time YouTube came out and people were talking at the camera again! But they were doing other things, some of them were showing you how to use photoshop, others were showing off their 3d rendering skills, and a particular group of new media artists that interested me were showing off what they could do with software they had written and what later became known as augmented reality; the combination of computer vision and sound and 3d graphics rendered directly over a scene or a person in real time. These videos seemed like the literal next level of video art and the aesthetics of narcissism.
But what else stood out to me is how in the men in these videos let the technology do all the talking, and they existed as a sort of zombie body for the software demo: Watch this video – the artist was invisible. This was the opposite of the post modern persona driven video art of the 1970s. From this realization I developed an alter ego named Famous New Media Artist Jeremy Bailey, to make the artist visible again, and began solving the worlds problems with augmented reality in videos I posted on YouTube. My persona is actually based on a combination of a younger version of myself and many of the stereotypical new media artist I mentioned above. He is very naive because he thinks technology can solve most problems, and his solutions are often absurd, but despite everything he's full of hope for the future.
4. How do you start the process of making work?
All of my work is created as a performance in character as famous new media artist Jeremy Bailey. Jeremy designs creative solutions with technology to solve problems he discovers in whatever context he's invited to participate in. When performing the act of artist process I actually use a product design philosophy I honed at the software company I work for very similar to Ideo's comcept of design thinking. It begins with empathy for the user, usually this means doing lots of interviews with a curator or with people in a place where I'm planning to make work. I then design a problem statement and from that I ideate several solutions. The final artwork is usually a prototype that I demonstrate for an audience, usually live, but sometimes just a video.
5. Isn't Canada really boring ?
Yes a bit, and it's cold, but because of this people make a lot of work and a lot of exciting things do actually happen behind closed doors.
6. Is there an art 'scene' in Canada ?
Of course, it's huge, we have more public funding for the arts per capita than almost any country in the world. The only problem is there aren't very large audiences (canada has a small population that is very spread out and very little public art education ironically) so artists like myself eventually find that they have to go out looking for opportunities internationally.
7. Name 3 artists that have inspired your work?
I have 4…Colin Campbell(Canadian video performance artist and my first art professor in university), Nam June Paik (first ever new media artist – Korean), David Rokeby (Canadian new media artist), Alex Bag (her Fall 95 series of videos).
8. Is New Media your medium ? Or is it more than that ?
I refer to new media in my title to ground the work in an aesthetic critique. However my medium is actually closer to performance because when I make a work of art I make it in character, so the process itself is a performance. That said, my persona is a famous new media artist so he sincerely tries to make what he thinks is good new media art.
9. What defines something as a work of art?
Intent. Anyone can make art and should make art, for me it's an approach to life and an intent, that's it. What is Good art is maybe a more complicated question, and one that often relies on many variables including personal taste.
10. What do you think about old world artists pretending to be digital ( for example seditionart.com)?
This is not really artists but dealers and the market trying to catch up and deal with the fact that few people actually chose to visit physical galleries anymore, and even fewer buy it. Ultimately I think they're mostly failing because they are trying to transpose the old models on the internet and it just doesn't make much sense.
11. Anytime, any place – which artist's body would you most like to inhabit?
Hmmm great question maybe Nam June Paik (the original famous new media artist) in 1969 in New York when he bought the first consumer video camera – the Sony Porta Pak.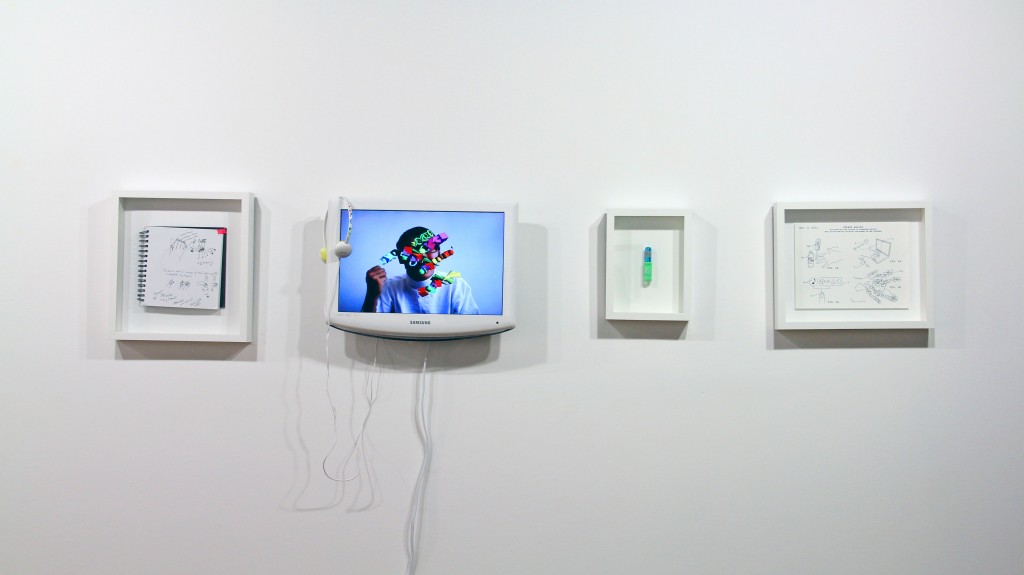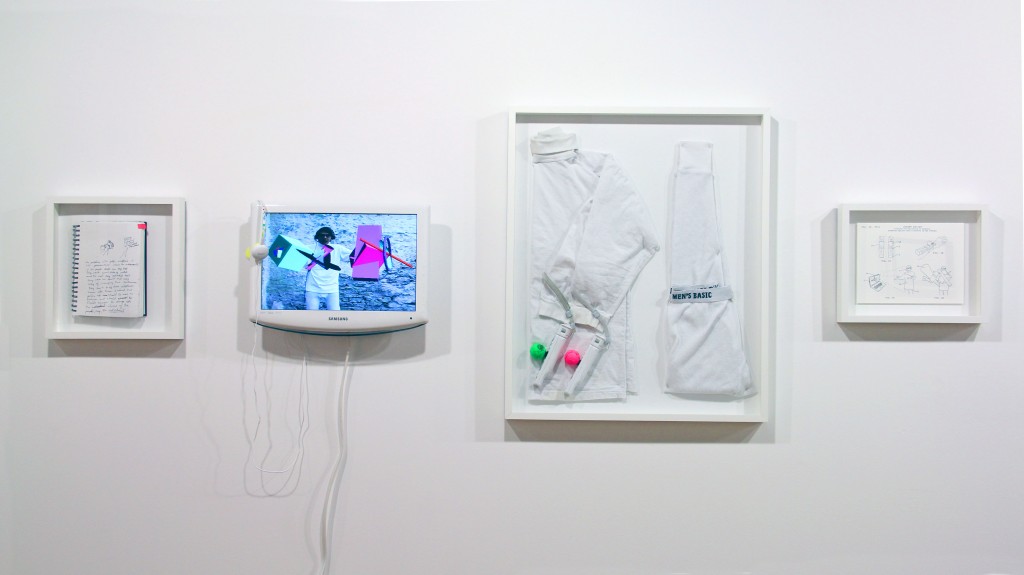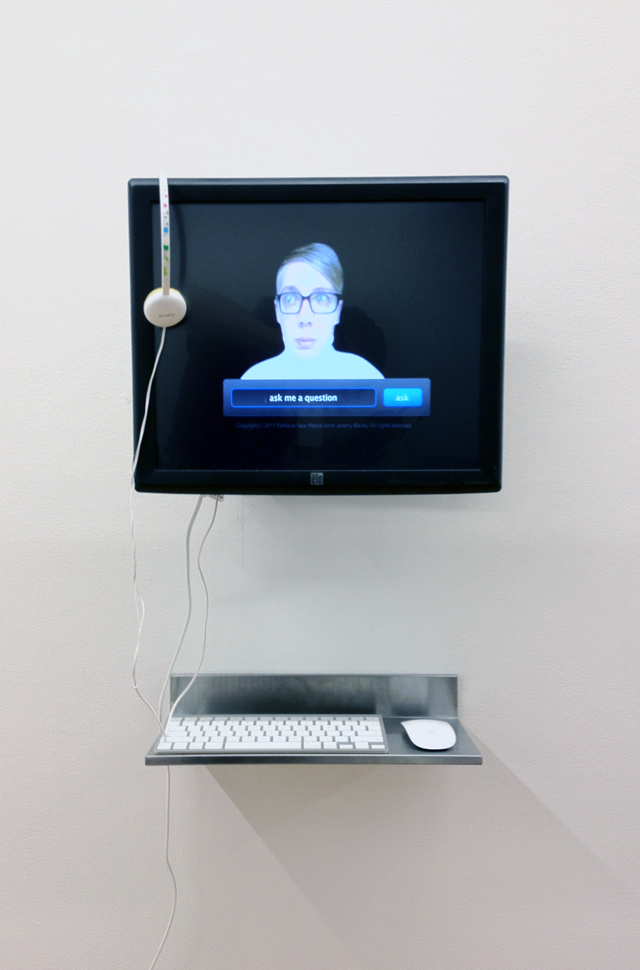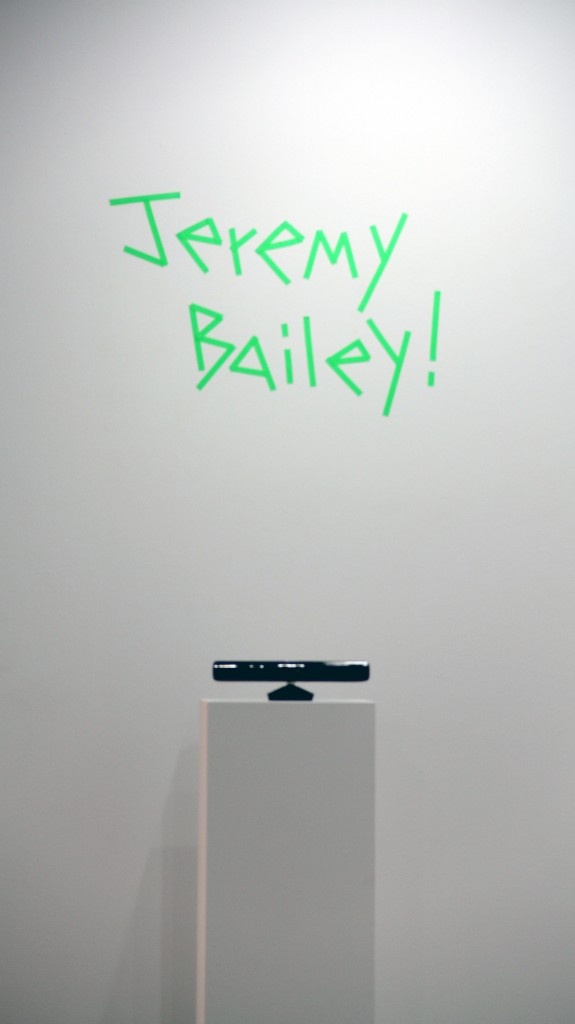 10. What is your favourite 'ism'?
Postmodernism which is actually just the Internet now – I use the terms interchangeably, but I prefer Internet because its easier for people to understand what that means (sorry it's not an ism, maybe Internetism?) – I also love abstract expressionism.
12. What was the most intelligent thing that someone said or wrote about your work?
I've always liked this one: "Jeremy Bailey is a video and performance artist whose work is often confidently self-deprecating in offering hilarious parodies of new media vocabularies." (Marisa Olson, Rhizome)
12 . Do you care what your art costs? State your reasons!
I prefer that my work is free so that as many people as possible can see it. Just having an audience is such a tremendous privilege. The audience is my art, the cost is my life and my time.
13. Which gallery ,museum do you most want to buy or show your work ?
I have already worked with many of my favourite festivals, museums and galleries: Transmediale, the New Museum, Tate Liverpool and FACT among others. But I would still really like to show at the Tate Modern which I think is the world's most celebrated and recognized contemporary art museum, and the only museum my parents recognize and attend regularly. It would be so nice to show there and invite them to the opening.
14. What's next for you?
Today as I write this I'm actually in France working on plans to expand my telepresent slave project around the world across multiple cities and institutions. I'll launch a website for this project shortly. I'm also doing a series of web based artworks in 2013 with American Medium, a New York gallery – and I'm also working on my first video game for LA Game space and launching my first artist book called the Future of Books with Publication Studio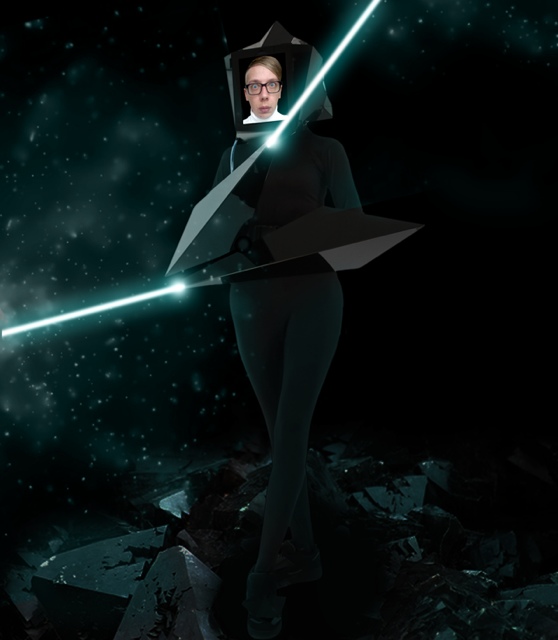 Categories
Tags