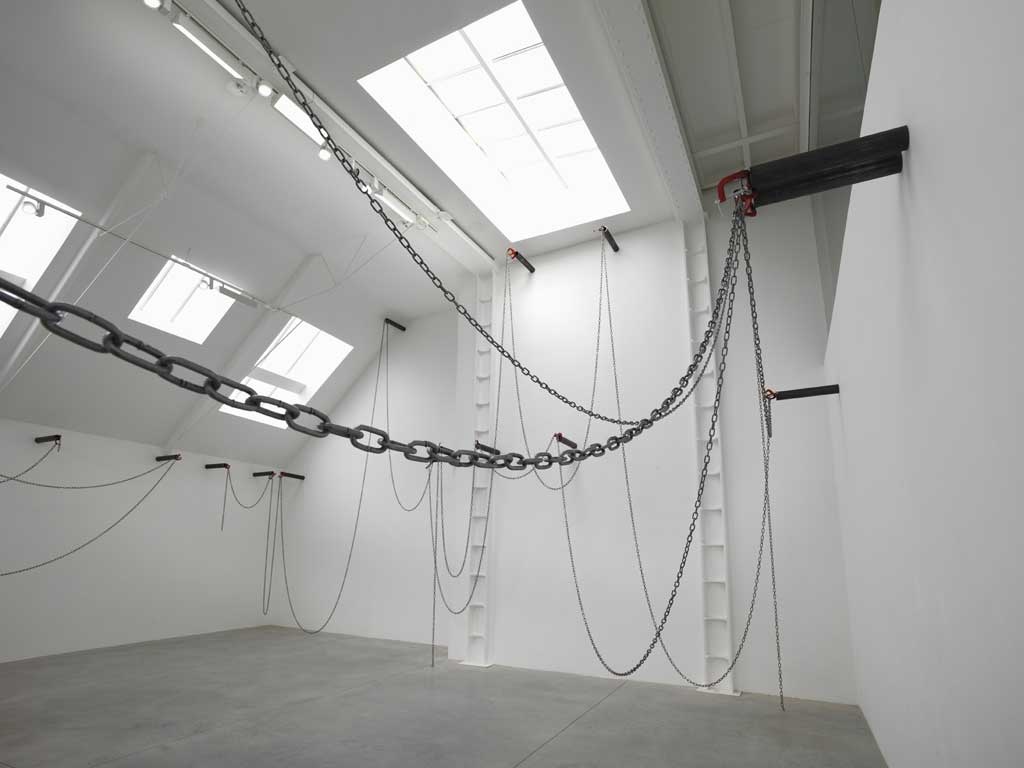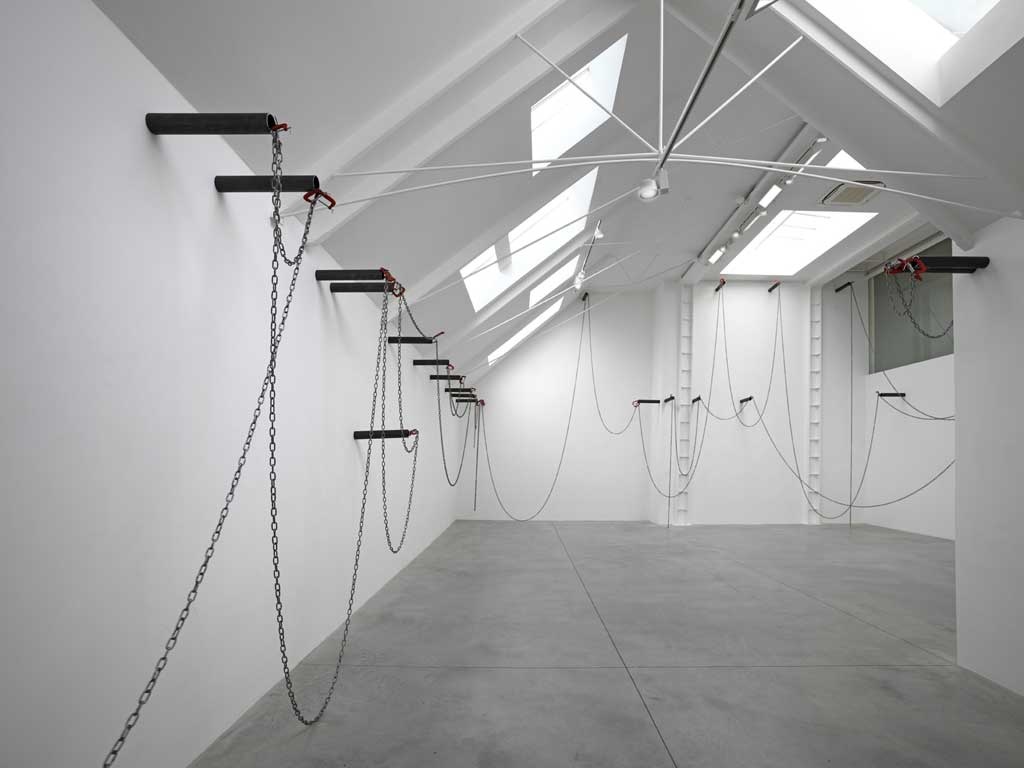 Through to March 9th 2013 Lisson Gallery 29 Bell Street London, NW1 5BY
Last week Lisson Gallery presented its much awaited new exhibition of works by British sculpture artist Richard Wentworth. Wentworth has previously had 6 solo shows at the Fitzrovia gallery, including the 2009 show Boule to Briad, which he curated.
Wentworth has been responsible for challenging the way we view and interact with material since his career first began in the late 70's. His refreshing use of found objects and Duchampian ready-mades creates a juxtaposition of narratives that subverts the assumed intended use of objects. As a result the viewer is encouraged to consider the relationship between man and object. Wentworth also photographs, adopting a much more documentary style, recording objects and their often uncanny geometries.
The exhibition at Lisson gallery contains both sculptures and photographs, featuring his newest installation A Room Full of Lovers (2013). This work features a steel chain that occupies the width of the entire room, suspended around the walls in catenaries inspired by Gaudi's calculations for his Sagrada Familia in Barcelona. The installation plays with notions of perception and gravity, and is an example of how Wentworth's work challenges objects' pre-defined roles. As the title indicates, one sees the chains as links and relations between things, or even people. The spatial relations between the looped chains are echoed in human relations – highs and lows that are echoed by the chains' peaks and troughs.
Amongst his photographic work is included a series entitled Square Holes, another source of inspiration for Room Full of Lovers. Capturing a dark hole enclosed by chicken wire, the series of three photos focuses on the fragile metallic nature of the wire and its shapes. The detail of the photographs compliment the installation.
The show will also feature the unveiling of a public project by Wentworth entitled Black Maria, on the 13th of February at Kings Cross. A major new commission in collaboration with Swiss architecture practice GRUPPE, the project will aim to Granary Square into a platform for discussing contemporary art around a structure that will be strategically placed in the atrium between the Granary Building and the new campus of Central Saint Martins College. Black Maria will offer passers-by a place to stop, observe their surroundings, and exchange information through talks, films and other events. The eventual aim is for the space to be used for everyday life events such as lunch during work hours, etc.
The exhibition is on at the Lisson Gallery until the 9th of March, Black Maria will be on display until the 12th of March.
Words: Ksenya Blokhina
Categories
Tags