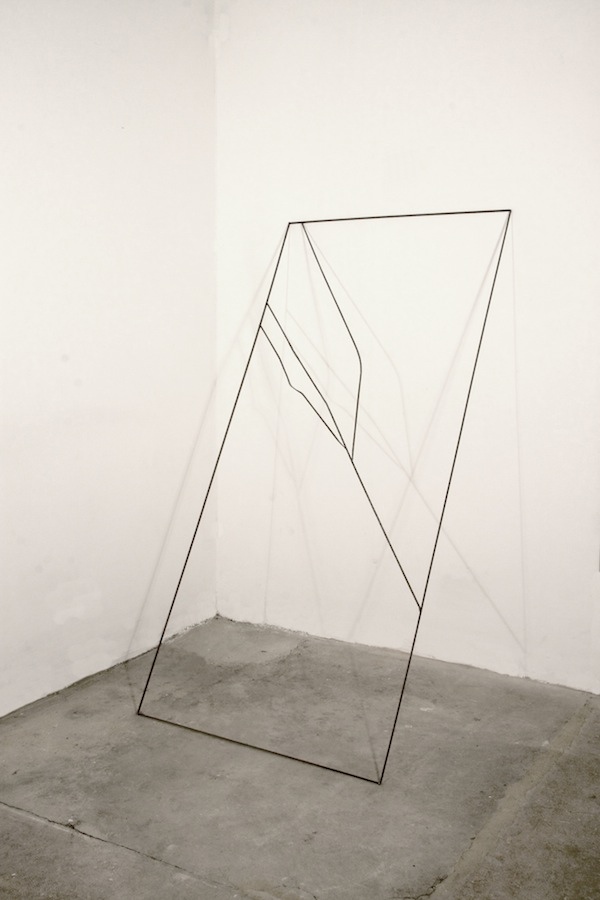 7th – 22nd February 2013 THE DEPOT 38 Upper Clapton Road, Clapton, E5 8BQ London, UK
Stellen is an exhibition of sculptures by British artist Lewis Teague Wright. Curated by Roxie Warder and Suzannah Pettigrew.
The title of the exhibition, Stellen, is from the Old Dutch meaning 'to state', 'to put forward'.
Teague Wright works predominantly in sculpture and film. For his second solo exhibition, he has produced a series of sculptures based around the ideas of security, ownership, identity and spatial occupation.
The steel structures, at once both a threatening barrier and a delicate screen appear violated and therefore non-functioning as a protective shield, questioning the perception of structural means of security as a boundary between the inside and the outside, between safety and potential harm. They become a free standing form, no longer protecting an entrance but opening onto nothing and thereby challenging the connection between the occupation of space and banishment. These steel gates form part of an ongoing series entitled Trappings/Fractures.
Waymarks transform a familiar form of packaging into solid bronze; a formally soft material used to protect another soft object, becomes tough and strong challenging its intended use and functionality.
Actuate adorned with 3M Tattle-Tape (which is used to guard items from theft from stores or libraries) is taken out of context and applied to two heavy steel sheets attached to a wall suggesting their permanence and thereby deterring a prospective thief.
Collectively these works seek to identify and question ownership, challenging perceptions of how boundaries visually suggest forbidden territory and define borders and spatial occupation.
THE DEPOT 38 Upper Clapton Road, Clapton, E5 8BQ London, UK
Read an interview with Lewis Teague Wright HERE
Categories
Tags