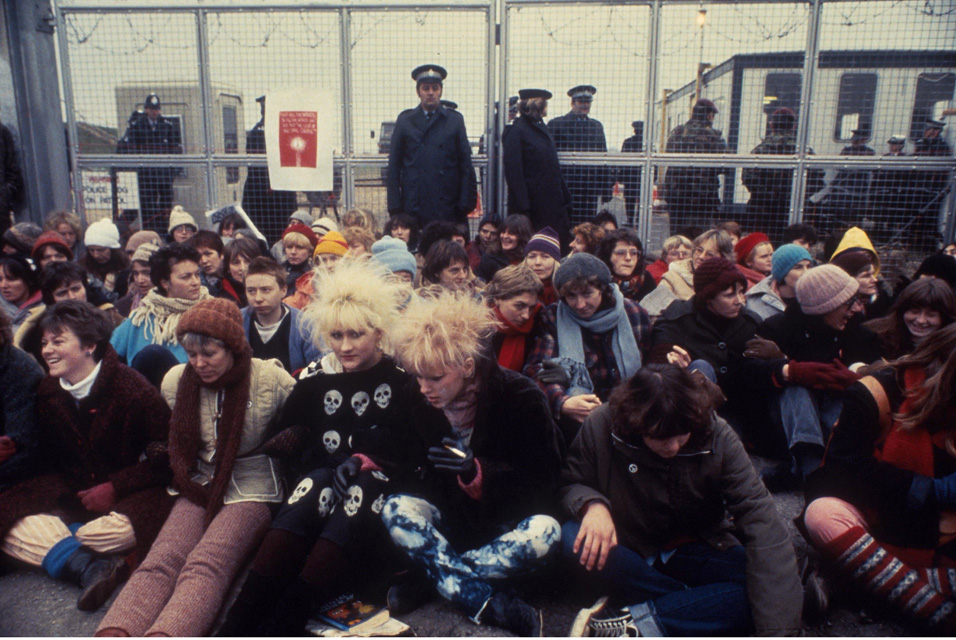 Women's Peace Camp – RAF Greenham Common Air Base – 1982.
Hundreds of women over the age of sixty converged in The Tanks at Tate Modern today Sunday 3rd February 2013 to participate in Silver Action, a live and unscripted performance conceived by artist Suzanne Lacy.
This was the first event in the BMW Tate Live series for 2013. UK-based women who took part in significant activist movements and protests from the 1950s to 80s will share their personal stories in a series of workshops, culminating in a day-long public performance on 3 February. Visitors to The Tanks will hear diverse groups of women engaged in discussion about their experiences and the impact and results of their actions as they walk among them. Live documentation – film, social media and text – was also projected in real time onto the walls of The Tanks.
The Ford sewing machinist strike of 1968, which led to the Equal Pay Act 1970; the Miss World demonstration of 1970; the Grunwick dispute from 1976 to 1978; and the Greenham Common women's peace camp campaign for nuclear disarmament in the 1980s are among the types of movements with which the participants of Silver Action have been involved. Each has attempted to transform the contemporary social landscape and the relationship between government, corporations and working people in the UK. Silver Action will explore current themes in social and political discourse such as aging, activism, social media and the role of personal commitment to the public agenda through the activist histories of British women, many of whom are now in, or entering, old age and facing new challenges. It will champion the inclusion and social relevance of older women and offer new ways of looking at the ageing experience and the role of women in social transformation.
Silver Action follows the installation of Suzanne Lacy's Crystal Quilt 1985-87 at Tate Modern in 2012. Crystal Quilt was initially conceived and experienced as a performance work, when 430 women over the age of sixty gathered in a Minneapolis shopping centre to share their views on growing older. The performance was broadcast live on television and was the culmination of the Whisper Minnesota Project, a three-year public artwork empowering and giving a voice to older women from diverse ethnic and social backgrounds.
BMW Tate Live is a four-year partnership between BMW and Tate, which focuses on live performance and interdisciplinary art both in the gallery and online. BMW Tate Live is curated by Catherine Wood, Curator, Contemporary Art and Performance, Tate and Capucine Perrot, Assistant Curator, Tate Modern.
Categories
Tags