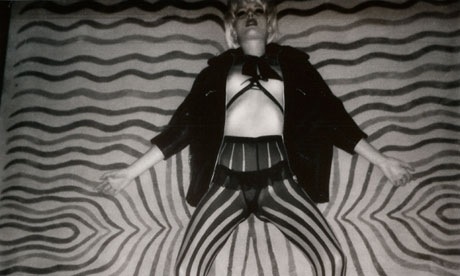 Blurred lines … Sassen moves seamlessly between fashion and fine art. Photograph: Viviane Sassen for Pop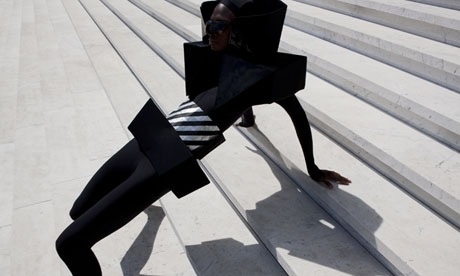 Performative … Sassen's subjects hover between the sculptural and the dreamlike. Photograph: Viviane Sassen for Delamar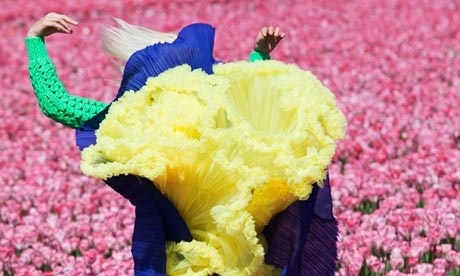 In the pink … Sassen combines ultra-bright colours with odd postures to bring a signature quality to her art photography. Photograph: Viviane Sassen for Dazed
---
This article titled "Double exposure: the two faces of Viviane Sassen's photography" was written by Sean O'Hagan, for theguardian.com on Friday 1st February 2013 17.17 UTC
According to leading photography curator Charlotte Cotton, the fashion photography of Viviane Sassen is creating "an axis shift in the genre". This bold claim is made in the afterword of a big, new book called Viviane Sassen: In and Out of Fashion, which rounds up her work for style magazines such as Dazed and Confused, Self Service, Wallpaper and Purple over the past decade or so.
On the evidence, it is hard to disagree with Cotton's summation: Sassen has dramatically changed the face of fashion photography in much the same way as Juergen Teller or Guy Bourdin did before her.
But that is only half the story. Sassen is also that rare thing: a photographer whose work straddles the often mutually exclusive – but increasingly blurred – worlds of fashion and fine art. She has just published another acclaimed limited-edition art-photography book, Roxane, which, if you're quick, you can pick up online before it becomes a prohibitively expensive collector's item. In it, she photographs her "muse" in a variety of strange poses in strange landscapes. The photographs were taken over a number of years, and hint at the relationship between photographer and muse. Like much of Sassen's work, Roxane is beautifully strange and illustrates the almost sculptural nature of HER photographs, as well as their dreamlike quality – all those ultra-bright colours and odd postures.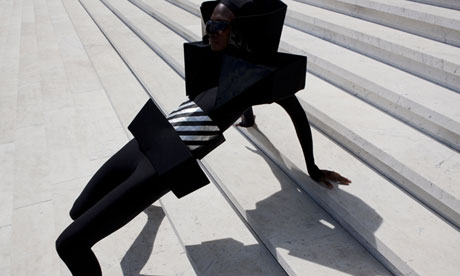 This undertow is also present in much of the fine-art photography she's made in Africa, where she has worked regularly since 2002. (She was born and is currently based in Amsterdam, but lived in Kenya as a young child between the ages of two and five.) Perhaps more than any of her contemporaries, she has undercut the received image of Africa as a continent of conflict, suffering and poverty. Instead, she has made an ongoing series of performative photographs in which her subjects seem to exist in a suspended state between waking and dreaming.
In one image, shot at night, two girls hug each other around what looks like a large banana leaf; in another, a boy in an Adidas tracksuit sleeps cocooned in a wispy green fishing net. Sassen's approach to race is as oblique as her approach to sexuality or identity. In one striking image, an angular girl in a white shirt sits on a wall, her face so dark it appears at first glance to be a cutout. There is something surreal about Sassen's work, but the almost garish colours and angular shapes of Bourdin's photographs seem to be a touchstone too.
In a recent interview with the British Journal of Photography, Sassen admitted that exhibiting fashion photography in a museum was "problematic", adding perceptively: "Art photography doesn't have to serve any purpose, fashion photography does, and that makes a difference. It's a kind of puzzle that has to be solved." She has done this by formally approaching each in a very different way. She uses a Mamiya 6×7 film camera for her art projects, and shoots in digital, often with a team of up to 40 assistants, for her fashion work. For each, she has developed a signature – though they often overlap.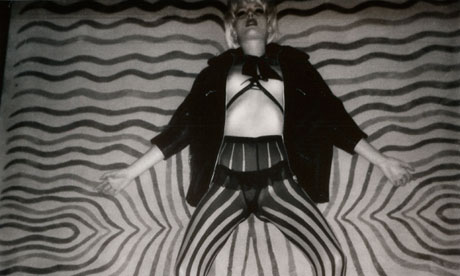 Right now, it is her fashion photography that is receiving most attention: the Prestel book, In and Out of Fashion, is essentially a catalogue for a retrospective show of the same name at the Huis Marseille Museum of Photography until 17 March. I much prefer her art photography, especially when it shades into surreal documentary style. In one of her earlier books, the now sought-after Die Son Sien Alles, she photographed makeshift shops and businesses in Cape Town shanty towns, capturing the vibrancy of interiors decorated with posters and magazine cuttings. In books like Flamboya and Parasomnia, though, she seems intent on portraying her own semi-imaginary Africa, while the illuminating Sketches offers a glimpse of her creative process through the many preparatory Polaroids she has shot over the years. They are all intriguing books that map out a singular journey in contemporary photography.
Now see this
Speaking of Bourdin, on 6 February the ICA are hosting a panel discussion, Guy Bourdin: A Legacy. Speakers include his son, Samuel, and the fashion academic Judith Clark. There will also be a screening of some of Bourdin's little-seen films.
The landscape photography of Thomas Joshua Cooper is on show at the Haunch of Venison in London. Cooper is a visual explorer of the world's wild places, which he locates on a map, researches in depth, then travels to and photographs using a 100-year-old Agfa camera and custom-made photographic plates. The results are as dramatically austere as the process suggests.
guardian.co.uk © Guardian News & Media Limited 2010
Published via the Guardian News Feed plugin for WordPress.
Categories
Tags