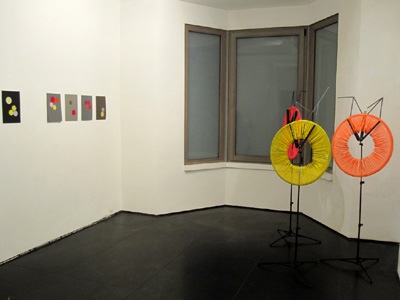 SURYA, Deepa Chudasama in Gallery 1
Mouth Open In an Open O, Ruth Barker in Gallery 2 live at 7pm
2nd February – 2nd March 2013 The Agency Gallery 66 Evelyn Street London, London SE8 5DD
With SURYA, Deepa Chudasama is returning to the gallery with new works on an expanded scale. Continuing to work with mundane man made materials Chudasama's ready-made wall sculptures focus on the value of ' throwaway' consumer goods in the growing super economies such as India, Brazil andChina.
Ruth Barker is an artist whose main practice consists of vocal and text-based works. For her first presentation at the Agency she will present the performance piece 'Mouth Open In An Open O'. Ruth Barker's states " that the act of retelling a myth is a way to describe and know the fundamentals of the human condition". The re-making of the mythic space of performance becomes a gesture towards the ritual and/or artistic understanding of self, gender, and mortality. The live performance will take place at 7pm.
Deepa Chudsama participated in Message to India, a British Council touring exhibition, two prior solo shows at the Agency and has created a number of public commissions including recently a permanent installation at the Royal London commissioned by Vital Arts and works for the new Alexander Pringle Unit at NHM (supported a./o by Arts Council of England), as well as international private collections.
Ruth Barker is a Glasgow-based artist. Recent projects include performance commissions for Glasgow International festival of Visual Art; Segedunum Museum, Wallsend, ReMap festival, Athens and Machon Hamayim Gallery, Tel Aviv. In 2008 Barker designed the first permanent British war memorial to commemorate non-combatants killed in conflict. The Choir Loft is a grade II listed monument, and is sited beside the Cenotaph in Blackpool, UK.
The Agency Gallery 66 Evelyn Street London, London SE8 5DD
About Mark Westall