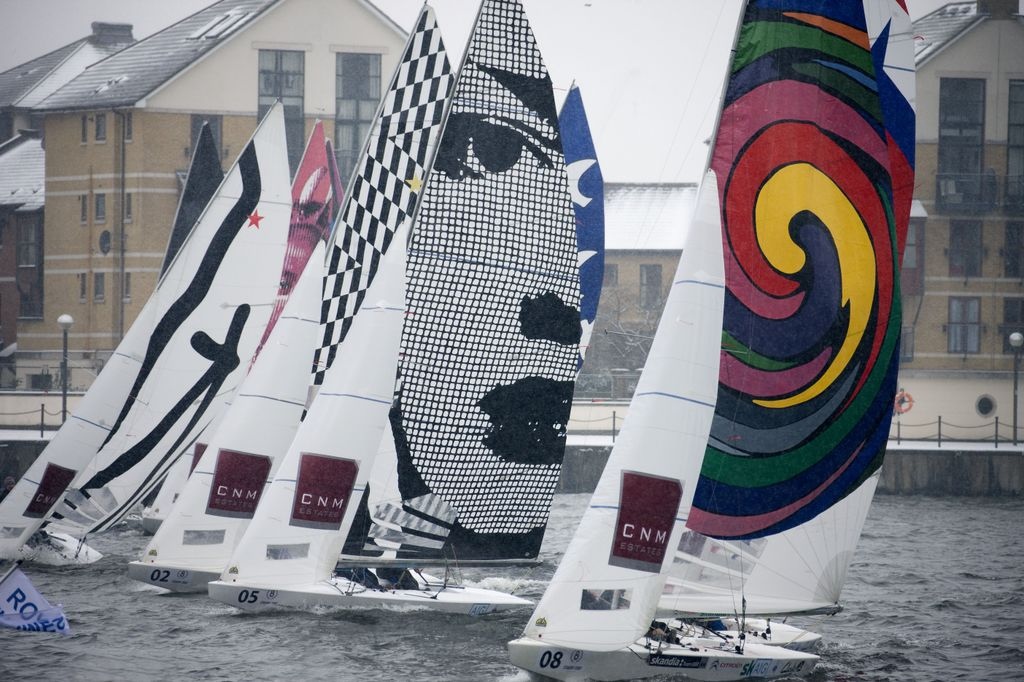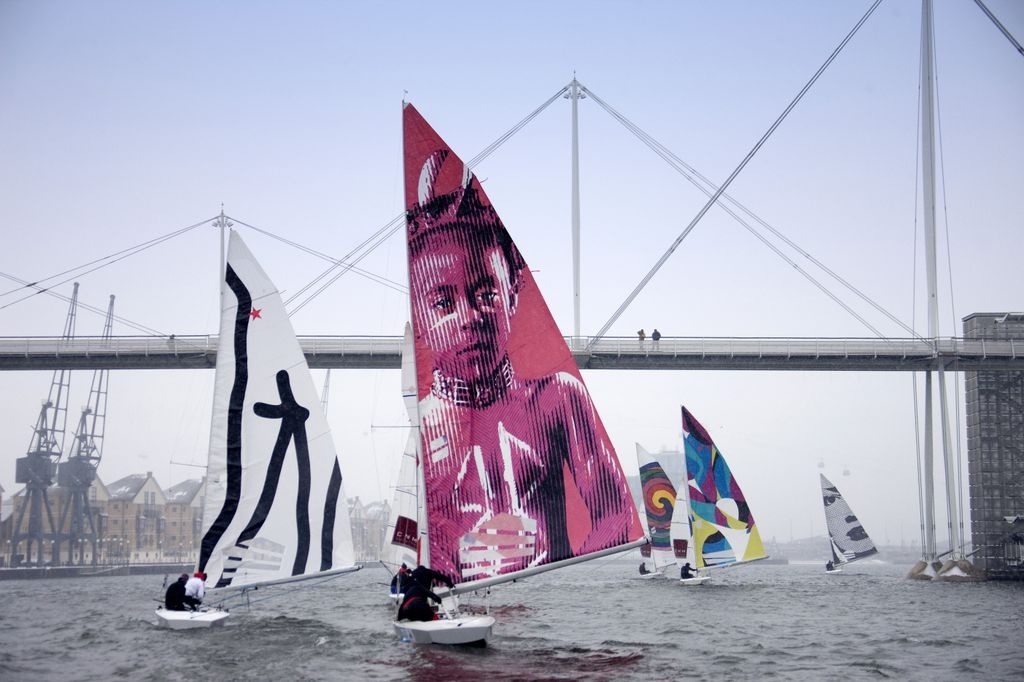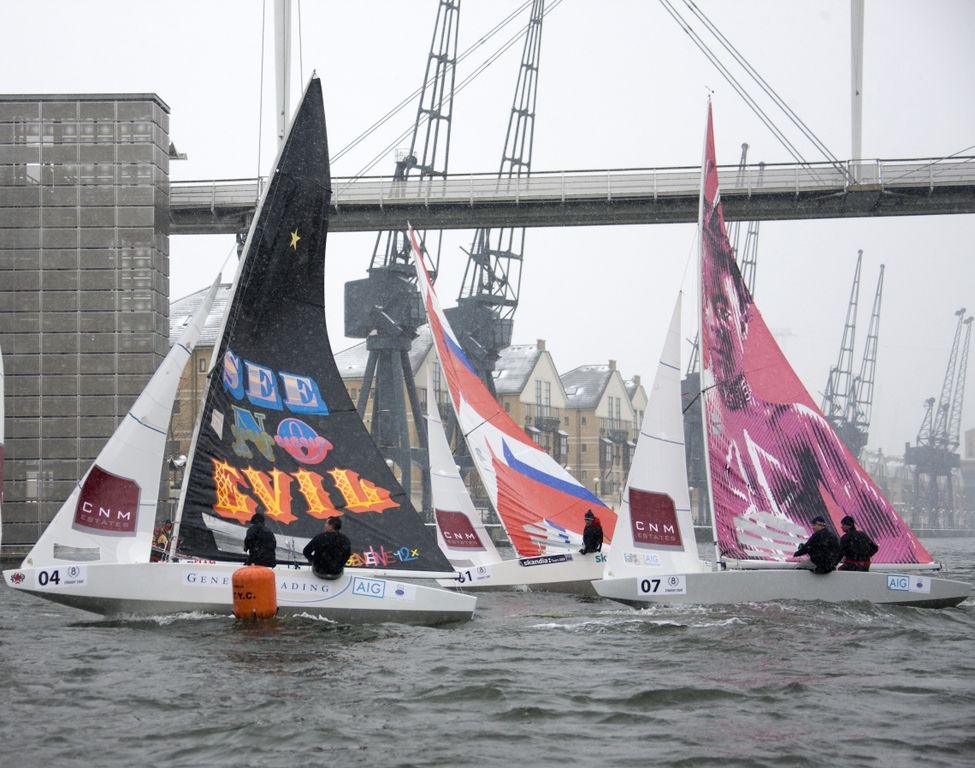 21 top international sailors and 10 artists from Britain took part in the first Fine Art Sails event regatta held on the Royal Victoria Dock at the London Boat Show.
The 21 top international sailors included many European and World title holders. Olympic medallists were: triple Olympic medallist Iain Percy, double Olympic medallist Andrew Simpson, Beijing gold medalist Pippa Wilson, London silver medalists Luke Patience and Stuart Bithell, Athens bronze medallist Xavier Rohart, Seoul gold medallist Mike Mcintyre, along with Serge Pulfer, Nick Eastwood, Sam McNamara and David Howlett.
The 10 artists where Goldie ,David Begbie , EINE ,Jaime Gili ,INSA , Mark Eley ,Pam Glew ,Julian Opie , Wendy Taylor and Christian Furr .
About The Artists
Goldie, of both Scottish and Jamaican descent, is a British electronic music artist, disc jockey, visual artist and actor. He is famous for innovations in drum and bass as well as jungle music. He first gained notoriety as a graffiti artist. Several samples of his work were included in Henry Chalfant and James Prigoff's book, "Spraycan Art." Afrika Bambaataa's documentary "Bombing" includes samples of his artwork around Wolverhampton and Birmingham. Goldie says "I'm proud to be involved with such an eclectic art exhibition. This is an exciting way to take my work to a whole new audience of sea-farers internationally. It's also a fantastic vehicle for British art".
Sculptor David Begbie was born in Edinburgh in 1955. He completed seven years of art school and graduated in 1982, emerging with a unique sculptural technique using steel mesh and focusing on the human form. He also has produced photographs, monoprints, ink and charcoal drawings, etchings and mixed media work. Begbie says: "I am particularly impressed by how the origins of the 'Art Sails' idea have transformed from street art and graffiti painting into the initiation of a completely new art form, literally inventing a new 'canvas' on which artists are invited to work".
In 1995, 28-year-old Christian Furr became the youngest artist to paint an official portrait of Queen Elizabeth II. His artwork is part of the permanent collection at 45 Park Lane, part of the esteemed Dorchester Collection. In 2012, Furr curated the exhibition/auction "Liverpool Love," which featured some of the UK's emerging artists at the New Museum of Liverpool. The event benefitted the children's hospice Claire House. He also has judged and taught art on several television shows and written a book, "Take Art." Furr says: ""I have been a big believer in working in lots of different disciplines, it helps me to stretch myself and to test myself. "I loved the idea of the art work set against the water and the idea of constant motion through the sailing. I wanted to create something that was really eye-catching and very different to the kind of work I am usually associated with. "The idea was to create a sense of contant movement and motion and in keeping with the setting and the boats" says Furr.
Pam Glew, who lives and works in Brighton, exhibits all over the world. She is a graduate of the University College for the Creative Arts at Canterbury, Epsom, Farnham, Maidstone and Rochester. Born in 1978, she is a contemporary artist best known for her unique bleaching technique on national flags. She uses dye and bleach to deconstruct and distress vintage materials in her own breed of painting. Her large-scale work has been showcased in Europe, the U.S., Asia and Australia.
EINE (Ben Flynn), born in 1970, is one of London's most original and prolific street artists. He is famous for "Alphabet Street," murals and shutters he painted on Middlesex Street, described as "a living piece of art." He also become internationally famous when Prime Minister David Cameron presented a piece of his artwork to U.S. president Barack Obama in May 2011 during his second visit to the UK.
Jamie Gili was born in Caracas, Venezuela in 1972. He received a doctorate degree in fine arts from the University of Barcelona. Then he moved to London and received a master's from the Royal College of Art. He caused traffic jams on London's Oxford Street in 2005 when installed 700,000 triangular pieces in Selfridge's store windows. In 2006, he created a six-mile broken route or "Ruta Rota" from Southwark Cathederal to St. Paul's.
INSA is a London-based fine artist and designer with a background in graffiti who has created extensive street level work and gallery shows worldwide. He teamed with shoe designer Ruth Shaw to create INSA Heels. He also was one of only two British artists who helped curate and sculpt the Sweden's Ice Hotel in 2008-2009.
Eley Kishimoto, headquartered in London, was founded in 1992 by Mark Eley and Wakako Kishimoto. Eley graduated with a bachelor's degree (with honours) in Fashion and Weave from the University of Brighton in 1990. Kishimoto, born in Sapporo, Japan, graduated from Central Saint Martins in 1992 with a bachelor's degree in Fashion and Print. The company primarily is known for its print designs in women's wear, furniture, wallpaper, crockery and glassware. In 2008, Eley and Kishimoto were appointed creative directors of the French-based fashion house Caharel.
London-born Julian Opie graduated from Goldsmith's School of Art. The internationally recognized artist has exhibited in Mumbai's Sakshi Gallery as well as the Lisson Gallery in both London and Milan. His "Best of Blur" received the Music Week "Best Illustration" award. Opie created a Bryan Adams monument in Indianapolis, Ind. He also was commissioned by London's St. Mary's Hospital to create a series of glass panels.
Wendy Taylor was a trailblazer in her generation, taking art from the formal galleries into the streets. She has more than 70 large, site-specific sculptures, including Timepiece at Tower Bridge plus pieces in private and public collections worldwide.
"The sailors really enjoyed sailing these works of art, something quite different for them, they all had a good time over the weekend despite the freezing conditions"", said Peter Bonham Christie of Fine Art Sails.
The event was supported by AIG, Straight Eight Logistics and Tullett-Prebon, together with Lead Sponsor CNM Estates, jointly headed by property entrepreneur Michael Ross, the founder of Fine Art Sails.
Last years' Olympics showed how sailing can become a more popular spectator sport and according to Ross the concept of combining art and sailing has really fired people's imaginations and could go to other iconic locations around the world with Moscow, Baku, San Francisco, Auckland, and Stockholm expressing an interest.
"This is a completely new way for artists to exhibit their work. The Royal Victoria Dock became a living gallery, the artworks in constant motion, contrasting beautifully against each other. This has never been seen before," said Ross.
ABOUT FINE ART SAILS
Fine Art Sails is the first-of-its-kind collaboration between World Class Sailing and Internationally Acclaimed Fine Artists.
?Established in the Summer of 2012 by concept founder Michael Ross of CNM Estates, Fine Art Sails invites artists to create original artworks, using the world's oceans, seas and wind as their source of inspiration. Peter Bonham Christie and Simon Rosier have since joined forces with Michael Ross to complete the Fine Art Sails management team with their exceptional Olympic level sailing network. The first series of Fine Art Sails paid homage to the spirit of the 2012 London Olympics and Paralympics, commemorating especially the Team GB Gold and Silver medal winners in support of the Sea Cadets, RYA's (Royal Yachting Association) "Sail for Gold" fund, the RYA's Sailability Trust and the Royal National Lifeboat Institution.The project supports the following charities: Royal Yachting Association,Sail For Gold Sailability Trust and Royal National Lifeboat Institution (RNLI).
Categories
Tags