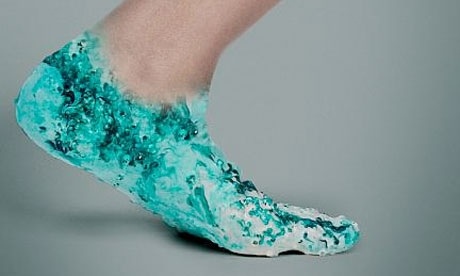 Image: Shamees Aden
This article titled "Textile futures: the living shoe and the strawberry plant that grows lace" was written by Oliver Wainwright, for theguardian.com on Wednesday 23rd January 2013 15.57 UTC
"We tend to work in the year 2050," says Carole Collet, who founded the Textile Futures course at Central Saint Martins 10 years ago. "But for some students, that's not enough – they prefer to speculate up to 2080 and beyond."
Sitting in the cafe at the college's new King's Cross campus, it seems that all Collet and her colleague, course leader Caroline Till, are missing is a crystal ball. The work they and their students have been quietly pursuing for the last decade focuses on futuristic scenarios that many would find hard to comprehend – let alone relate to the conventional understanding of the word "textiles".
Last year one student, Shamees Aden, investigated the emerging science of protocells, experimental chemical blobs that behave like living cell tissue. Aden used this new technology to develop a high-performance running trainer – which looks a little like the runner has stepped in a puddle of primal goo.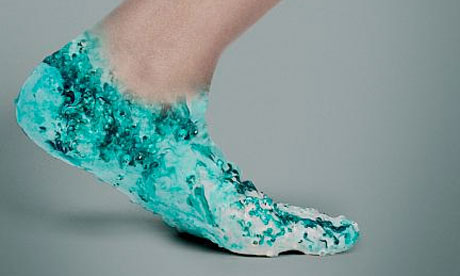 One of Collet's own projects speculates on the future of "biofacture", where biological processes are harnessed to produce goods in a sustainable, organic way. Her Biolace imagines a genetically-modified strawberry plant that would produce both fruit and lace samples from its roots – a radical concept for combining food and textile production in a world of scarce resources.
"The future control of cell development implies that we could design plants to perform specific functions for us," says Collet. "The control of DNA lets us control the living like we would write software."
She founded the course out of a frustration with the way textiles was conventionally taught, and after her own exasperating experiences of working as a textile designer.
"You would sit in meetings with architects and other consultants and they would only ask you to comment on the colour scheme," she says, seeing the stereotype as a result of how the discipline has always been perceived. "The emphasis has traditionally been on the craft of making, without much emphasis on bigger concepts."
Caroline Till, who also runs the trend forecasting agency Franklin Till, agrees: "Traditional textiles courses are still very constrained. There's a big focus on self-expression, but rarely an idea of thinking about a product, or who it's for. Students are usually taught to believe they must rely on someone else to apply their work."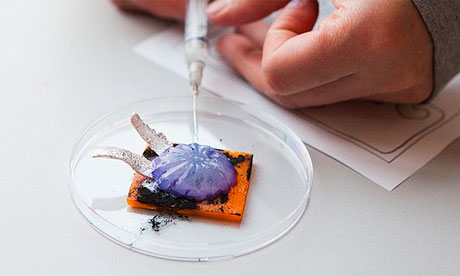 Learning from innovative product and interaction design courses, they encourage their students to immerse themselves in socio-political trends, developing near-future scenarios to which their speculative projects respond. From a broad range of backgrounds – from architecture to fine art and science – and aged between 24 and 65, the students are given workshops in electronics and interactive design as well as training in more traditional skills.
One workshop with artist Bart Vandeput explored photosynthesis in plants, replicating the transformation of light energy into electrical energy by creating a series of edible solar cells or "e-tapas".
"It was a playful way of implementing a biomimicry principle – trying to emulate a process in the natural world," says Collet, adding that they managed to produce 0.6 volts of electricity per piece of tapas. "And it helped to visualise the potential of science."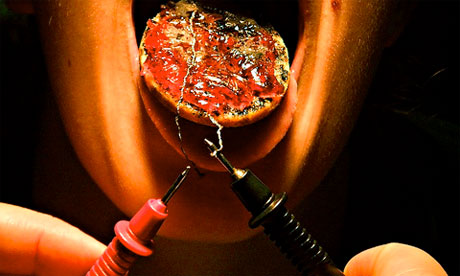 While some might dismiss projects like this as pseudoscience, it is being eagerly received in the worlds of industry and research. The course has already collaborated with the Medical Research Council, Nissan and the VF Corporation – the company behind North Face, Vans, Wrangler et al. Now, this consultancy work has been formalised in the Textile Futures Research Centre, a think tank in partnership with Chelsea College of Art, which acts as a platform for research work that could have potential uses in commercial industries.
"Our students come out thinking differently – they have the most weird, juicy, flavoursome ideas," says Collet. It may not be textiles, or quite science, but the work suggests a fertile direction for the future of design. "The merging of biology and nanotechnology opens up a new world where designers could well turn into alchemists."
• Discover more about the world of Textile Futures at the Edible Alchemy Aperolab event, 1 February, 6–8.30pm, Central Saint Martins – featuring linen furniture by Kieren Jones, tableware by Carole Collet and edible photovolatic tapas by Bartaku. Entry to the event is by invitation only: contact tfrc@tfrc.org.uk
• This article was amended on 25 January 2012 to point out that entry to the Edible Alchemy Aperolab event is by invitation only.
guardian.co.uk © Guardian News & Media Limited 2010
Published via the Guardian News Feed plugin for WordPress.
Categories
Tags