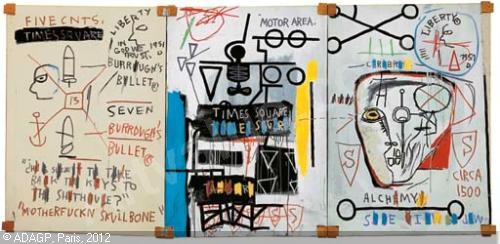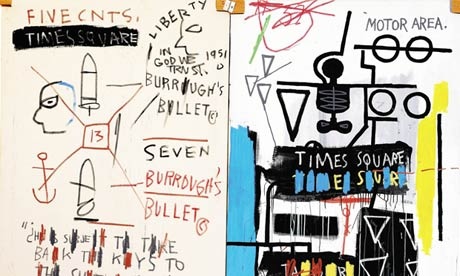 Detail from Jean-Michel Basquiat's Five Fish Species, a celebration of his favourite writer, beat author William Burroughs. Photograph: Sotheby's

This article titled "Jean-Michel Basquiat's Burroughs triptych to be sold at London auction" was written by Mark Brown, arts correspondent, for theguardian.com on Tuesday 22nd January 2013 12.01 UTC
Jean-Michel Basquiat's tribute to the mad and bad world of William Burroughs – including the unfortunate night in Mexico when he shot and killed his wife in a William Tell game – is to be sold in London after 30 years in the same ownership.
Sotheby's said the painting, bought directly from Basquiat himself, would be one of the highlights of its contemporary art sale on 12 February.
Alex Branczik, a contemporary arts specialist at the auction house, said Basquiat, who died aged 27 in 1988, was one of the most sought-after contemporary artists. The work, Five Fish Species, is a reflection on and celebration of his favourite writer, the beat generation author Burroughs.
"Basquiat is the blue chip artist of the moment," said Branczik. "He is recognised today in perhaps the same way he recognised Burroughs in the 1980s as someone who was streets ahead of his time – Basquiat is the artist who everybody wants at the moment so we have high hopes of it doing well at auction."
The painting makes direct references to an incident that understandably haunted Burroughs, the night in 1951 in Mexico that he shot at the tumbler of water on his wife Joan's head; and missed. The writer, almost certainly high on drugs, spent a fortnight in jail before bribes led to his release and he was later given a two-year suspended jail sentence.
In Basquiat's painting there is reference to "Burrough's bullet" and possibly Burroughs's profile on the back of a quarter-dollar coin dated 1951 with the word Liberty.
It comes from a good year for Basquiat; he had gone from reprobate graffitti artist to adored star of the vibrant New York art scene with money, commercial success and, for a time, Madonna as his girlfriend.
His drug overdose death in 1988 cut his artistic career tragically short. Branczik said: "Even within that seven-year period the market does separate the early works from the late works in the same way you would with Picasso, who had a career lasting some seven decades."
Sotheby's has estimated the painting, which has a triptych format, at £4.25m-£6.25m – clearly a lot of money but some way off the auction record for a Basquiat set last November at Christie's in New York when an untitled work sold for .4m (£16.6m), beating the artist's previous record of .1m (£12.6m).
guardian.co.uk © Guardian News & Media Limited 2010
Published via the Guardian News Feed plugin for WordPress.
Categories
Tags