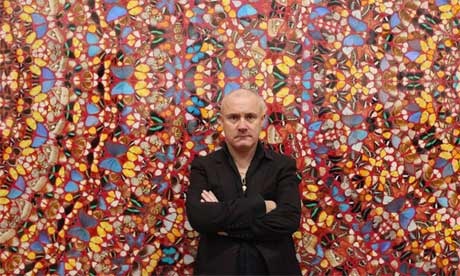 This article titled "Sticking it out with the stuckists" was written by Jonathan Jones, for theguardian.com on Wednesday 16th January 2013 15.22 UTC
The stuckists have sent me their latest publication, a newspaper with headlines in art nouveau lettering and manifesto declarations that resemble the latest pronouncements from a forgotten wing of the 20th-century avant garde.
STUCKISM IS THE FUTURE
FUTURISM IS USELESS
TATE IS MAD
TRACEY EMINS ATTITUDE PROBLEM
DAMIEN HIRST IS A GOOD PAINTER
And so forth. Reading this back I am not sure how the sentences stitch together. Are they saying Tate is Mad Tracey Emins Attitude Problem?
But wait. Damien Hirst is a Good Painter? !!**?
I've got to be honest – I quite enjoyed reading Issue 1 of The Other Muswell Hill Stuckist. It is nicely laid out as a pastiche of futurist publications a century ago. The stuckists have earned their place in art history more convincingly than many of the overrated artists they have been so rude about for so long. Their manifestos may well be remembered, and are already anthologised.
If they weren't so perverse in their arguments, I would even say stuckism's time has come. The first stuckist manifesto was written by Billy Childish and Charles Thomson in 1999, two years after the Sensation show at the Royal Academy, when the art of the Hirst generation was hugged into the official culture of Britain. In the 13 years since, "conceptual" art (to use a handy name for what stuckists don't like) has gone from respectability to ultra-respectability. Tracey Emin has garnered as many establishment honours as a 19th-century portrait painter.
All that time, the stuckists were cocking a snook. And now it seems, the art boom may be in trouble, the chickens coming home to roost. The ICA is about to debate The End of the Art World …? in what sounds a crisis meeting, in a panic about:
"… the perceived backlash against contemporary art with headlines of record-breaking auction prices contradicting news of artist defections, disillusioned critics, over-production, the collapse of the middle market, and the growing difficulties faced by younger artists and their galleries. All the above have contributed to a climate of widespread suspicion, bolstered by splits between big name galleries and their star artists."
In other words, gulp, the massively inflated art market, combined with the crumminess of much of what is being sold, may be undermining the myth that we live in an artistic golden age.
A stuckist vindication? But I don't think they want to be vindicated, and this is their charm. In The Other Muswell Hill Stuckist, Charles Thomson elaborates on his claim that Hirst is a good painter. Yet not only is Hirst a terrible painter, his terribleness exposes the glaring emptiness of his "conceptual" career, by revealing that he was hiding a tiny talent behind huge vitrines all along. This in turn has massive implications for an art world in which Hirst is the biggest star. Is it all a bit of a con, just as people like the stuckists said it was?
Like all good Marxists of the Groucho tendency, the stuckists do not want to belong to any club that will have them for a member. Like true contrarians, they take the opposite line.
It makes them a comic distraction, rather than a serious movement. But as such, they really are a significant part of the British art scene. Still stuckist after all these years.
guardian.co.uk © Guardian News & Media Limited 2010
Published via the Guardian News Feed plugin for WordPress.
Categories
Tags