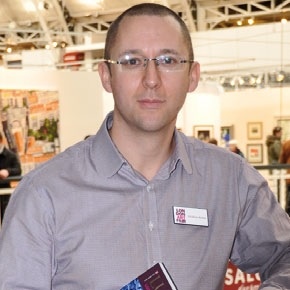 1 Are there any new galleries exhibiting that particularly excite you ?
There are plenty – I'm looking forwarding to Samantha Donnelly's sculpture with Ceri Hand, Oliver Griffin's work with Hannah Barry and COLE's project also has some very strong photography. In the Main Fair Alan Wheatley promises some strong Modern British work and it's great to have Jack Bell Gallery on board with his contemporary African focus.
London Art Fair Galleries
2 If you could only make one Talk or Performance at LAF which one would it be ?
A hard choice – between Philip Vann and Gerard Hastings talking about Keith Vaughan and Desert Island Pics with Simon Baker from Tate talking about the eight photographs he would take to a desert island.
London Art Fair Talks Tours and Performances
3 Do you have any galleries from outside the UK exhibiting ?
Artered Gallery (New York), Galerie BRAUBACHfive (Frankfurt), Galerie Olivier Waltman (Paris) , Wanrooij (Arnhem), Hilger BROTKunsthalle (Vienna),
4 Have you ever thought about changing the dates of LAF ? it must be so hard to get everything ready being so near to Christmas/New Year?

The January dates mean the team is incredibly busy in the lead up to Christmas – but we then get a break before coming back full steam in the new year. The timing is key for the galleries – sales early in the year when the galleries are traditionally quiet are really important – and the Fair offers a platform to renew relationships with existing collectors, meet new clients and highlight forthcoming exhibition programmes.
5 Do you ever feel there is just too much art and too many galleries?
It can be overwhelming – but our aim with London Art Fair is to offer a visitor experience that is varied in pace – between the Main Fair, Art Projects and Photo50 and with solo shows, curated thematic presentations and the usual varied displays. Opportunities to engage in depth with some artists while also enjoying a broad range of work.
6 Have you spotted any trends in the art being shown?
On the Modern British side – it's clear that galleries are bringing their best work – collectors are well informed and only interested in the best examples so it makes good business sense. There's more performance this year and artists employing collage/assemblage – interestingly including artists whose medium is film…
7 If you had £175 k to spend on art from LAF what would you buy ?
Well, what a generous budget! Such a hard choice – I collect photography, have some contemporary painting – and yet with £175k it would probably be a Modern British painting – perhaps Keith Vaughan or a small Patrick Heron.
8 When's the best day to get a bargain?
No one day is better – but come early in the week to get the best choice.
London Art Fair Business Design Centre 16th – 20th January 2013 www.londonartfair.co.uk/
About Mark Westall