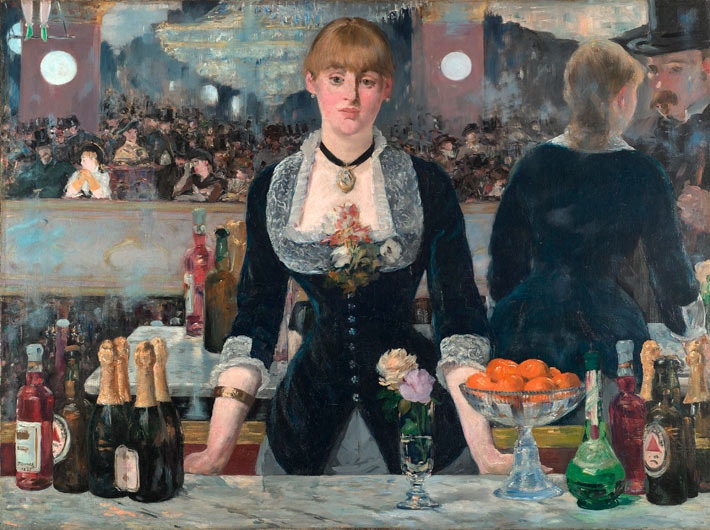 Detail from Édouard Manet's A Bar at the Folies-Bergère, 1882. Courtesy The Courtauld Gallery Collection
This article titled "Oiled on canvas: the art of intoxication" was written by Jonathan Jones, for theguardian.com on Monday 31st December 2012 12.05 UTC
For New Year's Eve, here are my top five images of drinking in art. The Dutch master created one of art's happiest images of alcohol when he portrayed himself as the Prodigal Son, glass in hand in a tavern. His wife Saskia poses beside him as a prostitute. Rembrandt cheerfully holds up a tall beer glass bubbling with golden ale. You can almost taste the beer; it looks like a good Dutch or German brew, and it glows.
Rembrandt, like other 17th-century Dutch artists, depicts drinking as an intimate pleasure that anticipates sex. Men and women drink together in paintings of the Dutch Golden Age, and it looks as if their conviviality will lead to something more than a hangover. Pieter de Hooch's painting A Woman Drinking with Two Men shows a flirtatious gathering where a woman holds up a wine glass that glistens in the light from a window – a pearl of pleasure or the false dazzle of corruption and sin?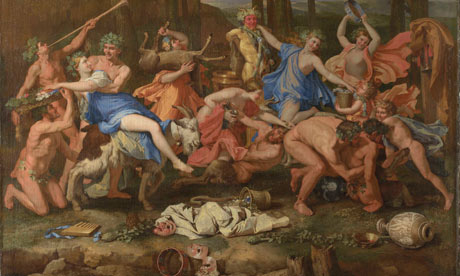 The party gets even wilder in another 17th-century painting, this time by the French artist Poussin. The Triumph of Pan is an eerie image of mass intoxication. A beautifully painted wine vessel lies empty on its side while the face of a sculpted Pan is reddened by booze. Partygoers dance with disturbing abandon – the power of the irrational has been released.
Revellers abound too in Manet's 19th-century masterpiece A Bar at the Folies-Bergère, glimpsed this time as blurred reflections in a mirror behind the bar. The sombre barmaid, alone in her disengagement from the top-hatted spectacle of indulgence, is surrounded by bottles of Bass beer, champagne and cocktail lubricants. Manet pictures modern drinking in a sophisticated urban context: he neither judges nor celebrates.
Degas is more desolate in his painting of a woman in a cafe contemplating a glass of absinthe. The jollity of Dutch taverns is long gone. Here is alcoholic misery in a cold, modern cafe where no one even talks to their neighbour. The drink, the fabled absinthe that was such an indispensable prop of the Paris avant garde in the late 1800s, glows with lemon-olive beauty – a seductive killer.
So the New Year's Eve message from art is clear: enjoy yourself with a few continental beers, but stay away from the absinthe.
guardian.co.uk © Guardian News & Media Limited 2010
Published via the Guardian News Feed plugin for WordPress.
Categories
Tags