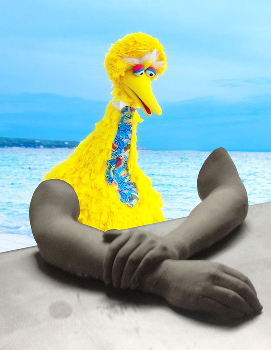 DECEMBER 28th, 2012 – JANUARY 31st, 2013
EDEN ROCK GALLERY—ST BARTHS ST-JEAN BAY, ST BARTHÉLEMY 97133 FRENCH WEST INDIES
Everybody likes objects; everybody likes different objects. It comes down to what objects you want to put in your art…I like them all: high, low, used, new, whichever works.
—Urs Fischer
Gagosian Gallery is pleased to present an exhibition of tables by Urs Fischer.
Continuously searching for new sculptural solutions, Fischer has built houses out of bread; enlivened empty space with mechanistic jokes; deconstructed objects and then replicated them; and transferred others from three dimensions to two and back again via photographic processes. He combines daring formal adventures in space, scale, and material with a mordant sense of humor. Reinvesting traditional art historical genres (still life, portraits, nudes, landscapes, and interiors) with an abundance of rich and surprising forms—such as cast sculptures and assemblages, paintings, digital montages, spatial installations, kinetic objects, and texts—he ceaselessly explores the intersection of art and everyday life.
The exhibition title, a collision of furniture and body parts, gives le corps exquis another turn of the screw. The works to which the title alludes are tables that combine large resin-coated photomontages with multicolored steel geometric bases. The jokey surrealist montages juxtapose images both found and manipulated—a pair of sausages, a cartoon snail, a graffiti-covered wall, an open mouth, a Hong Kong supermarket. Blurring the distinctions between photography, collage, sculpture, and furniture, the tables are objects both aesthetic and useful, filling the gallery with a presence that is at once visually arresting and socially convivial.
Urs Fischer was born in 1973 in Zurich, and studied at the Schule für Gestaltung, Zurich. His work is included in many important public and private collections worldwide. Recent major exhibitions include "Kir Royal," Kunsthaus Zurich (2004); "Not My House Not My Fire," Espace 315, Centre Pompidou, Paris (2004); "Mary Poppins," Blaffer Gallery, Art Museum of the University of Houston,Texas (2006); "Marguerite de Ponty," New Museum, New York (2009–10); "Oscar the Grouch," The Brant Foundation, Greenwich, Connecticut (2010–11); "Skinny Sunrise," Kunsthalle Wien, Vienna (2012); and "Madame Fisscher," Palazzo Grassi, Venice (2012), as well as the Biennale di Venezia in 2003, 2007, and 2011.
Fischer lives and works in New York City.
Categories
Tags