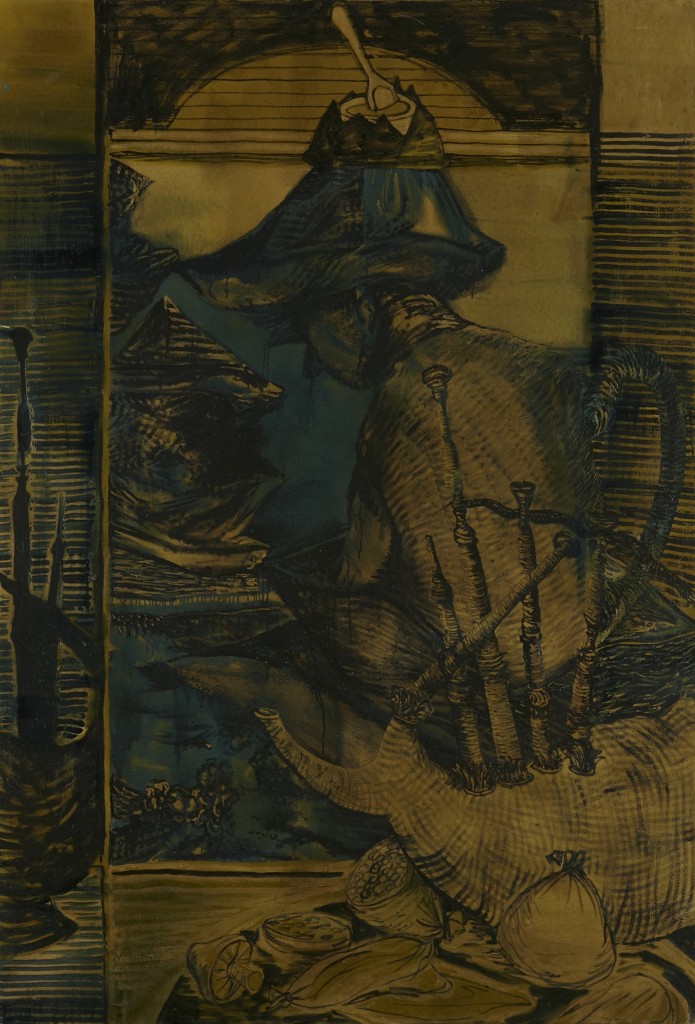 Stains Of A Decade Steve Allan
FAD have hooked up with our favourite guide to the art stars of the future The Catlin Guide to give you a sneak preview of some of the 40 artists that will be featured in this years guide.
Up sixth is Steve Allan
Q – If you weren't an artist what else would you be?
A – A butcher, a baker or a candlestick maker.
Q – Can you tell us more about your work and what are the main ideas you would like to express?
A – I guess the main thing I struggle with in my work is finding an image that resonates with both the viewer and me. Much of my work revolves around metaphorical images that represesent my struggle in painting. In retrospect, the banana character I created whilst at the Royal College was a kind of gestural character that seems in constant turmoil. Painting bananas with human emotions was funny road to go down, but that image just seemed to tap into something primal with me. At the time I was making allot of really bad paintings and I had had these banana drawings kicking around my studio. They were just ridiculous looking. I liked the way people responded to the drawings – they all laughed. I though yeah, that's a funny image, but it also provoked a certain empathy which I myself respond to in other artsists work. I never intended to paint bananas, but sometimes the most absurd images – the ones you write off too easily – make for the most interesting work. I couldn't imagine anything more helpless than a banana in armbands and a life-saver, it became like a mascot for all my failures: this helpless banana man trying to stay afloat in the sea of shitty paintings. I suppose this image came out of frustration. Painting is a real slog for me most of the time.
Q – How do you start the process of making work?
A – My home is for drawing my studio for painting. My paintings usually come out of drawings I make at home. That's not to say that I translate a drawing as it is into a painting. I suppose the drawing is a catalyst for something more complex, something more alive and fought over. So to answer the question – at some point I just take my paints out and start painting, but things usually have to get vey bad before they get any good.
Q Do you consider the viewer when making your work?
A – Of course – I'd be lying if I were to say I wasn't concerned at how people respond to my paintings. Making any kind of art puts you in the line of fire, and you want people to feel something….any sort of response is good. The biggest insult to me is for someone to casually stroll by, give my work a quick glance and never think of it again. You want to create something that leaves an impression – that provokes a response, a reaction – hopefully a change in someone's thinking.
Q – Name three artist that have inspired your work
A – I have endless influences but the ones that I feed off the most are, Philip Guston, Georg Bazelitz and James Ensor. These three painters are the foundations of my practice and have been informing my work since I started painting.
Q-What defines a work of art?
A – When I look at art I'm always looking for a genuine voice; authenticity is very important to me. It's very easy to see if someone has a conviction and belief in what they are doing and this is what I look for. I suppose in that sense art is just someone else's truth.
Q – In times of austerity do you think that art has a moral obligation to respond topically?
A – For myself, no. I've never been that interested in politics or economics as far as my own painting is concerned. I definitely don't intend to start a Scottish painting manifesto. Of course your environment and world view will inform your outlook and practice to some degree but for now I'm happy to leave the art revolution to the Mexicans.
Q – Anytime, any place – Which artist's body of work would you most like to inhabit?
A – I'd have to go with Philip Guston. I respond to his autobiographical motivations and way of story telling, and he has had a huge influence on my work. Guston was a game changer in his own time and he's still as relevant to this day.
Q – Whats the most intelligent or interesting thing that someone said or wrote about your work ?
A – My mum…. "What is it?"
Q – What artist would you most like to rip off?
A – I don't think it's a case of 'ripping off'. Everyone is influenced by someone or something which has come before them. I don't think anyone in our century is or can be, truly original. Artists are bottom feeders – that is to say we are always looking back and responding to all the art we admire.
Q – Do you care what your art costs?
A – Money is not at the forefront of my ambition as an artist but I have to make a living and pay bills.
I sell work to be able to make more work and have a bit of fun on the side.
Q – Whats next for you?
A – I hope to be able to carry on painting everyday. I've been very fortunate this year to have financial help from Ridley Scott Associates, who cover my studio and material costs. I have two upcoming group shows In january –'Young Gods' at the Griffin Gallery – W114AJ and 'Painters in Play' at Carslaw St Lukes – EC1Y 8JL.
The Catlin Guide 2013: New Artists in the UK is launched at the London Art Fair 2013, 16 – 20 January. It will also be available from Amazon, Culture Label and selected book sellers (£12.99).
Categories
Tags