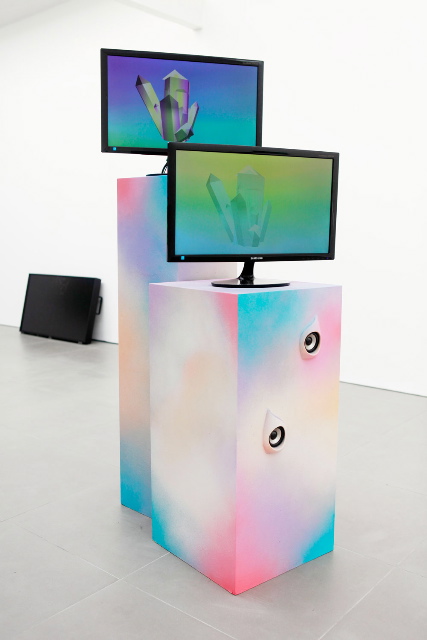 Adham Faramawy, Violet Likes Psychic Honey 2, 2012 Looped video + sculpture 164 x 31 x 31 cm and 130 x 43 x 43 cm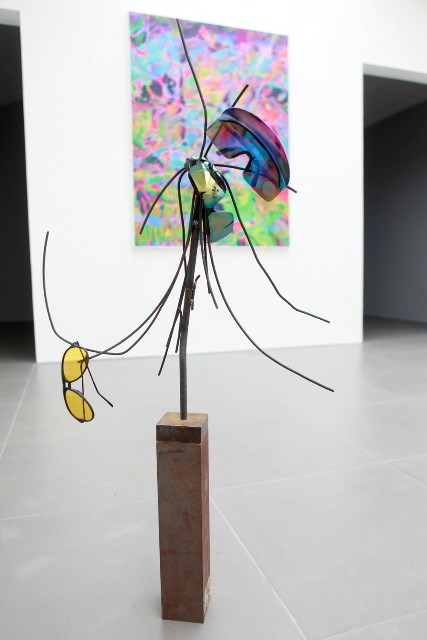 Jack Lavender, Glasses Tree, 2012 100 x 60 x 15 cm, Sunglasses, Steel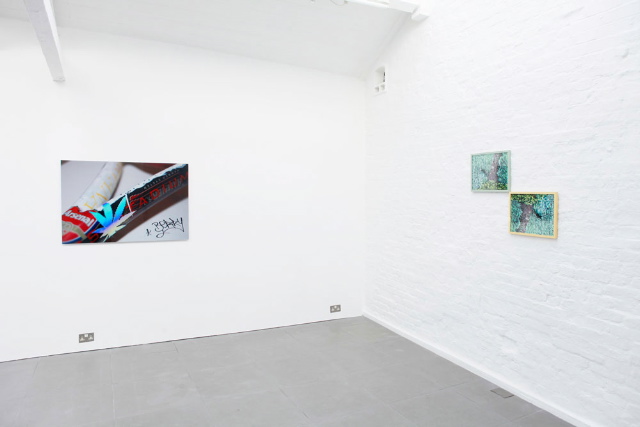 Cornelia Baltes, Baccara, 2012, Edition 1/3 + 2 artist prints, 60 x 70 cm Giclee print in painted frame
Berry Patten, The Dream is Kournikova, 2012, 119 x 84 cm, Diasec Mounted Digital Print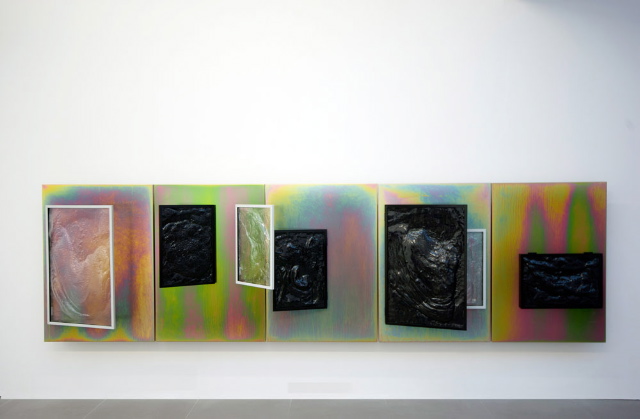 Nicolas Deshayes, Salts, 2012,5 panels 100 x 70 cm each steel panels, vacuum formed plastic in aluminum frames
Curated by Attilia Fattori Franchini on until 17th Jan 2013 at Cell Project Space, 258 Cambridge Heath Road London
Special Events:
Saturday 8th December 2012, 4-7pm
Talk by Paolo Ruffino & film screening curated by Oliver Sutherland
Thursday 17th January 2013, 6-9pm,
Normal Love, a final Performance event by Sam Levack & Jen Lewandowski
Cornelia Baltes, Nicolas Deshayes, Adham Faramawy, Jack Lavender, Berry Patten, Sabrina Ratté, Travess Smalley, Oliver Sutherland.
According to Greek mythology, the Chimera was a monstrous fire-breathing female creature composed of the parts of three animals: a lion, a serpent and a goat.
In popular culture the term has been used to describe any fictional being composed by different parts as well as to describe illusory ideas and actions.
Taking inspiration from the creature's composed physicality and fictional being, the show reflects on new forms of abstraction and intangibility derived from the assemblage of different styles and materials often associated with the internet and its context of visual and narrative fragmentation.The presented works mix personal visions and popular culture with digital aesthetics, aiming to reproduce heterogeneous feelings and an interpretative contingency. Diversity in forms and the use of apparently distant tools and references are the point of departure to create a fictional sense of transcendence and fluidity. The selected works and theoretical contributions included in the exhibition aim to operate as activators, inviting the viewer to participate in the construction of meaning whilst also initiating alter relationships between media's attributions and works' narratives.
This exhibition celebrates cacophony and material-crossing whilst floating between physicality and significance, to consider alternative forms of artistic expression looking at a context-based sensoriality as opposed to direct representation.
The exhibition is accompanied by an online pdf publication with contributions
by Rhys Coren, Marialaura Ghidini, Arcadia Missa & Paolo Ruffino and a series of events.
About The artists
Attilia Fattori Franchini is an independent curator based in London and co-founder of the online gallery bubblebyte.org Her practice concentrates on the dialogue between digital and physical space reflecting on its language and aesthetics. Recent projects in 2012 include 'The Man Who Knew Too Little', 'The Function of the Oblique, Part I and II', Pascual Sisto solo exhibition, Seventeen Gallery, London, and 'PRIMO ANNIVERSARIO', The Sunday Painter, London. In 2011 Franchini contributed to 'Lucky PDF TV', Frieze Projects, 'My Friend Speak HTML' as guest curator, Nrmal Festival, Mexico, and 'Since Tomorrow', EB&Flow Gallery, London.
Adham Faramawy is currently studying a Post-Graduate in Fine Art at The Royal Academy of Art, London. Solo exhibitions include 'Total Flex 2.0', Legion.tv, 2012, and 'LEGEND II',Aubin Gallery, London 2011. Recent group exhibitions include: 'Ruby', Gallery Vela, London, 2012, and 'Interplanetary Revolution', Belfast, Northern Ireland, 2012. His work has been included in numerous projects for 'Lucky PDF TV' Frieze Art Fair, 2011 and 'BYOB', The Internet Pavillion at the Venice Biennale, 2011. He was recipient of the Red Mansion Residency in Beijin, China, 2011.
Living and working in London Berry Patten's work has been exhibited nationally and internationally and included in collective screenings. Recent exhibitions include 'Exposition Experimental': A project with French Riviera for Peckham Artist Moving Image Festival, South London Gallery, London, 2012, 'Days of Labour, Nights of Leisure', Knoll Gallery, Vienna, 2012, 'Deliquesce', Jonathan Viner, London, 2012. She has been selected for 'Les Urbaines', Lausanne, Switzerland December, 2012 and 'Invites', at the Zabludowicz CollectionMarch 2013.
Based in Berlin, Cornelia Baltes' recent and forthcoming solo exhibitions include; Limoncello, London 2013, 'HOOLOOVOO', Aspex Gallery, Portsmouth 2012, 'The Great Loop Forward', Tank Gallery, London, 2010. Selected group exhibitions include; 'Young British Art II', dienstgebäude, Zurich, CH (curated by Ryan Gander and Christina von Rotenhan) 2012, and 'Bloomberg New Contemporaries', S1 Artspace, Sheffield/ICA, London. Baltes is represented by Limoncello Gallery, London.
Jack Lavender lives and works in London. Selected group exhibitions include Young London, V22, London, 2012, The Approach, London, 2012, Heat, Twelve around One gallery, London, 2012, 'Chubby Group show', 15 Howie St, London, 2011 and 'Pale Blue Dot', Woodmill, London, 2010. Jack Lavender is represented by The Approach Gallery, London.
Living and working in London, Nicolas Deshayes has had solo presentations at 'Vanille' (with George Henry Longly), Galerie Chez Valentin, Paris, 2012, 'Browns in Full Colour', Jonathan Viner, London, 2012, 'Autumn', Clockworkgallery, Berlin, 2011, 'A Killer Whale Breaching in Soft Focus' (with Ed Atkins), Transmission Gallery, Glasgow, 2010 and 'Cultural Wood, Concrete', Hayward Gallery, curated by Tom Morton, London, 2010. Selected group exhibitions include 'The Starry Rubric Set', Wysing Arts Centre, Cambridge, 2012, and 'The Shape We're In', 176 Zabludowicz Collection, London and NYC, 2011. Deshayes is represnted by Jonatan Vyner, London.
A recent recipient of the Graduate Award, 'Paintings in Hospitals', 2012, Oliver Sutherland who lives and works in London has recently exhibited work in Sound Spill, an ongoing project by Haroon Mirza, Thom O'Nions and Richard Sides, Seventeen Gallery, 2012. In solo and included in group exhibitions the artist has exhibited in 'Poltergeist', FORT, London, 2012, 'Primo Anniversario', bubblebyte.org and The Sunday Painter, 2012, and 'Trade Routes, Part I, PiArts', Istanbul, 2011.
Based in Montreal, Canada, Sabrina Ratté has exhibited widely both nationally and internationally with her works included in public screenings and live video projection projects. Recent shows include: 'THE AURORATONE PROJECT', An Original Commission for 'Film POP', 2012, Montreal, 'DINCA VISION QUEST', 2012, 'Chicago, IL', Eyebeam Art + Technology Center, 'Apocalyptic Shift', New York, 2012, 'Rojo Nova Festival', Museu da Imagem e do Som de São Paulo, Brasil, 2012 and 'Rhizome' at The New Museum, New York City, USA.
Travess Smalley lives and works in New York City. Recent solo shows include: 'Soft Light Blend' at NP Contemporary/Envoy Enterprises, New York City, 2012, and 'Rendered Aura' Gloria Maria Gallery, Milan, Italy, 2011. His work has been included in multiple group exhibitions in international galleries and institutions including 'Company Safety' Silvershed, New York, 2012, 'Stereopsis', Drawing Room, London, 2012, 'Everything Was…' Preteen Gallery, Mexico City, Mexico, 2012, 'E-Vapor-8′, 319 Scholes, Brooklyn, NYC, 2012, 'The Untouchables' Saamlung, Hong Kong, China, 2012, and 'Collect the WWWorld', House of Electronic Arts, Basel, 2012.
Categories
Tags