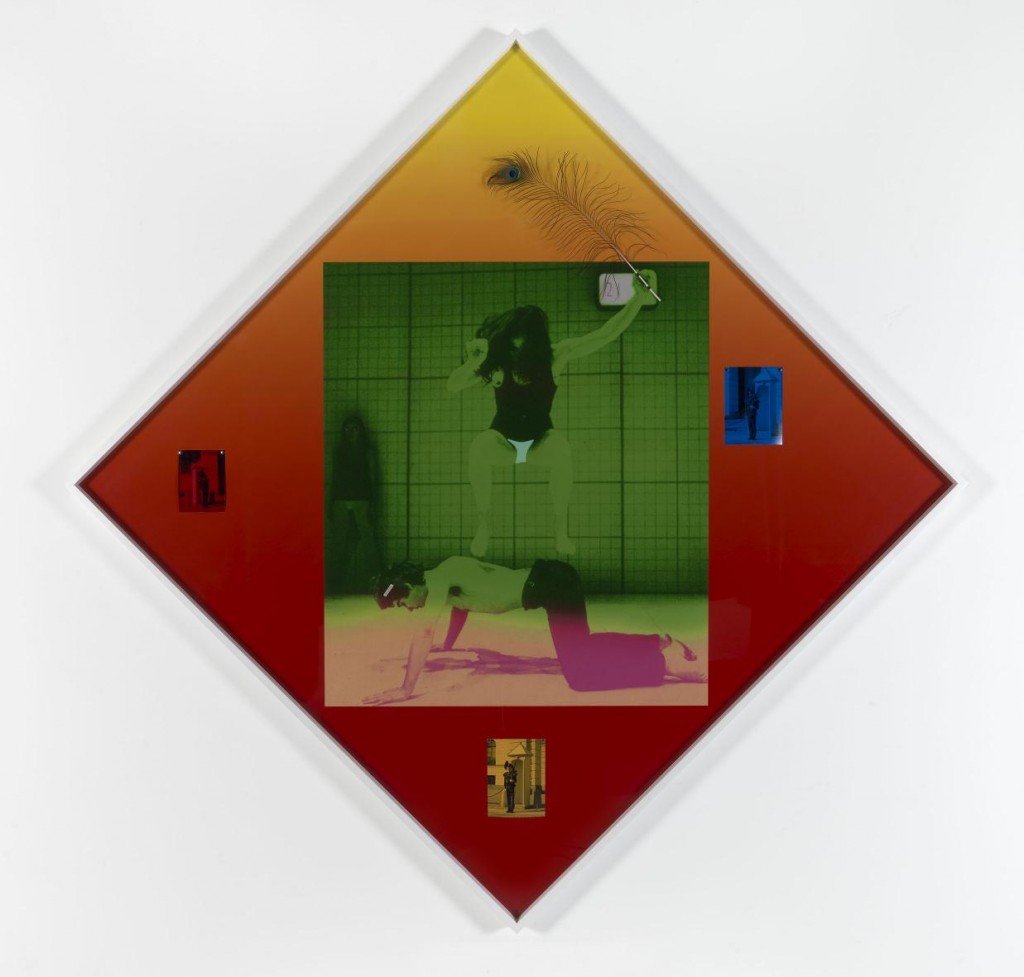 Lothar Hempel, Plakat – wie im Zoo!, 2009, c-print and mixed media on aluminium (framed), 254 x 254cm, 100 x 100 ins, (MA-HEMPL-00040)
Stuart Shave/Modern Art is to present an exhibition of two sculptures and two wall-based works by Lothar Hempel, and a small number of posthumous reproductions of illustrations by Aubrey Beardsley.
About The Artists
Lothar Hempel was born in Cologne, Germany in 1966, and studied at Kunstakademie Düsseldorf, Dusseldorf, Germany, 1987-1992. He lives and works in Berlin, Germany. Hempel's work brings together a world of figures, shapes and colours in the stage-like expression of a certain attitude: graceful, cool, deliberate and poised, yet open and heartfelt. His sculptures, paintings, and photographic montages weave together material from stylistic movements, near-historical moments, particular objects, and specific images to create sets of narrative associations that are equally beautiful, irrational and mysterious. Hempel's work has been the subject of the solo exhibitions Opium, La Conservera, Ceuti, Spain (2012); Casanova, Douglas Hyde Gallery, Dublin, Ireland (2008); Alphabet City, Le Magasin, Grenoble, France (2007); Concentrations 42, Dallas Museum of Art, Dallas, USA (2002), and Propaganda, Institute of Contemporary Art, London (2002). Hempel's work has been included in the Herzliya Biennial for Contemporary Art, Herzliya, Israel (2011); Heaven, Athens Biennale, Athens, Greece (2009), Le Song D'un Poete, Frac des Pays de la Loire, Nantes, France (2009); Beaufort 03, Triennial for Contemporary Art, Blankenberge, Belgium (2009); 7th Gwangju Biennial, Gwangju, South Korea (2008); Pale Carnage, Arnolfini, Bristol and DCA, Dundee (2007); Imagination becomes Reality. Werke aus der Sammlung Goetz, ZKM – Museum für Neue Kunst, Karlsruhe, Germany (2007); and Aperto, Venice Biennale, Venice, Italy (1993). Modern Art has presented solo exhibitions by Lothar Hempel in 2010 and 2008, and has presented his work in group shows in 2008 and 2007.
Aubrey Beardsley was born in Brighton in 1872. In 1891, whilst living in London and supporting himself as an office clerk, Beardsley visited the studio of Edward Burne-Jones. With the Pre-Raphaelite's encouragement, Beardsley attended night classes at London's Westminster School of Art and decided to pursue an artistic career. Practicing primarily as an illustrator of books and periodicals, Beardsley is considered a leading figure of the Victorian Aesthetic and Decadent movements. His monochromatic and characteristically sparse linear illustrations have become influential archetypes of Art Nouveau style – renowned for socially and sexually provocative content as much as pictorial elegance. Amongst the best known of Beardsley's works are his illustrations published in the first English edition of Oscar Wilde's Salome (1893), his illustrations for an 1896 edition of Alexander Pope's The Rape of The Lock, and his monographic compilation A Book of Fifty Drawings, published in 1897 by Leonard Smithers. Beardsley was art editor of the literary and artistic periodical The Yellow Book, to which he contributed illustrations. Following his dismissal from that publication he cofounded the journal The Savoy with Wilde, writer Arthur Symons, and Smithers as publisher. Plagued by ill health throughout his life, Beardsley died of tuberculosis in 1898 at just 25 years of age. A major exhibition of Aubrey Beardsley's works was held at The Victoria and Albert Museum, London, in 1966.
Categories
Tags