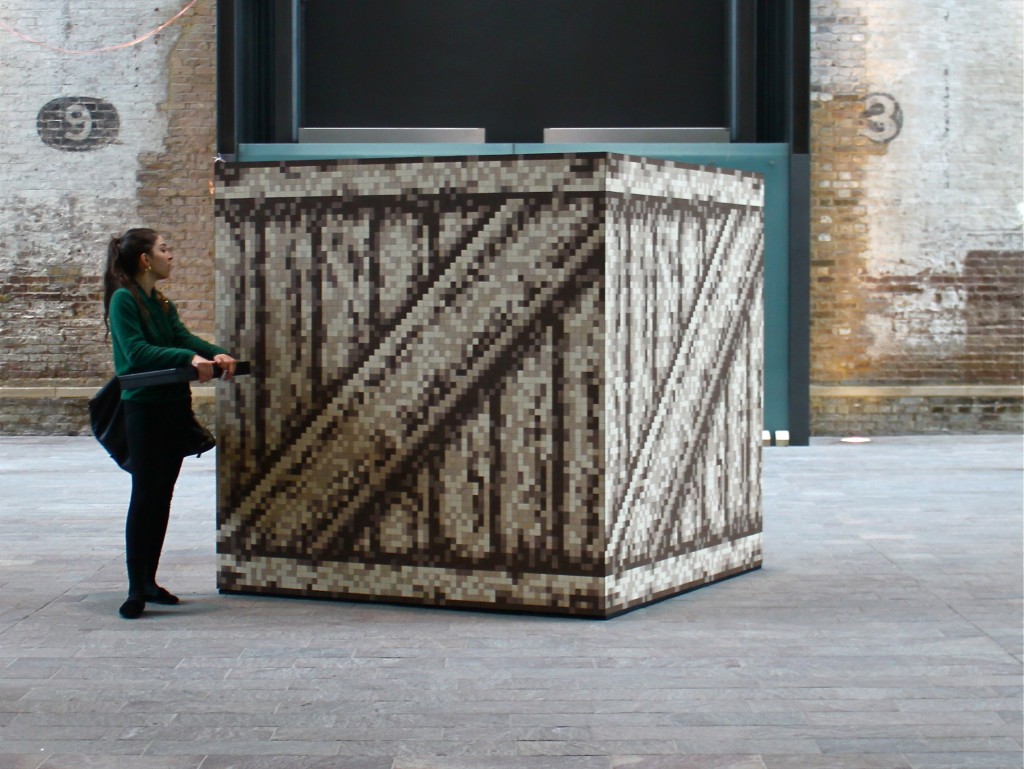 Not For Love Nor Money 2012 Conall McAteer

White Moon Strong Wolf Conall McAteer
FAD have hooked up with our favourite guide to the art stars of the future The Catlin Guide to give you a sneak preview of some of the 40 artists that will be featured in this years guide.
First up is Conall McAteer:
1. If you weren't an artist, what else would you be?

I have this unshakeable romantic ideal of building my own home. Perhaps I'd be meeting Kevin McCloud on an episode of Grand Designs. One of those overly ambitious, under funded project managers who, despite 45 minutes of doubt and toil, pulls it together spectacularly in the end. In some ways it's how I see my practice as an artist. Subjectively, with varying degrees of spectacular.
2. Can you tell us more about your work and what are the main ideas you would like to express?
My practice is formally diverse. It often engages in site-based work outside of the gallery space and ranges through sculpture, publication, installation and intervention. Indeed the breadth of it is what excites me. Some of my recent projects have been initiated as a result of conversations and research with a range of collaborators, from contractors and architects to craft-based artists: marquetarians, stained glass artists and tattooists. I like to pin narratives that grapple with the nature of art, object making, polemical ideas and social norms. With the work engaging its audience via a new take on familiar and less-well considered aspects of everyday experience and culture.
3. How do you start the process of making work?
Very often I'll have an initial idea or a concept that I'm intrigued by. It might come from something seemingly as menial as an advert on the train, or an article in a magazine. Making is an important part of my practice and I often find in realising an idea in physical form that it leads onto the work I really wanted to make. In this sense its more of an evolving process where one thing leads to another.
In some cases an idea for a project might be seeded from something as nonchalant as a conversation. White Moon / Strong Wolf came about after a night out with friends. The phrase 'I am not a Muggle' was banded about after seeing a wooly hat which resembled the Sorting Hat from Harry Potter. Myself and my friend Latifa (a journalist previously working in Istanbul) set out to write a piece of competitive prose under the same title. The work quickly grew and in the end we produced a collection over a period of 12 weeks which was turned into a publication.
4. Do you consider the viewer, when making your work?
Absolutely. I'm interested in the potential of certain sites away from the gallery space and exploring how people can engage with the work I make. As an artist I feel much of my work is inherently collaborative, reflected in the display of the work, the comment it makes or its element of interactivity.
5. Name 3 artists that have inspired your work?
Donald Judd, Ryan Gander, Don Draper.
6. What defines something as a work of art?
For me, art is anything that comments on life, be it the good, bad or the indifferent. What defines something as good and bad art is another question altogether.
7. In times of austerity, do you think art has a moral obligation to respond topically?
I think artists generally respond topically to their time and its important to make work that is relevant to your audience, whoever that may be. As an artist I am heavily influenced by my context: not only the current affairs but contemporary culture, the good and the bad.
8. Anytime, any place – which artist's body would you most like to inhabit?
Caravaggio – 1600
Donald Judd – 1973
Carl Barât – 2002
George Best – 1966
To name a few.
9. What was the most intelligent thing that someone said or wrote about your work?
On the final year of my BA course at Central Saint Martins one of the MA students came up to me to congratulate me on my degree show work Crate. He finished by saying, 'enjoy it while you can, the next work you make might not be so resolved'.
I like that. It keeps you on your toes.
10. Which artists would you most like to rip off, sorry, I mean appropriate as a critique of originality and authorship?
I'm interested in ideas of originality and authorship. I like the possibility that anything you put on the internet has the potential to be universally loved, edited, denounced or ignored. I think that sharing of ideas should be seen as a positive rather than a negative.
11. Do you care what your art costs? State your reasons!
To sell / to buy / to make? I'm constantly working on new ideas, some works which could never be sold. Works that exist in an intervention, a free publication or an internet website are sometimes more empowering when the concept of monetary value is removed. I'm interested in maintaining my practice as an artist and money inevitably comes into that equation. I also value the ability to work on new projects, which can often be afforded by selling previous works. Particularly if it is sold to a person or institution who will enjoy and look after it.
With regards to my costs, I do have an unnerving ability to select processes and materials which tend to let my bank account down. I recently wanted to use a sample of translucent projection film for a project I'm currently working on (the stuff they use on large backlit advertisements). I called up a prominent supplier to find out it cost over £4000 a roll. In the end I used tracing paper. Generally, I find I have a certain material or process in mind of which there is no substitute, and if you believe in the project you have no choice but to make it work.
12. What's next for you?
In the coming year I hope to develop a practice that remains multi-faceted. Working from my studio in Vyner Street, showing new works within the gallery environment, whilst continuing to instigate the site-specific proposals and commissions that equally interest me as an artist. I will be completing work on Q&A: a self-initiated intervention and publication project in collaboration with the residents of council estates in Barking and Dagenham.
Crate is showing in Future Map 12 at the Lethaby Gallery from January 17th – February 8th and of course I'm very excited about the launch of the Catlin Guide 2013 at the London Art Fair.
Oh, and I'm also setting up my own dating website.
The Catlin Guide 2013: New Artists in the UK is launched at the London Art Fair 2013, 16 – 20 January. It will also be available from Amazon, Culture Label and selected book sellers (£12.99).
Categories
Tags